MR vaccine contains haram substance, but Muslims may use it: MUI
Karina M. Tehusijarana

The Jakarta Post
Jakarta |

Tue, August 21, 2018

| 10:27 am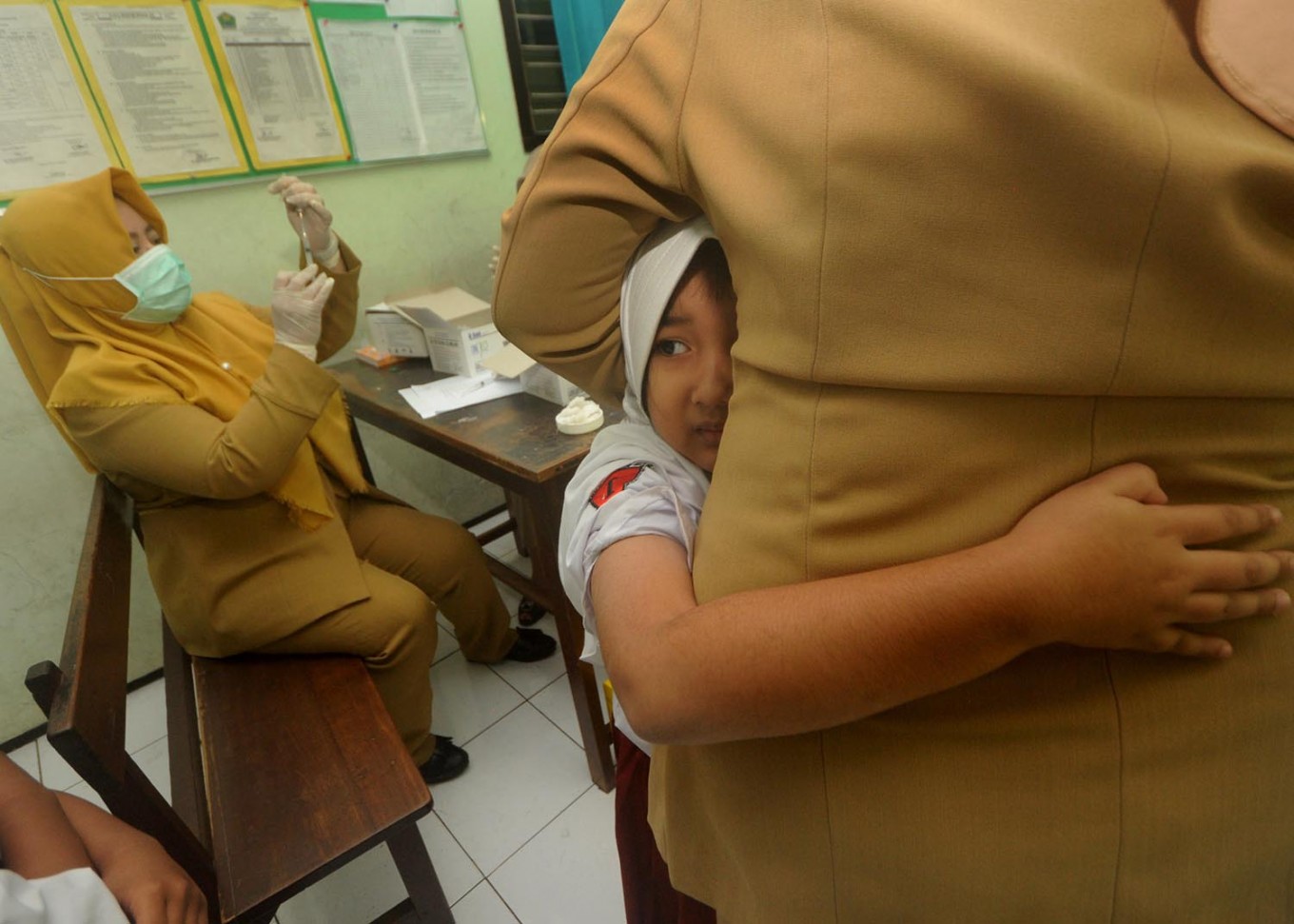 A student embraces her teacher while receiving a diphtheria vaccine during the final round of the Outbreak Response Immunization (ORI) program in Malang, East Java, on July 24. The program targeted local residents ranging in age from 1 to 19. JP/Nedi Putra AW (JP/Nedi Putra AW)
The Indonesian Ulema Council (MUI) issued a fatwa on Monday, declaring that the measles-rubella (MR) vaccine is mubah (permitted for use by Muslims) despite containing materials derived from pigs.
MUI fatwa commission secretary Asrorun Ni'am said there were three reasons behind the MUI's decision.
"First, there is a condition of necessity (sharia emergency), second a halal and holy MR vaccine has yet to be made," he said in a statement on the MUI's official website on Monday. "Third, competent and trusted experts have explained the dangers posed by not being immunized due to the lack of a halal vaccine."
Asrorun emphasized, however, that once a halal MR vaccine had been found, the current MR vaccine would be considered haram as it utilized haram materials in its production process.
He added that the Health Ministry should do better to guarantee the availability of halal vaccines for Indonesians, given that the majority of Indonesians were Muslim.
"The government has to use religious considerations as guidelines in immunization and medical treatment," he said.
After completing the first stage of the measles and rubella vaccination campaign in Java last year, the government is currently running the campaign's second stage, which targets around 32 million children in the 28 provinces outside Java.
MUI branches in Riau and South Sulawesi previously urged the government to suspend the program due to doubts over the vaccine's halal status. Several Muslim parents have also voiced a reluctance to have their children vaccinated. (ahw)
Topics :
Join the discussions