Asian Games: Bittersweet victory at jujitsu for Filipino Ochoa
Musong R. Castillo

Philippine Daily Inquirer/ANN
Jakarta |

Sat, August 25, 2018

| 11:17 am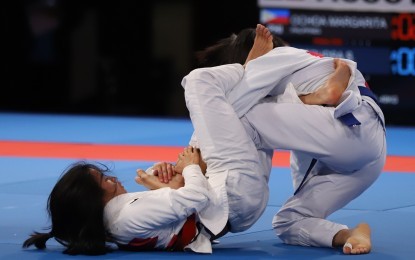 Margarita Ochoa in action against Deepudsa Siramol of Thailand in the women's Newaza -49kg event in the 18th Asian Games Ju-jitsu competition at the Jakarta Convention Center Assembly Hall on Friday. (PSC Media Pool/Handout)
Needing to go up against a good friend and teammate, Meggie Ochoa claimed an Asian Games bronze in the 49-kg division of jiujitsu Friday afternoon at the expense of Jenna Kaila Napolis—a medal that may have counted for the country but one she didn't feel completely good about winning.
"I had mixed feelings because I had to go up against a very good friend," Ochoa said after the 2-0 victory over Napolis that gave the Philippines its sixth bronze medal that went with its only gold won by weightlifter Hidilyn Diaz last Tuesday at Gelaro Bung Karno Stadium here.
"It certainly doesn't feel good, though the country could use the medal (in the tally)," Ochoa added. "Situations don't turn out the way you want them to be. God has plans for all of us. And I know that there is something better than this (bronze, in the future)."
Also to count in the country's medal haul will be two sure bronze medals in pencak silat, a non-aggressive form of Indonesian martial arts where Jefferson Rhey Loon and Dines Dumaan won their quarterfinal matches against separate foes.
Loon scored a 4-0 win over Kyrgyzstan's Almazbek Zamirov in the 60-65 kg division, while Dines posted a 5-0 win over Pakistan's Adnan in the 50-55kg weight class. Their next matches will be held on Sunday with Dumaan clashing with Malaysia's M Nasir Muhammad Faizul.
Loon battles Vietnam's Nguyen Ngoc Tuan for a place in the gold medal match.
Boxing got off on the wrong foot over at Jakarta International Expo's Hall B, with Joel Bacho going down against unimpressive Iranian Kazemzadeh Poshtiri Sajjad, 4-1, in their first round men's welterweight ( 69kg ) bout.
Ochoa, the gold medal winner in the World Tour in London last March, was doing great with two victories before running smack into a Vietnamese foe she had beaten before but one whom she said "neutralized" her when it mattered.
Duong Than Minh took the 27-year-old Ochoa out of the gold medal race with a victory by decision in the quarterfinals, making the Filipino go through a dominant victory over Mongolia's Bayarmaa Munkhgerel in the repechage for a shot at the bronze.
Napolis became Ochoa's foe after going down to eventual champion Jessa Khan of Cambodia, losing by decision in the semifinals.
And Ochoa is blaming her inability to dispose of Duong—someone she had beaten before—in the quarterfinals for falling short, and eventually drawing her good friend.
"I already beat her before," Ochoa said. "She was the one who surprised me this time. She got me, and it wasn't really a close match because I wasn't able to attack."
Annie Ramirez, another former champion, and five other jiujitsu bets take the mat for the Philippines on Saturday when the country's athletics bets also see action and BMX ace Daniel Caluag defends the only gold the country won in the last Asiad.
"I'm definitely more prepared now than [I was] in Incheon," Caluag.
Carlos Yulo, a day after floundering in his pet floor exercise in gymnastics, finished way out of the medal in the vault at Jakarta International Expo's Hall D.
Topics :
Join the discussions