Asian Games: Sorry we let you down, Singapore
Shamir Osman

The Straits Times/ANN
Palembang, South Sumatra |

Sat, August 25, 2018

| 07:44 pm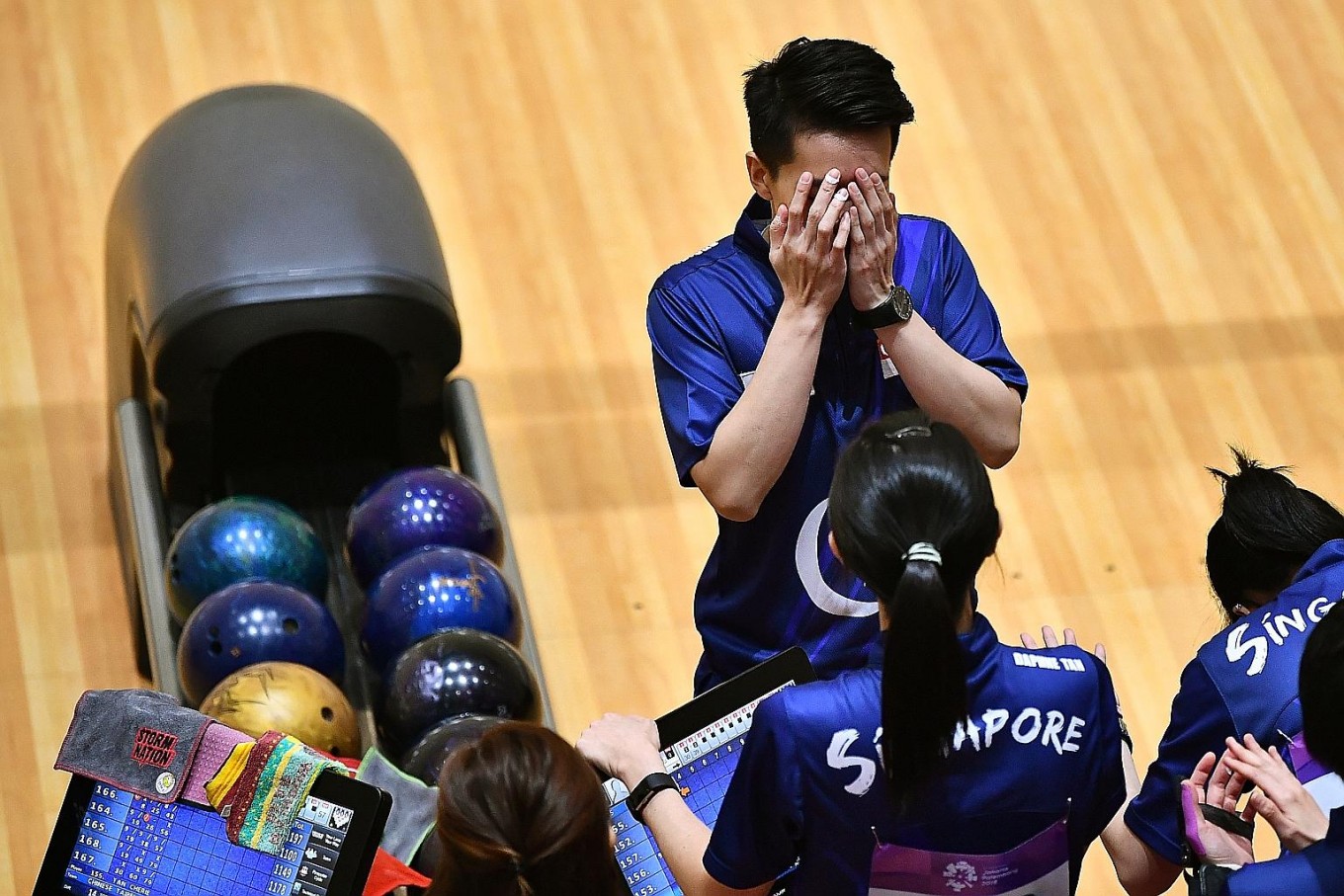 Shayna Ng reacting during the second block of the women's team of six event at the Jakabaring Bowling Centre on Friday. She averaged 198.83, the lowest in the team although the entire squad struggled. (The Straits Times/Lim Yaohui )
In contrast to tiger-striped sleeves, shocking pink shirts and fancy red kits surrounding them at the Jakabaring Bowling Centre, the Singapore women wore muted blue uniforms. Those seemed to match the women's emotional state - and cold form on the lanes.
There were sub-170 games, open frames left out on the lanes at alarming regularity and even a first ball that struck down only one of 10 standing pins.
This was the Asian Games women's team event. And Singapore were the defending champions.
This was more than a surrender of a crown, it was meek abdication. And Singapore's women were exiled to seventh with a total of 7,674 pinfalls.
The South Koreans gleefully accepted, cruising to the gold medal with an 8,338 total, ahead of second-placed Malaysia (8,149), and Chinese Taipei (7,969) in third.
The Singapore women walked out to meet the media with red eyes, and still sniffling.
There were former regional queens among them, those who were champions on the world stage, even a couple of Sportswomen of the Year, but it was the youngest who spoke first.
"We can't exactly pinpoint what went wrong. We tried our best - that's a given - and we'd like to apologize for letting Team Singapore down and for not being able to deliver," said 20-year-old Joey Yeo.
"We put in our best effort but unfortunately our moves were a little bit too slow. It's not an excuse, we definitely under-performed and we will only learn from this experience moving forward."
Next to Yeo, Daphne Tan, Bernice Lim and Jazreel Tan had clearly just pulled themselves together after sobbing. Cherie Tan stayed silent and characteristically stoic.
But 2012 QubicaAMF World Cup winner Shayna Ng struggled to keep it together.
"For me, it was more of frustration than anything else. We kept trying and trying and we didn't get any good breaks, and we let the emotions affect us. We've been around for so long and we were supposed to be ready for things like this," said 29-year-old Ng.
"I told them [her teammates] I'm not scoring like what I'm supposed to be scoring but I will never stop trying."
She added, voice trembling: "I tried all the way to the end and it was like I find one shot, and the next shot I don't, and it just gets really frustrating. But I'm still very proud of each and every one of us for the effort we put in to try and make it work."
Teammate Jazreel admitted: "When you don't get matched up, your good shots become bad shots, and your bad shots become very horrible shots, and that's what happened with... all of us."
National head coach Jason Yeong-Nathan acknowledged that his charges had under-performed, on a day that was to be a "big hit", but he gave no excuses.
"Pressure was great, but that's no excuse. The girls have gone to the world stage and bowled there. But as a coach, I must make moves when things are not working, and I didn't do that fast enough," he said.
"This is the whole team's mistake, not just the girls', although they were out there executing it."
As the team talked through their abject performance, Palembang gave an inappropriate send-off to the dethroned - the opening bars of Majulah Singapura played over the speakers in Jakabaring, before being quickly turned off.
Daphne Tan's face fell but the message was clear: Singapore are no more queens of Asia.
Topics :
This article appeared on The Straits Times newspaper website, which is a member of Asia News Network and a media partner of The Jakarta Post
Join the discussions