Asian Games: Singapore swimmers' successful campaign reflects squad's greater depth, ambition
Lester Wong

The Straits Times/ANN
Singapore |

Sun, August 26, 2018

| 11:20 am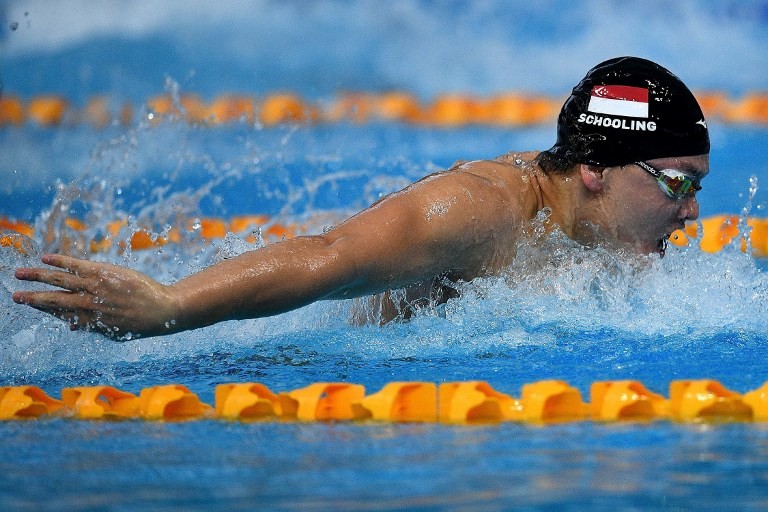 Singapore's Joseph Schooling competes in the men's swimming 100m butterfly final event of the 29th Southeast Asian Games (SEA Games) at the National Aquatics centre in Kuala Lumpur on August 23, 2017. Manan VATSYAYANA / AFP (AFP/Manan Vatsyayana)
Team Singapore's Asian Games swimmers returned home on Saturday (Aug. 25) after a strong showing in Jakarta which saw them net two golds, a silver and three bronzes.
Olympic champion Joseph Schooling was the outstanding individual performer with two golds and two bronzes but this Games also offered up evidence that the much talked about "Schooling Effect" is beginning to show results, with a group of youngsters starring on the Asiad stage.
"I'm relieved and happy with my results. There's still some things to work on but I'm really looking forward to a nice break right now," said Schooling at Changi Airport's Terminal 3.
"But I thought the relays were great and the future of Singapore swimming is very bright. We have time before Tokyo 2020 and I think we're gonna get better and better each year."
Asked who stood out for him in particular the 23-year-old pointed to teenagers Darren Chua and Jonathan Tan, who won bronzes in the men's 4x100m freestyle and 4x200m freestylerelays respectively.
"Darren swam a fantastic split in the 4x100m, that was unreal. And Jonny, who went last in the 4x200m, I remember he was shaking before he got on the blocks but he held it together and pulled off his fastest split," said Schooling, whose two golds came in the 50m and 100m butterfly.
Jonathan, 16, has set himself the goal of qualifying for the world championships in July next year.
"Before I got to know Jo and (Quah) Zheng Wen I thought that the SEA Games was the best I could aim for, that there's a limit," he said.
"But seeing Jo win gold medals at the Asian Games and Olympics - it just gives you the belief that you can aim higher."
Jonathan was not the only youngster deployed as the anchor swimmer in the relays for the Republic, with Cherlyn Yeoh, 16, and Darren, 18, also tasked with final leg responsibilities in the women's 4x100m free relay and men's 4x100m medley relay.
National head coach Stephan Widmer and national training center head coach Gary Tan said the decision made sense both tactically and developmentally.
"Maybe at the international level you want to finish with a very strong swimmer but that's no good if you're potentially far behind and in the wake of all the other nations so we had to be out there fast," Widmer said.
Added Tan: "And we definitely needed the exposure for these younger swimmers as part of our efforts to build the relay teams. To be in that environment and pressure-cooker situation, that's the only way for them to learn and hopefully go on to achieve better results."
The swimmers were part of a group of athletes who returned home on Saturday, alongside their compatriots from fencing and gymnastics.
The 18th Asian Games concludes on Sept 2, with sailing, table tennis and silat among the sports for which competition is either underway or yet to begin.
Topics :
This article appeared on The Straits Times newspaper website, which is a member of Asia News Network and a media partner of The Jakarta Post
Join the discussions