MUI edict hinders MR immunization drive in Pekanbaru, Riau Islands
Fadli and Rizal Harahap

The Jakarta Post
Batam/Pekanbaru |

Mon, August 27, 2018

| 08:34 am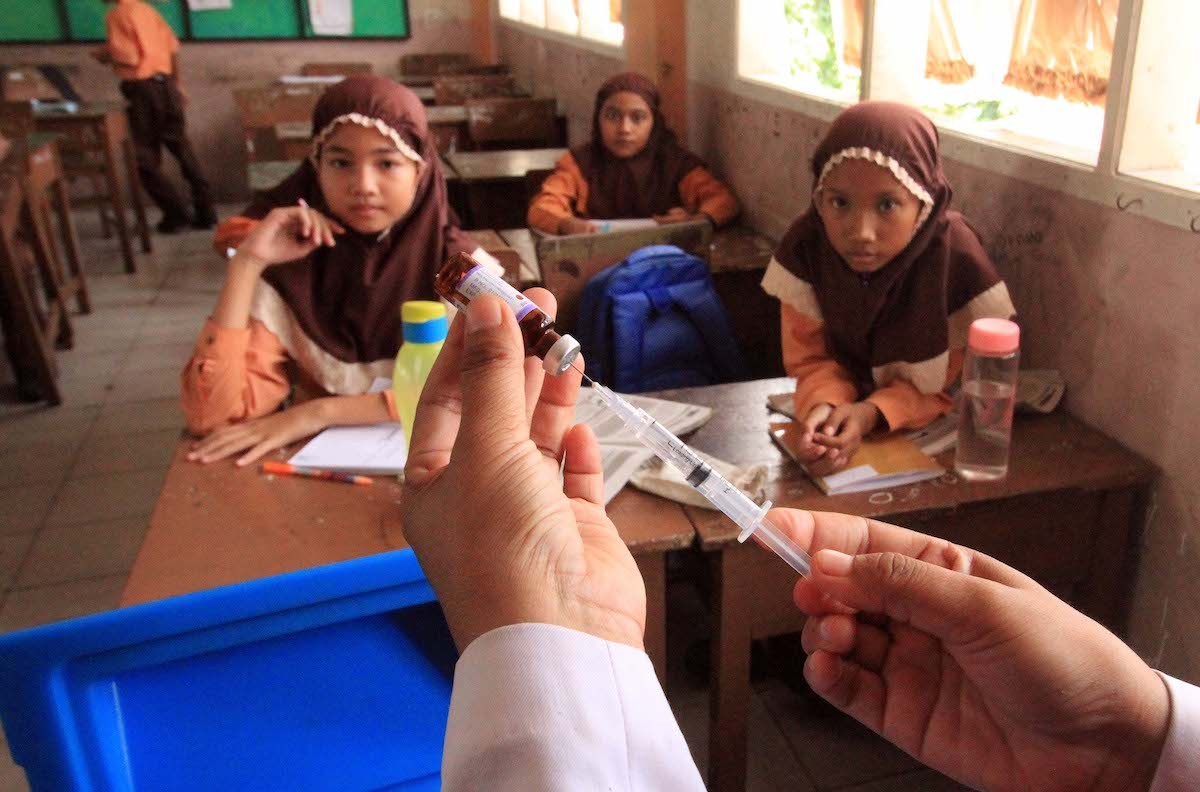 Students look on while a health official fills a syringe with measles and rubella vaccine on Aug. 4 in Lhokseumawe, Aceh. (Antara/Rahmad)
The target of a 95 percent coverage rate for the second stage of the measles-rubella (MR) vaccination campaign in Pekanbaru, the provincial capital of Riau province, and in another province, Riau Islands, is unlikely to be met because of parents' opposition.
The campaign is scheduled to run until September. However, nearly four weeks into the campaign the coverage rate is slightly under 20 percent.
"Only 39,236 out of 196,848 children, or slightly under 20 percent, had been vaccinated as of Friday," said the acting head of Pekanbaru Health Agency, Zaini Rizaldy Saragih.
"The number of students who want to get MR immunization has dropped dramatically day by day. We guess the target won't be achieved even if the campaign continues," he added.
Furthermore, the agency decided to halt the MR immunization on Friday in relation to Clause 2 of the recent Indonesian Ulemas Council (MUI) edict No. 33/2018, which stated that the vaccine produced by the Serum Institute of India (SII) contained haram substances.
Zaini said the agency would wait for further action by the central government before proceeding further.
"However, we won't refuse parents or schools who want their children or students to get vaccinated as long as they declare it a voluntary action in a statement letter," he added.
In neighboring province, Riau Islands, the MR immunization coverage rate was also recorded at around 20 percent, according to the province's health agency.
The head of Riau Islands Health Agency, Tjejep Yudiana, told The Jakarta Post on Sunday that the statement by the Riau Islands' chapter of the MUI urging Muslims to refrain from using the MR vaccine, had affected the number of students looking to be vaccinated.
"Currently, around 120,000 out of 604,000 children in Riau Islands have been vaccinated. The impact [of the Riau Islands MUI edict] is substantial," he said.
He said, however, that he was optimistic the MR vaccine's coverage rate target within the province would be achieved within the remaining timespan if Riau Islands MUI followed the latest edict issued by the central MUI, which stated that the MR vaccine was mubah (permitted for Muslims). (sau)
Join the discussions