Asian Games: Tera wins first RI shooting medal since 1962
Apriadi Gunawan

The Jakarta Post
Palembang, South Sumatra |

Tue, August 28, 2018

| 03:17 pm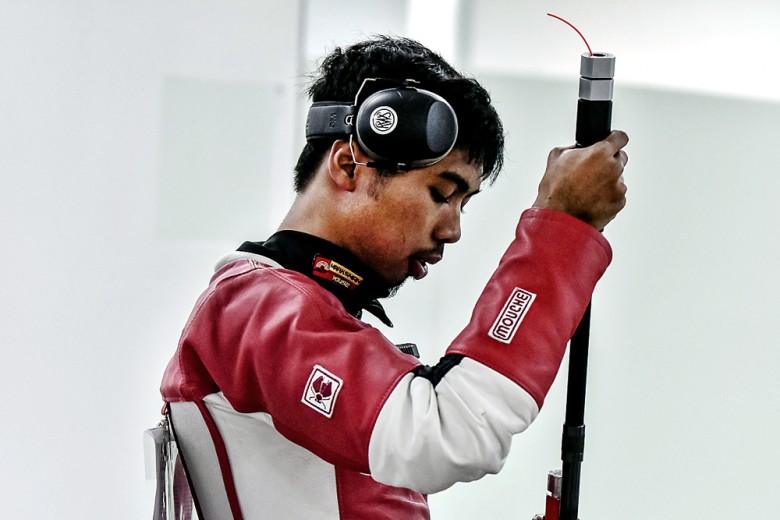 Muhammad Sejahtera Dwi Putra (INASGOC/Sutanta Aditya)
Indonesia has won a silver medal on the last day of the shooting competition at the Asian Games on Monday.

This is the first time in 52 years that the host nation has won a medal in this event, with Muhammad Sejahtera Dwi Putra, widely known as Tera, breaking the drought in the 10-meter running target mixed category.

The last medal — a bronze — was won by Elias Joseph Lessy in the 10 m air rifle category at the 1966 Games in Bangkok.

Tera had topped the list during the qualifying round of the men's 10 m running target category. But in the second round, his aim was off and he could only muster 567 points after missing several shots. Tera said this had blown his confidence but he somehow managed to bounce back to claim silver.

"Praise the Lord. I dedicate this victory to my coach who had tirelessly reminded me of how important it is to stay afloat and never give up no matter what," he told The Jakarta Post.

Tera said he could live with the result but promised that he would go all out in training so he could get better in the future.

"Shooting has become my daily fix and my rifle is just like a girlfriend. So I need to do it every day or else I will die longing for it."

Tera said he first encountered the sport when he was a 17-year-old student at Jakarta State University. He recalled that it was during a talent scouting event for the National Games that he met former shooter Masruri who is now his coach.

Masruri acknowledged that they had embarked on a long journey of training together and had a wonderful emotional bond that often helped Tera through the dark times.

"Whenever he lost a battle I would instantly remind him to forget about that and focus on the next challenge instead," Masruri said.
Join the discussions