Asian Games: Behind the meals for athletes is a kitchen that never sleeps
Gemma Holliani Cahya

The Jakarta Post
Jakarta |

Fri, August 31, 2018

| 11:20 am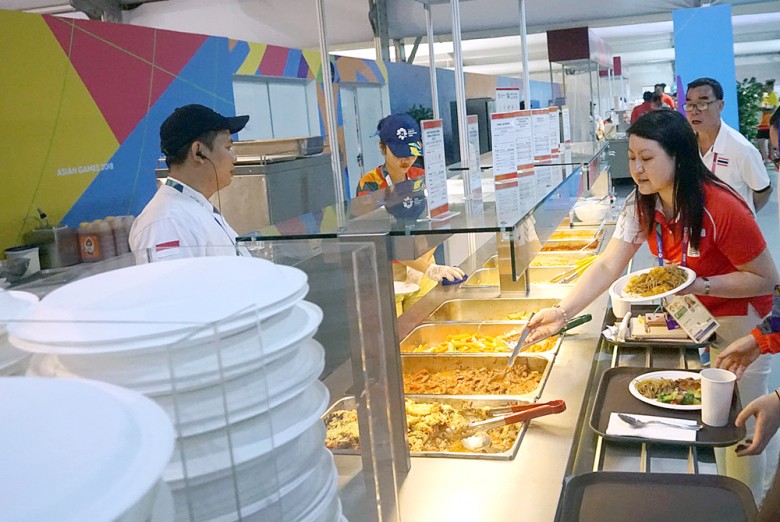 Food is served at a dining hall at the athletes village in Kemayoran, Central Jakarta, on Wednesday. A catering company has deployed 156 cooks, who work in three shifts, to serve food 24 hours a day, seven days a week. (JP/Gemma Holliani Cahya)
At a glance, the dining hall at the athletes village in Kemayoran, Central Jakarta, resembles a giant food court. What makes it different, however, is that it offers healthier, more nutritious meals.

Located in the center of the athletes village, the huge cafeteria measures 6,200 square meters with a capacity of 3,500 people. On Wednesday evening, hundreds of athletes and coaches thronged the hall, sitting in groups while relaxing and enjoying their dinner.

Short lines were seen in front of several food booths that provided various dishes from, among other regions, the West, the Middle East, Southeast Asia and West Asia.

"The peak moments came on August 24 and 25. We served almost 10,000 people for each meal time then. But as some sports have concluded and some athletes have returned home, we now cater to around 7,000 people," Paulus Pandu Dewanto, the head of catering operations at the athletes village, told The Jakarta Post on Thursday.

On Wednesday evening, in the middle of the dining hall, Thailand women's basketball player Sawatong Pornutcha chose to eat a bowl of stirred-fried vegetables from the East Asia food corner, japchae from the Southeast Asia area and steak from the "carving" booth.

"Food is good here. I love to walk around and see what I like before I put it on my plate. There are so many options for us," the 25-year-old athlete said while finishing her dinner with her teammate.

Sawatong said that, although the caterer provided nutritional information about each meal at the booths, she rarely noticed them, especially after a match, as she was too hungry and tired to read.

"That one time they cooked us this Indonesian barbeque called satay and I definitely fell for it. It tastes good. Some of my friends said they were bored with the food here, but not for me, I enjoy it," Sawatong said.

Serving daily meals for thousands of athletes and officials from 45 countries from across Asia is no easy task, because not only must the dining hall meet Olympic safety and health standards, but the food must also taste delicious while being suitable for an athlete's diet. Additionally, the cooks have to satisfy people of diverse cultures and with different tastes.

Felly Irmansyah, the head of the Indonesian Asian Games Organizing Committee (INASGOC) Catering Department, said the organizers had allocated Rp 150 billion (US$10.2 million) to feed the athletes, coaches and Olympic Council of Asia (OCA) officials from Aug. 10 until the last contingents leave the athletes villages in Jakarta and Palembang, South Sumatra.

No less than 500 people, including cooks, cleaners and servers work in three shifts in the dining hall and kitchen in Jakarta.

"The meal budget for a single person is Rp 250,000 per meal. It is an all-you-can-eat buffet. The menu is very complete, including a variety of fruits, soups, cereals and many more [options] that they can enjoy from 5 a.m. to 1 a.m." Felly told the Post.

The kitchen stands behind the dining hall. Since Aug. 10, it has never stopped running, with its cooks constantly preparing meals for the athletes who are hungry for both food and medals.

Rulli Rissapertama, the project manager of PT Gobel Dharma Sarana Karya, the Games' catering company, said it hired 156 cooks who work in three shifts in order to serve food nearly 24 hours a day, seven days a week.

The company prepared and tested 142 menus three months before the Games kicked off. On Wednesday, many were seen looking for dishes such as Arabic rice lamb from Saudi Arabia, Harra Barra kebab from India and chicken stewed in coconut curry from Malaysia.

Sitting on the right wing of the dining hall, Kim Sungmin, a men's heavyweight lifter from South Korea, had just finished a plate of nasi goreng (fried rice).

"I like nasi goreng. I eat it every day as it tastes so good," Kim said.

Nelli Nursiwan, the sous chef of the Jakarta kitchen, said fried rice was among the most sought-after dishes. "Only for this popular dish, we have to cook at least 900 kilograms of rice and 2 tons of meat each day," he told the Post. For fruits, Nelli has to prepare 1 ton of melon, watermelon and mangosteen every day "because they love these three fruits so much".

To prepare all the meals and store the ingredients, eight freezer containers, four chillers, four freezers and four dry-food freezer containers are needed.

"It's a non-stop working cycle. The first shift starts at 3 a.m. to prepare breakfast, while the night shift lasts longer because the cooks also have to prepare for tomorrow's meals," Nelli said.

For the sake of safety, food can be served only after the Health Ministry's rapid test team gives the thumbs up.

"We have a laboratory near the kitchen. We examine around 40 menu samples prior to meal time. None of the food can be served without a prior inspection," said Louise Kartika, an official from the food safety unit of the INASGOC catering department.
Join the discussions