Israel applauds US cutting off aid to Palestine
Jerusalem |

Sun, September 2, 2018

| 04:25 pm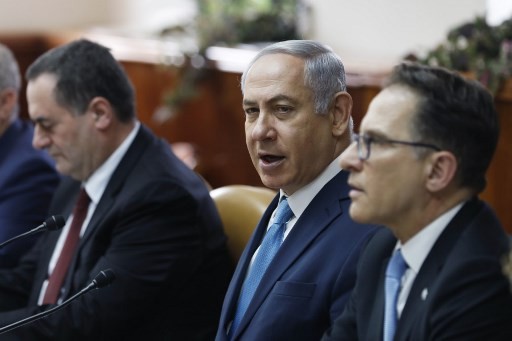 Israeli Prime Minister Benjamin Netanyahu (C) sits next to Cabinet Secretary Tzachi Braverman (R) and Israeli Intelligence and Transportation Minister Israel Katz (L) during a cabinet meeting at the Prime Minister's office in Jerusalem on February 11, 2018. Israeli strikes were 'heavy blow' to Iranian, Syrian forces: (AFP/ZVULUN / POOL)
Israel applauded the cutoff of US aid to the United Nations agency that supports millions of Palestinian refugees, saying the organization is "one of the central problems perpetuating" the Israeli-Palestinian conflict. Palestinians condemned the move.
"It would be wise to channel the money to other sources that will use it appropriately for the benefit of the people and not to perpetuate the conflict," according to a statement from Prime Minister Benjamin Netanyahu's office.
On Friday, the Trump administration said it will not make additional contributions to the United Nations Relief and Works Agency for Palestinian Refugees, calling it an "irredeemably flawed operation."
After making a $60 million contribution to the agency in January, the US said it was no longer willing to shoulder the "very disproportionate share of the burden," State Department spokeswoman Heather Nauert said in a statement.
The US provided more than $364 million in funding to UNRWA in 2017. Whether the organization offers critical relief or hinders the resolution of the Israeli-Palestinian conflict is a question of dueling narratives.
The organization administers to 5.4 million Palestinians in the Middle East, mainly in the Hamas-ruled Gaza Strip, and allows unlimited generations of descendants to be classified as refugees in perpetuity.
That's a broader definition of refugee than offered to other displaced populations by the UN High Commissioner for Refugees. Israel says UNRWA fuels the conflict with the Palestinians by transferring refugee status from generation to generation and giving cover to Palestinian intransigence.
Critics have warned that the cutoff of assistance that goes for food, education and health care could deepen hardship while stoking unrest and strengthening radical Palestinian forces in the West Bank. The militant Hamas group said the decision makes Trump the "enemy of our people."
Riad Malki, the foreign minister of the West Bank-based Palestinian Authority, said in statement that the "decision will lead to a strong reaction from many countries that will not accept the policies of American bullying toward the Palestinian refugee file and UNRWA.
We will move to protect the issues from Trump's attacks."UNRWA, in a statement, expressed "deep regret and disappointment" at the US announcement and rejected "in the strongest possible terms the criticism that UNRWA's schools, health centers, and emergency assistance programs are "irredeemably flawed."
Separately, Washington cut $200 million in bilateral aid to the Palestinians a week ago.
Topics :
Join the discussions