Forum seeks to raise Rp 100m for transgender activist to finish doctoral degree
Marguerite Afra Sapiie

The Jakarta Post
Jakarta |

Fri, September 14, 2018

| 07:35 am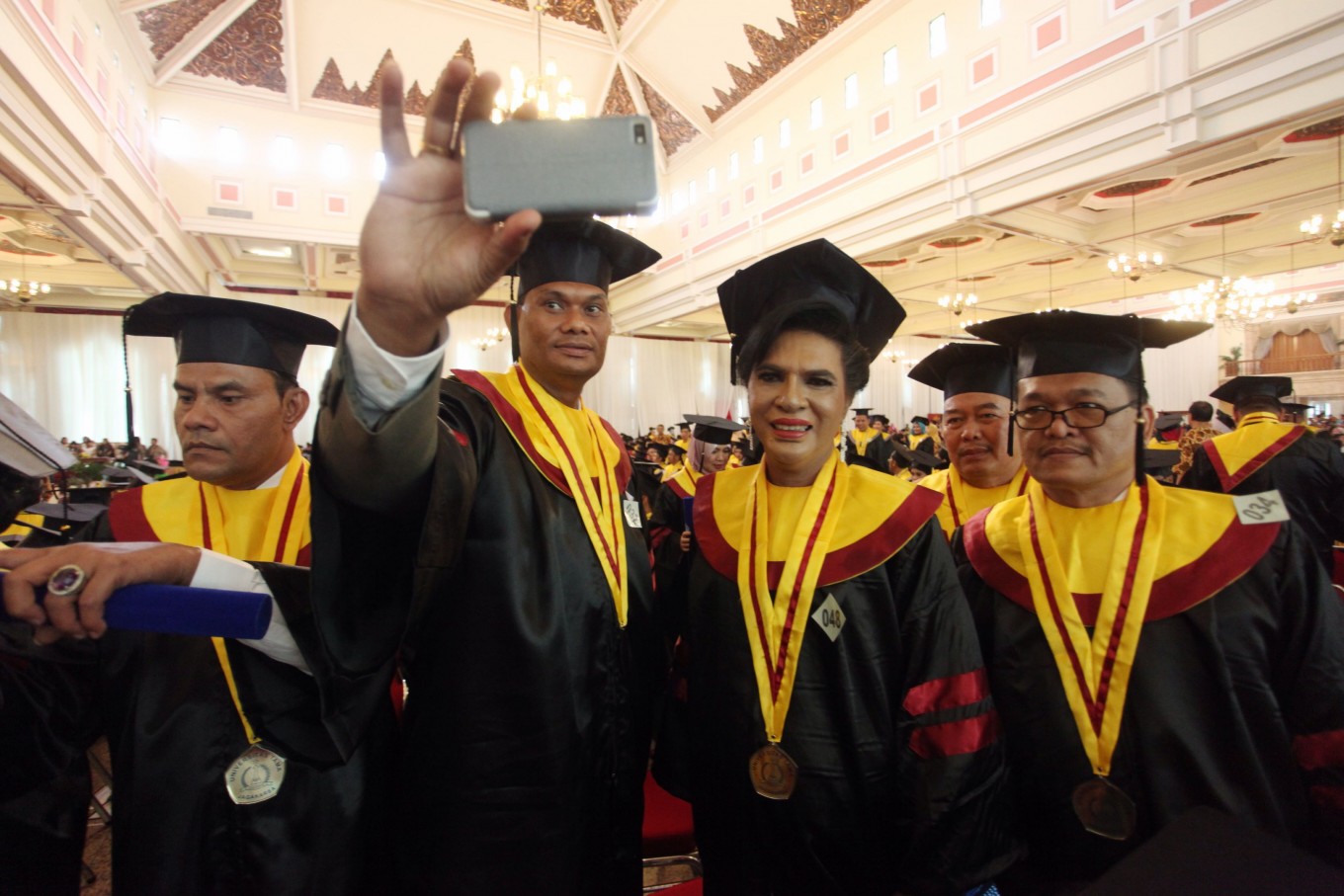 Yulianus Rettoblaut, also known as Mami Yuli, poses with her friends during her graduation day after finishing her master's degree on law in Tama Jagakarsa University in September 2015. (JP/Seto Wardhana)
An organization is seeking to raise Rp 100 million (US$6,736) via kitabisa.com for Yulianus Rettoblaut, better known as Mami Yuli, 57, to become the first openly transgender person in Indonesia to finish her doctoral degree on Constitutional Law.
The Indonesian Waria Communication Forum (FKWI), of which Yuli is a leader, took to the crowdfunding campaign website for donations to assist the transgender activist in completing her studies since she faced financial difficulties. Waria, a portmanteau of the words wanita (woman) and pria (man), refers to transgender people.
Yuli is currently undertaking her doctoral studies at Jayabaya University's Law School in Jakarta. However, she needs to secure at least Rp 100 million to hold her public defense or presentation for her thesis, which is a requirement for her to complete her degree, the FKWI wrote on kitabisa.com.
"Mami Yuli wants to be living proof for her community that transgender [women] have the capability and are able to make achievements, like herself," the FKWI said.
"There is only one more step [for Yuli] to achieve her doctoral degree, which will be the pride of the transgender women's community in Indonesia," the organization said.
Yuli, who achieved her master's degree in criminal law with cum laude distinction at Tama Jagakarsa University in Jakarta in 2015, has said her academic achievement was a way of fighting discrimination and violence against transgender people.
She was also the initiator of the establishment of Rumah Singgah Waria (Transgender Shelter), which the FKWI said has been "internationally recognized as the world's first transgender nursing home".
In an interview with The Jakarta Post in 2015, Yuli said she wanted to fight ill treatment against transgender people with positivity, such as by proving that they can also be intellectuals like other people.
Yuli aimed to take her lawyer accreditation and become the first transgender lecturer in Indonesia, an ambition that she hoped could inspire fellow transgender people to follow in her footsteps.
"When you pursue education, people look at you differently, because you will have improved your ability to present yourself and speak to the public, as well as enabling you to live in a better environment," Yuli said at the time.
As of Thursday afternoon, a total of Rp 2.4 million has been raised via the website. The fundraising is scheduled to end in 57 days. (evi)
Join the discussions