Man arrested after death of pregnant Sumatran tiger
Dyaning Pangestika & Rizal Harahap

The Jakarta Post
Pekanbaru |

Thu, September 27, 2018

| 07:06 pm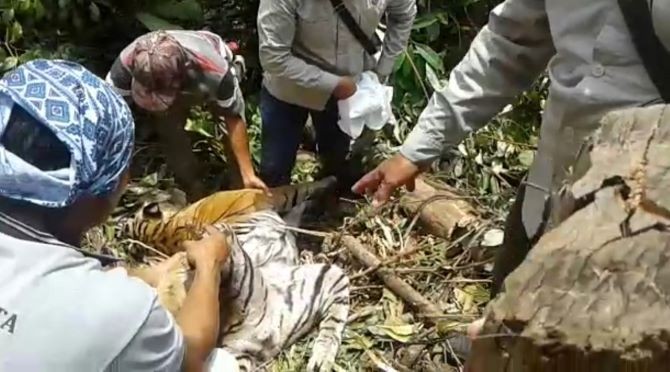 A rare Sumatran tiger was found dead after being caught in a hunter's trap in Riau province. (BKSDA Riau/Courtesy of)
The authorities have arrested a man in connection with the death of a pregnant Sumatran tiger after it was caught in a hunter's trap, an official said on Thursday.
The man in question, identified only as E, was detained by the Riau Natural Resources Conservation Agency (Riau BKSDA) near the location of the tiger's corpse on Wednesday night.
The head of Riau BKSDA, Suharyono, said E was still being questioned as a witness.
"He admitted that he had set up several traps in various areas," Suharyono told The Jakarta Post on Thursday.
According to Suharyono, E, who works as a security guard for an oil palm plantation, denied that he killed the tiger intentionally and said he used the traps to catch pigs.
"I told E that he was supposed to wait around the trap to prevent other animals from being harmed if he actually wanted to catch a pig. If a tiger passed by, then he should shoo it away. What would happen if it was his kid instead who was trapped?" he said.
The tiger, which was estimated to be between 3.5 and 5 years old, was found dead with the wire from the trap wrapped around its belly. The autopsy report showed that the wire had ruptured the tiger's kidney, which led to her death.
The autopsy also revealed that the critically endangered animal was carrying two fetuses and was expected to deliver her cubs in two weeks.
If the authorities name E a suspect, he could face 5 years in prison and a Rp 100 million (US$6,708) fine as stipulated in Article 21 of Law No. 5/1999 on the conservation of biological resources and the ecosystem. (ahw)
Topics :
Join the discussions