Navy launches fuelboat for warships in Batam

Batam |

Thu, September 27, 2018

| 01:51 pm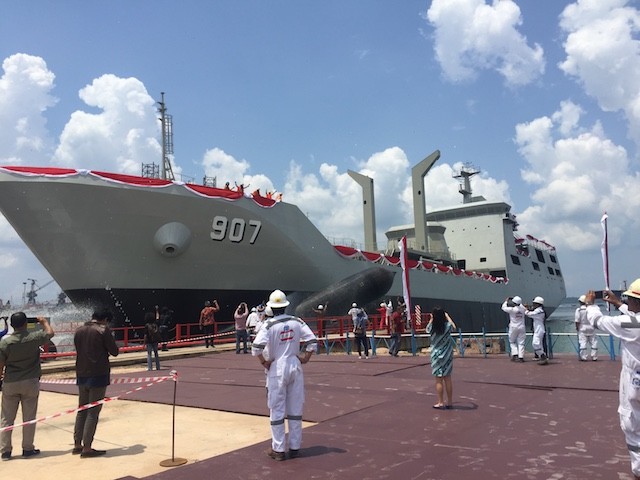 Fuelboat KRI Bontang 907 is launched into the sea from the PT Batamec shipyard on Wednesday. (JP/Fadli)
Navy Chief of Staff Adm. Siwi Sukma Adji launched on Wednesday auxiliary support vessel KRI Bontang 907 at the PT Batamec shipyard in Batam, Riau Islands.
"This boat will support the activities of the Navy's warships, so they no longer have to return to base but can be resupplied in the middle of the sea," Siwi said.
The fuelboat will initially be assigned to Natuna waters bordering the South China Sea to support Indonesian warships in the area.
Construction of the boat started in 2017 and was scheduled to be completed at the end of this year. The boat is 123.5 meters long,16.5 m wide and can carry up to 5,500 cubic m of fuel and 109 special forces crew members.
Siwi added that the KRI Bontang was part of the Navy's strategic five-year defense development plan and would replace older fuelboats that have been in use for more than 25 years.
"This boat will strengthen the operations of our warships in the middle of the sea, as the warships will be able to conduct longer operations," he said. (kmt/swd)
Join the discussions