C. Sulawesi earthquake sends shocks across Makassar Strait

Balikpapan and Jakarta |

Sat, September 29, 2018

| 02:59 pm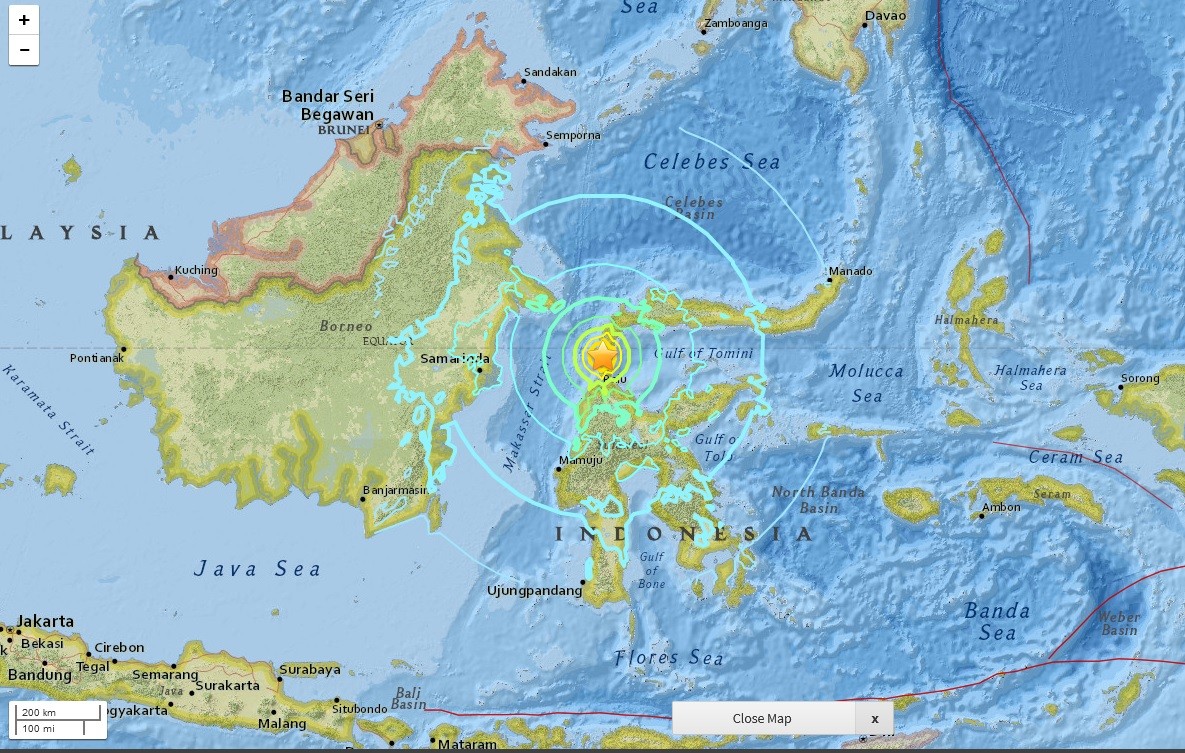 A screen capture of a map from the US Geological Survey website shows the location of the earthquake that hit Donggala, Central Sulawesi, on Friday afternoon. (JP/-)
When Donggala regency in Central Sulawesi was struck by a 7.4-magnitude earthquake, residents in the neighboring island of Borneo also felt the shock.
Wahyullah, an architect living in Balikpapan, East Kalimantan, reported the jolt lasted for seconds. The city is located around 410 kilometers to the west of Donggala, separated by the Makassar Strait.
"[We felt] the earthquake, around 6:10 p.m.," he said on Friday evening.
Wahyullah and other employees who were in the office buildings within the area exited the buildings and gathered in the muster points.
A string of earthquakes hit Donggala on Friday afternoon, the strongest of which, measuring 7.4 on the Richter scale, occured at 6:02 p.m. local time.
The largest earthquake was followed by tsunami waves measuring 0.5 meters to 3 m in height that lashed parts of the Donggala coast and Talise beach in Palu, as the results of rising waters in Palu Bay.
The head of the search and aid operations office in Balikpapan, Octavianto, told The Jakarta Post that his unit had been on full alert since then.
The Post also received reports that visitors of Samarinda Central Plaza in Samarinda, also in East Kalimantan, exited the building when the quake occurred.
The shock was also felt by residents in Bontang city, Sangatta district in East Kutai, and Tanjung Redeb district in Berau, which are located along the eastern coast of East Kalimantan.
The distance between Balikpapan and Tanjung Redeb is around 800 km.
The Meteorology, Climatology and Geophysics Agency (BMKG) reported that the epicenter of the 7.4-magnitude earthquake was located about 27 km north-east of Donggala at a depth of 10 km.
The BMKG said the major earthquake – stemming from shifts of the active Palu-Koro fault –a fracture of the earth's crust that spans from the Makassar Strait to the northern part of Boni Gulf in southern Sulawesi.
The fault runs underneath Sulawesi Island.
President Joko "Jokowi" Widodo has expressed condolences to the victims.
Jokowi called for calm among all Indonesian people, especially those living in or near the disaster-hit regions.
"To remain calm but stay alert as well. We hope this can be done together," he said in Surakarta, Central Java, on Friday night. (sau)
Join the discussions