Indonesia opens 2018 Asian Para Games in heartwarming ceremony
Gemma Holliani Cahya

The Jakarta Post
Jakarta |

Sun, October 7, 2018

| 12:25 am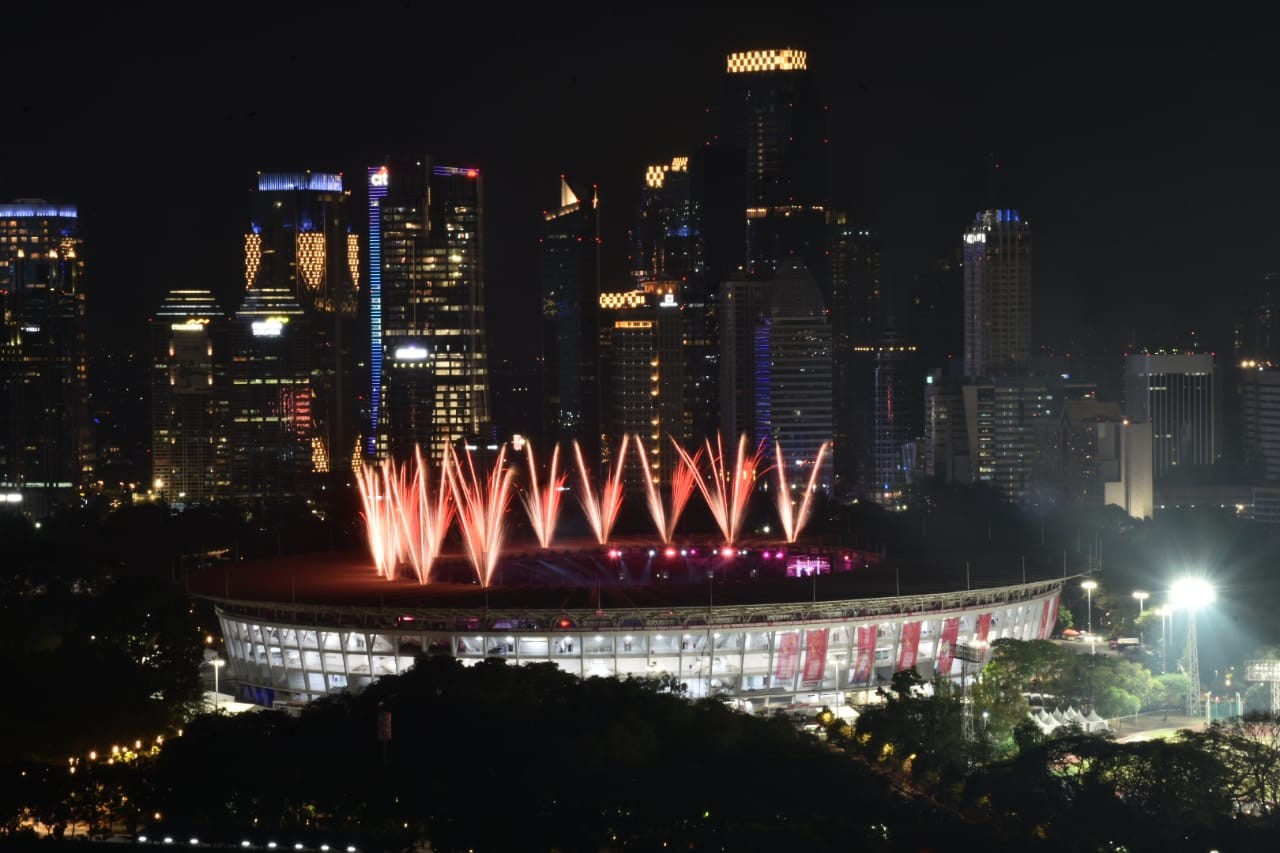 Fireworks are lit as the 2018 Asian Para Games is officially opened at the Gelora Bung Karno Main Stadium in Senayan, Jakarta on Saturday. The 3rd Asian Para Games will run until Oct. 13. ( INAPGOC/TJPimages/David Caessare)
Indonesia kicked off the 3rd Asian Para Games at the Gelora Bung Karno (GBK) Main Stadium in Senayan, Jakarta with a heartwarming ceremony on Saturday evening.
A gigantic "DISABILITY" sign was placed in the middle of the main stadium.
Standing in front of the sign was President Joko "Jokowi" Widodo, Indonesian archer Abdul and a young wheelchair user called Bulan.
Arrows were then shot into the air and all at once the "DIS" letters in the sign were shattered, leaving "ABILITY" intact in the middle of the stadium, making the spectators in the venue roar.
"I welcome all of you from 43 countries with pride," Jokowi said in his speech.
"The 2018 Asian Para Games is a moment where we all celebrate our friendship by showing our determination and achievements. We also want to highlight humanity."
"By saying bismillah [in the name of God], I officially open the 2018 Asian Para Games," he added.
A few seconds later, fireworks lit the sky around the GBK sports complex. The biggest Para Games in the region is on.
At least 840 performers showed their talent in the opening ceremony. Prominent Italian creative director Marco Balich, who worked on similar ceremonies in the 2016 Rio Olympics in Brazil and 2014 Sochi Olympics and Paralympics in Russia, took the helm in Jakarta's celebration.
Asian Paralympic Committee president Majid Rashed said it was important to improve the welfare of people with disability, who are still poorly presented in Para sports, across the continent.
"We know that many people with disabilities in Asia struggle with mobility issues, let alone access to sports," said Rashed, adding the Asian Para Games holds a pivotal role in changing lives of disabled people and challenging stigma in Asia. (nkn)
Topics :
Join the discussions