IMF, WB launch Bali Fintech Agenda
Dewanti Wardhani

The Jakarta Post
Nusa Dua, Bali |

Thu, October 11, 2018

| 03:00 pm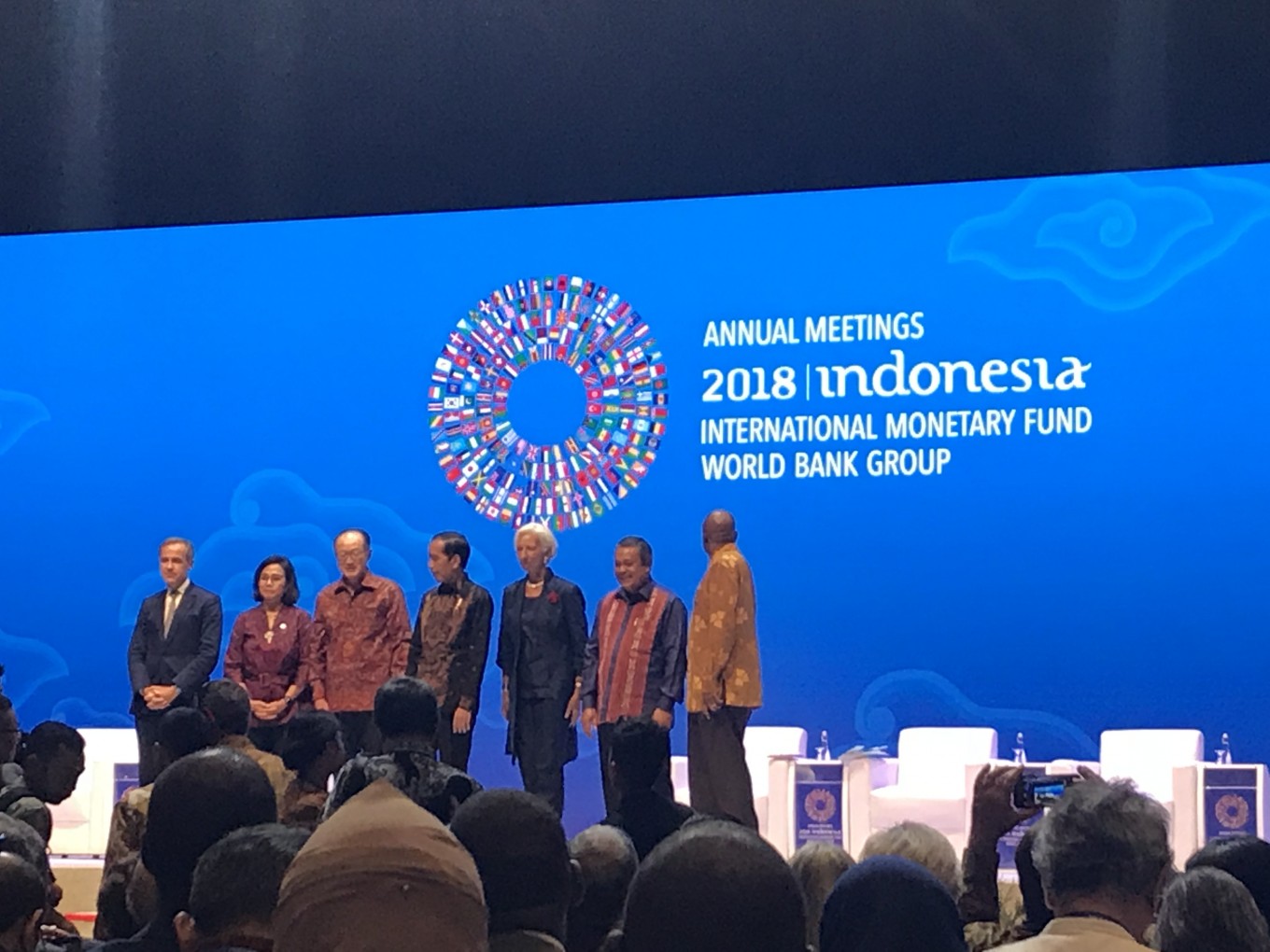 Posing for a photograph are (Left to right) Financial Stability Board chair Mark Carney, Indonesian Finance Minister Sri Mulyani Indrawati, World Bank President Jim Yong Kim, President Joko "Jokowi" Widodo, International Monetary Fund managing director Christine Lagarde, Bank Indonesia Governor Perry Warjiyo and International Monetary and Financial Committee chair Lesetja Kganyago during the launch of the Bali Fintech Agenda in Nusa Dua, Bali, on Thursday. (JP/Dewanti A. Wardhani)
The International Monetary Fund and the World Bank launched on Thursday the Bali Fintech Agenda, a set of 12 policy elements established to help member countries harness the benefits and opportunities of rapid advances in financial technology (fintech), while at the same time also managing the risks that arise.
President Joko "Jokowi" Widodo in his opening speech during the launch said that governments across the world should not excessively regulate and interfere in the development of fintech, and must instead let innovation and experimentation flourish.
IMF managing director Christine Lagarde said that the 12 key elements in the Bali Fintech Agenda were produced jointly with the World Bank in order to alert member countries to items they need to check in their own existing policies.
The 12 policy elements in the Bali Fintech Agenda are follows:
Embrace the promise of fintech;
Enable new technologies to enhance financial service provision;
Reinforce competition and commitment to open, free and contestable markets;
Foster fintech to promote financial inclusion and develop financial markets;
Monitor developments closely to deepen understanding of evolving financial systems;
Adapt regulatory framework and supervisory practices for orderly development and stability of the financial system;
Safeguard the integrity of financial systems;
Modernize legal frameworks to provide an enabling legal landscape;
Ensure the stability of domestic monetary and financial systems;
Develop robust financial and data infrastructure to sustain fintech benefits;
Encourage international cooperation and information-sharing, and;
Enhance collective surveillance of the international monetary and financial system.
Topics :
Join the discussions