Here comes Bui Squad: Palu inmates help earthquake, tsunami survivors
Ruslan Sangadji

The Jakarta Post
Palu |

Sun, October 21, 2018

| 11:09 am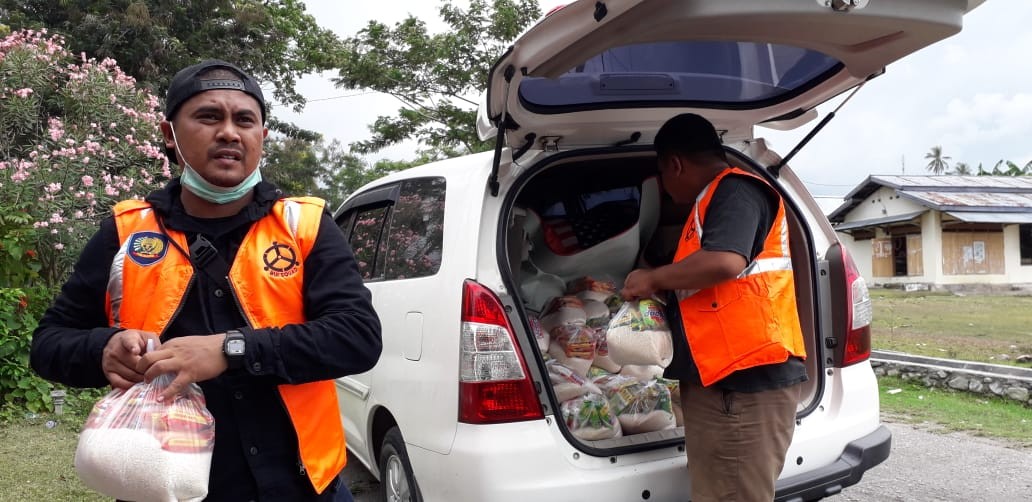 Inmates from Palu detention center in Central Sulawesi help distribute food packages to temporary shelters where survivors of earthquake and tsunami victims reside in Palu, Central Sulawesi, on Oct. 11, 2018. (The Jakarta Post/Ruslan Sangadji)
Many volunteers have arrived in Palu, Central Sulawesi, to help recover bodies from the earthquake, tsunami and soil liquefaction. They also have helped to provide food, drink, clothes, tents and blankets to survivors.
A group of volunteers stood out from the rest with their orange vests. On their vests was written WBP Rutan Palu (members of Palu detention center), showing that they are volunteering inmates from Palu Detention Center.
Nudin Lasahido, the coordinator of the volunteering inmates, told The Jakarta Post on Friday that they were permitted to leave the detention center from morning until afternoon to help survivors. Afterward, they return to the detention center.
"We come every morning to help the survivors," he said.
Nudin said the group called themselves Bui Squad (Prison Squad). They distribute food to survivors at temporary shelters as well as help clean residents' homes and neighborhoods that were damaged by the earthquake and tsunami.
The local office of the Law and Human Rights Ministry has permitted them to do the volunteer work.
"I coordinate with my friends to participate," said Nudin, who is currently serving a seven-year sentence.
Bui Squad cooperated with the Indonesian Red Cross (PMI) and Yaskum Indonesia to distribute aid at temporary shelters.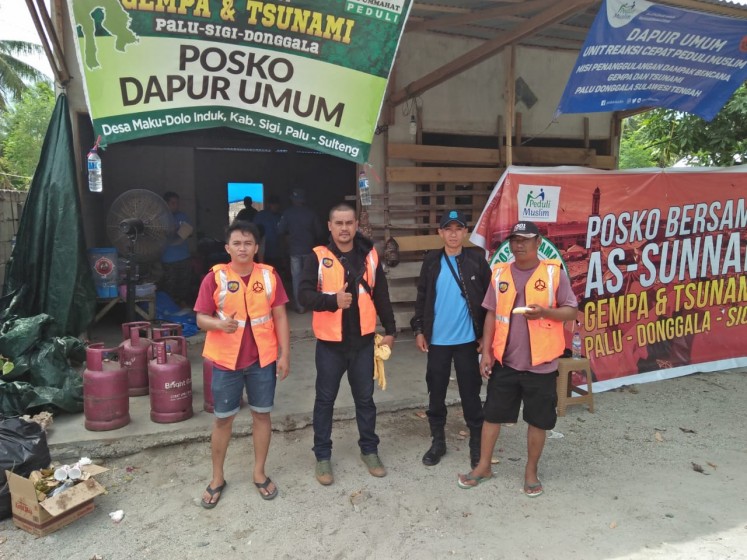 Inmates from Palu detention center in Central Sulawesi gather in front of a public kitchen in Palu, Central Sulawesi, on Oct. 11, while helping survivors. (The Jakarta Post/Ruslan Sangadji)
The 7.4-magnitude earthquake and tsunami that struck the waters off the coast of Donggala on Sept. 28 have killed more than 2,100 people in Palu, Sigi, Donggala and Parigi Moutong.
Nearly 79,000 evacuees are still living in 112 temporary shelters in the province. Some of the evacuees whose houses were only lightly damaged were able to return home but refuse to do so for fear of aftershocks.
The disasters also damaged correctional facilities in Palu, Donggala and Sigi, forcing more than a thousand inmates to escape from the prisons. The ministry's Corrections Directorate General recorded that as of Oct. 20, 736 inmates have yet to return, 238 of whom are from the Palu detention center.
Malahayati, a survivor who stays at a shelter in Maku village in Sigi regency, thanked the volunteers despite their criminal history.
"They may call you criminals, but for us you are angels," she told the volunteers. (wit)
Topics :
Join the discussions