Youth Pledge celebrations filled with politicians telling 'youths' what to do
Karina M. Tehusijarana

The Jakarta Post
Jakarta |

Mon, October 29, 2018

| 08:52 am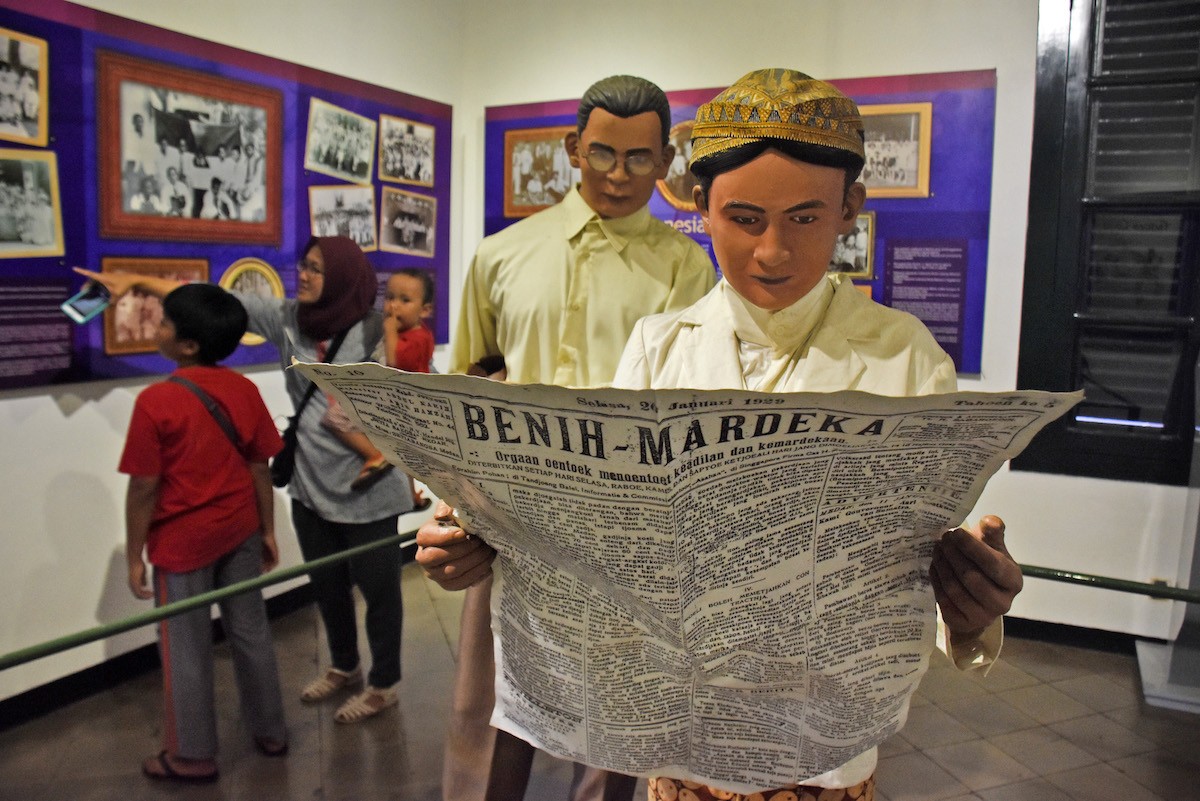 Children visit Youth Pledge Museum at Jl. Kramat Raya No. 106 in Jakarta on Sunday. Indonesia commemorates Oct. 28 as Youth Pledge Day. (Antara/Indrianto Eko Suwarso)
In commemorating the 90th anniversary of the Youth Pledge, politicians seemed full of ideas about what youths, soon to be the largest part of the electorate, should do.
"Youths" and "millennials" are the holy grail of Indonesian politics -- Statistics Indonesia (BPS) data suggests that more than 80 million people between the ages of 20 and 39 will be eligible to vote next year, making up nearly half of the electorate, putting the generation at the top of every political party's target demographic list.
President Joko "Jokowi" Widodo went the traditional route of asking today's youths to "bring Indonesia forward" and emulate those of 1928, who sparked the movement that eventually brought about independence.
Sembilan puluh tahun yang lalu, para pemuda menegaskan semangat terhadap cita-cita Indonesia yang merdeka.

Hari ini, 28 Oktober 2018, saya mengajak para pemuda bergandeng tangan memajukan Indonesia dengan semangat yang sama seperti pemuda-pemudi yang berikrar di tahun 1928 itu. pic.twitter.com/AzOnxYnIJL

— Joko Widodo (@jokowi) October 28, 2018
Jokowi's challenger in the presidential race, Prabowo Subianto, called on youths to maintain their "idealism, nationalism, patriotism and leadership", adding that the younger generations were the nation's engines of change.
Harapan saya, generasi muda harus selalu memiliki idealisme, nasionalisme, patriotisme dan kepemimpinan selaku bangsa yang merdeka. Karena generasi muda adalah motor penggerak perubahan suatu bangsa. #SumpahPemuda

— Prabowo Subianto (@prabowo) October 28, 2018
Despite pushing 50, Prabowo's running mate Sandiaga Uno seemed to consider himself one of the nebulous "youths" and used his message to reinforce the Prabowo-Sandiaga campaign theme of "justice and prosperity".
"It is time for us as the young generation to move and contribute to creating a just and prosperous nation," he tweeted.
Kita harus bisa menjadi bangsa yang berdaulat. Ini semua bisa terwujud dengan adanya kepemimpinan yang kuat, tegas, & berpihak pada rakyat.
Bersama Pak @prabowo, kita lanjutkan cita-cita sumpah pemuda. Kalau bukan kita siapa lagi. Kalau bukan sekarang kapan lagi. #SumpahPemuda

— Sandiaga Salahuddin Uno (@sandiuno) October 27, 2018
Democratic Party executive Agus Harimurti Yudhoyono, meanwhile, used Youth Pledge Day as an opportunity to end his lengthy Twitter hiatus and provide youths with encouragement.
"Sometimes we are on top, and sometimes we are on the bottom of the wheel of life. What's certain is that every struggle is filled with challenges. Young people have to be ready and confident in working toward their goals," he tweeted, having experienced some political ups and downs himself in the past few years, from a failed bid for the Jakarta governorship to an attempt to become Prabowo's running mate. He ended his tweet with "Happy Youth Pledge Day!" and inserting hashtags saying #Don'tGiveUp, #IHaveToBelieve and #JustBeConfident.
Kadang kita di atas, kadang di bawah, dalam putaran roda kehidupan. Yang pasti, setiap perjuangan penuh dengan tantangan. Anak muda harus SIAP dan Percaya Diri mencapai tujuan. Selamat Hari Sumpah Pemuda!#JanganMenyerah #AkuHarusYakin#PDaja pic.twitter.com/tSkqhosvwm

— Agus Harimurti Yudhoyono (AHY) (@AgusYudhoyono) October 28, 2018
Topics :
Join the discussions