Synagogue attack casts spotlight on American far-right
Paul Handley

Agence France-Presse
Washington, United States |

Tue, October 30, 2018

| 08:38 am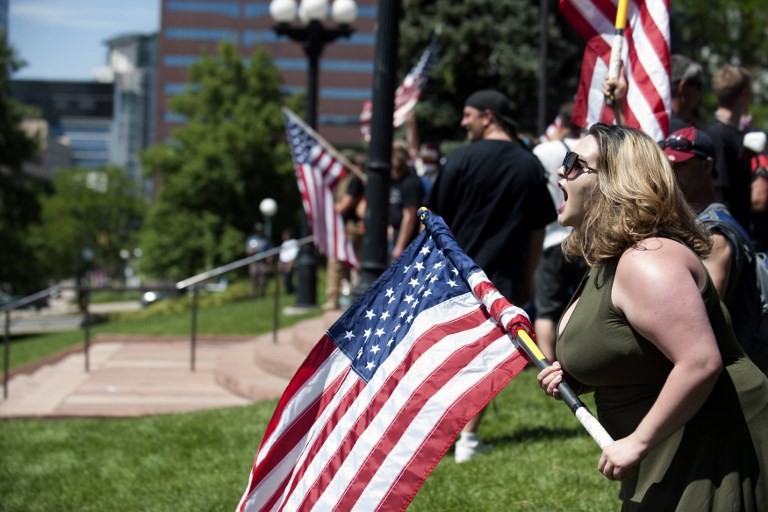 Right-wing demonstrator Cecily Frashuer taunts anti-Trump protesters and 'Antifa' members during the Denver March Against Sharia Law in Denver, Colorado on June 10, 2017. The march was supported by two right-wing groups, The Proud Boys, and Bikers Against Radical Islam. Police kept the counter protestors separated during the rally which was held in front of the Colorado State Capital. The march was one of many held throughout the U.S. opposing Sharia law, and was viewed by many as promoting both Islamophobia and racism. Jason Connolly / AFP (AFP/Jason Connolly)
The murder of 11 people at a Pittsburgh synagogue has cast the spotlight on a racist, neo-Nazi and anti-Semitic fringe in American society -- and rekindled a bitter debate over whether it is being enabled by President Donald Trump.
- Who are America's right-wing extremists? -
A subculture of far-right and neo-Nazi extremism has long existed in the United States.
It picked up strength after the September 11, 2001 attacks, fuelled by anti-Muslim sentiment, and gained a deeper foundation in 2010 when extremist ideologue Richard Spencer founded the website AlternativeRight.com.
The new "alt-right" was mainly about white and male supremacy, the racial and cultural threat of immigration, and an unalloyed nationalism. Anti-Semitic Spencer, who touts his dedication "to the heritage, identity and future of people of European descent in the United States," gave neo-Nazis more legitimacy than they previously had.
Excluded from mainstream media, they built communities around new websites and social media that did not censor their views, like 4-chan, Reddit and Gab.
When future Trump advisor Steve Bannon took control of Breitbart News and made the publication a hub for all things extreme-right, the alt-right fringe suddenly hit the mainstream.
Bannon understudy Milo Yiannopoulos defined the movement as "mostly white, mostly male middle-American radicals, who are unapologetically embracing a new identity politics that prioritises the interests of their own demographic."
The movement spanned a variety of different groups, some rejecting anti-Semitism, others rejecting racism, and some espousing violence. But they all fit under the new alt-right umbrella.
Tellingly, Yiannopoulos, who is gay and rejects anti-Semitism, was filmed in 2016 singing the anthem "America the Beautiful" while Spencer and others held their arms out in the Nazi salute in a Dallas bar.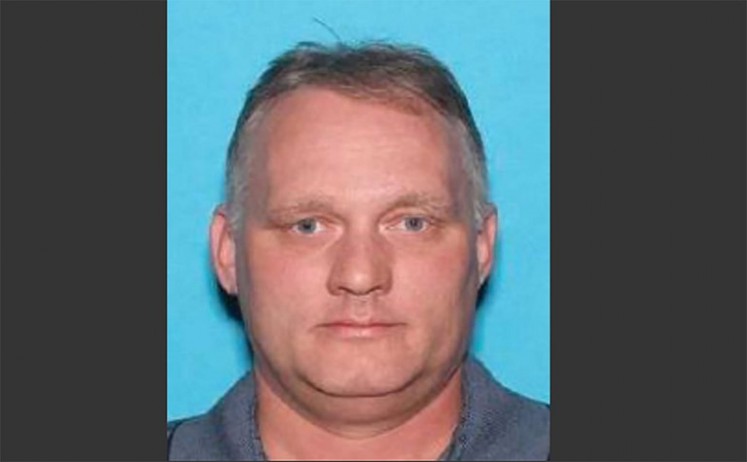 A Department of Motor Vehicles (DMV) ID picture of Robert Bowers, the suspect of the attack at the Tree of Life synagogue during a baby naming ceremony in Pittsburgh, Pensylvania. Eleven people were killed and six injured in a Pittsburgh synagogue shooting, the city's public safety director Wendell Hissrich said, an attack the FBI is investigating as a federal hate crime. Authorities confirmed the suspect in custody was Robert Bowers, whose actions Scott Brady, the US attorney for Pennsylvania's Western District, said (AFP/-)
- How did the Pittsburgh suspect fit in?
Neither the suspect in Saturday's shooting, Robert Bowers, nor Cesar Sayoc, the Trump fan arrested last week for mailing parcel bombs to Democrats and critics of the president, have been identified as members of specific extreme-right groups. But both apparently spewed typical alt-right sentiments on social media: anti-immigrant, anti-Muslim and anti-Semitic.
Bowers found Trump -- who was elected on a hardline anti-immigrant platform -- too compromising for his extreme views.
The main target of his vitriol was the Hebrew Immigrant Aid Society, which supports needy newcomers to the United States. "They are committing genocide to my people. I just want to kill Jews," he allegedly told police after he was captured.
- How big is the alt-right?
Formerly limited to the fringe of society, the alt-right got a huge boost to its visibility when Trump joined the presidential race in 2015, with Bannon and Breitbart in support.
In the run-up to the 2016 election, Trump's anti-immigrant, "America First" platform powerfully resonated with, and helped mobilize the white supremacists of the alt-right.
While the precise number of alt-right sympathizers is difficult to pin down, by the time Trump took office in January 2017, experts said such groups collectively had active members numbering in the tens of thousands, and tacit supporters in the hundreds of thousands, all connecting online.
"They are acting in concert right now," Spencer Sunshine of Political Research Associates, which monitors right-wing groups, said in an interview last year.
"The rising tide of Trump-ist racism is raising their boats."
- What was 'Unite the Right'?
The movement appeared to hit a peak in the summer of 2017, when Spencer, Jason Kessler, a member of the violent Proud Boys group, and others organized the "Unite The Right" march in Charlottesville, Virginia.
The August 11-12 event was the largest extreme right gathering in the country in decades, drawing numerous openly neo-Nazi and white supremacist groups such as the Traditionalist Workers Party and the Ku Klux Klan.
To counter them, thousands of anti-extremism activists flocked to the city as well.
The rally dissolved into street battles which culminated when an alt-right activist plowed his car into a crowd of progressive demonstrators, killing a woman.
Charlottesville was arguably the apex of the alt-right's resurgence. Afterwards various alt-right leaders decried what happened and pointed the finger each-other, while the Justice Department moved to charge those involved in the worst violence.
- Where does Trump stand?
Trump, whose daughter and son-in-law are Jewish, has repeatedly and strongly condemned anti-Semitism.
But his attitude towards the alt-right in general has been much more ambivalent.
After the Charlottesville events, the president infamously took 48 hours to respond only to blame "both sides" despite overwhelming evidence that neo-Nazis were the principal source of violence.
Trump declared there were "very fine people on both sides" -- comments critics said were empowering to the alt-right.
More broadly, Trump has been accused of fanning violence through almost daily tweets and speeches lambasting immigrants, opponents and journalists in divisive and hardline language.
Critics accuse him of stoking prejudice by calling Latin American immigrants "rapists" and criminals, by targeting Muslim immigrants with a series of travel bans, and by labelling African nations "shithole" countries.
Meanwhile he and members of his White House have demonized billionaire Democrat supporter George Soros -- notably accusing him of paying protesters and funding a caravan of Central American migrants -- in language similar to that used by anti-Semitic conspiracy theorists.
Trump and his White House strongly reject the suggestion he has fomented hatred, instead blaming "dishonest" media for whipping up "anger" and divisions.
Join the discussions