#SaveMukaBoyolali: Prabowo's joke rubs Boyolali people the wrong way
Devina Heriyanto

The Jakarta Post
Jakarta |

Sat, November 3, 2018

| 11:57 am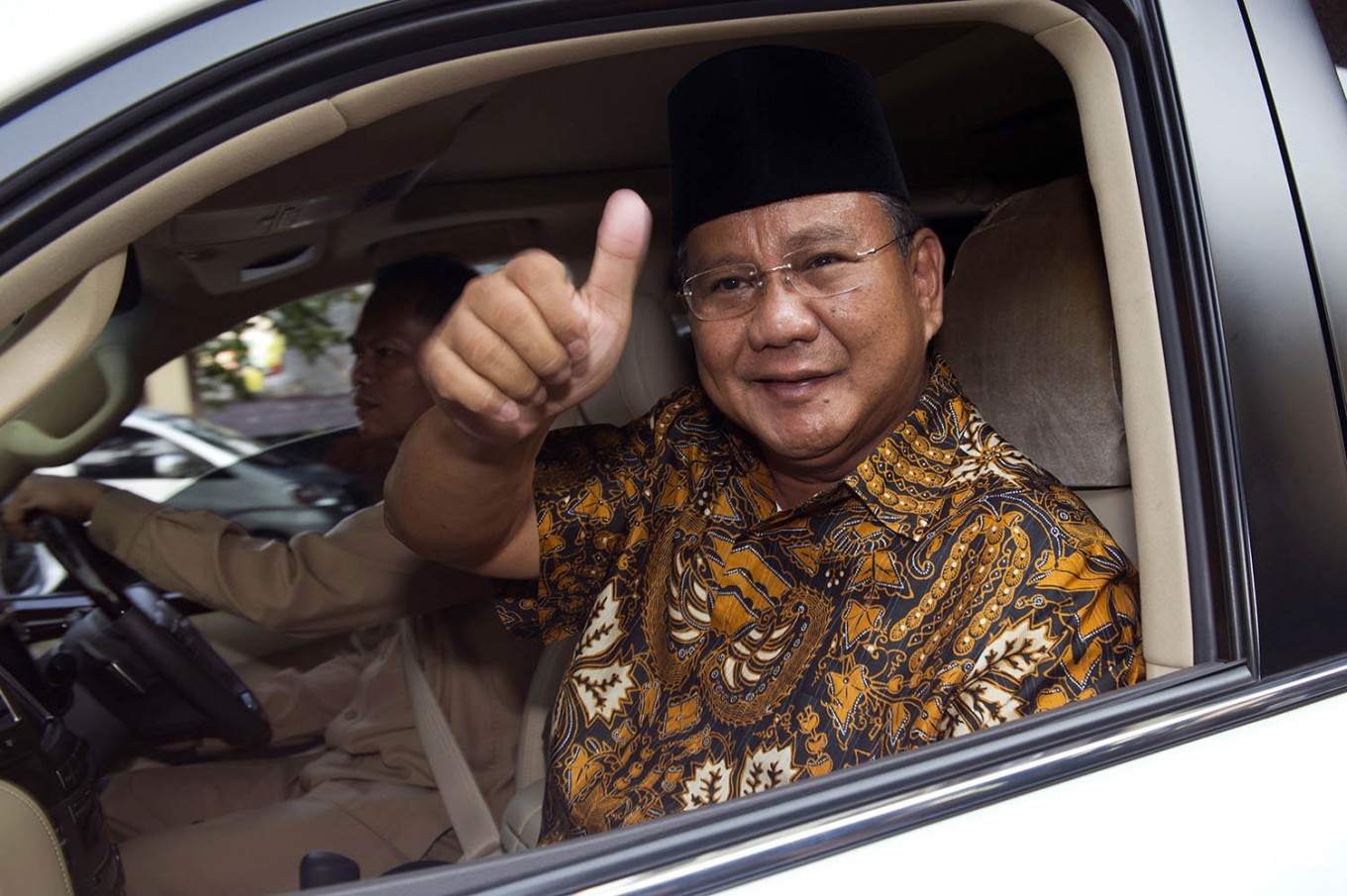 Indonesian presidential candidate Prabowo Subianto gestures to journalists following a meeting with Islamic organizations in Jakarta on July 15, 2014. (AFP/Romeo Gacad)
Presidential contender Prabowo Subianto's attempt to highlight inequality in the country by joking about "tampang Boyolali" (the look of Boyolali people) has backfired.
A resident of Boyolali, Central Java, has reported Prabowo to the the police for making what he believes is an "offensive" remark about Boyolali people's faces.
The man, identified only as Dakun, filed the report at the Jakarta Police on Friday, kompas.com reported. He accused the former military general of spreading hate speech against the Boyolali people.
During the inauguration of his campaign post in Boyolali on Tuesday, Prabowo delivered a speech in which he highlighted the widening economic gap between the rich and poor in the country, particularly in Jakarta.
Prabowo said that, in Jakarta, there were a lot of fancy international hotels with names many people "probably can't even pronounce". Later, he said in jest to the crowd, "If you try to enter [these hotels], you will probably be kicked out. Your faces are not that of rich people, your faces are just that of Boyolali people. Right?"
The joke was met with laughter from the audience. But it failed to amuse netizens, especially those claiming to be proud Boyolali people.
The video of the speech was uploaded on YouTube by a user named Taufik Irvani. At the time of the writing, the video has garnered more than 30 thousand views.
On Friday, the hashtag #SaveMukaBoyolali (#SaveBoyolaliFace) was trending on Twitter in Indonesia, with Boyolali residents posting pictures of what Boyolali people look like.
Ini #TampangBoyolali lho, Pak Prabowo.

Sejauh pengalaman saya yang mungkin memang tidak sesering bapak masuk hotel mewah (karena tampang dan dompet saya yang misqin), Alhamdulillah saya nggak pernah diusir seperti yang bapak bilang :)#SaveMukaBoyolali pic.twitter.com/vTBcPLfqbM

— Bayu Bintoro Setiawan (@bayubins) November 2, 2018
Bayu Bintoro Setiawan, using the Twitter handle @bayubins, said in a tweet, "This is #TampangBoyolali, Pak Prabowo. I might not enter fancy hotels as often as you do (because of my poor face and wallet), but luckily I have never been kicked out like you said."
#SaveMukaBoyolali
Nggak perlu nginep di Ritz-Carlton Jakarta segala, yang penting bisa ke Venice. pic.twitter.com/LS6dRHtqn8

— Evelline Andrya (@evellineandrya) November 2, 2018
Another user, Evelline Andrya shared a picture of her with the iconic canals of Venice, Italy, as a background. She said, "I don't need to stay at the Ritz-Carlton Jakarta so long as I can go to Venice."
According to Statistics Indonesia (BPS), Boyolali regency has gradually decreased its poverty rate in the past few years. The poverty rate in 2017 was 11.96 percent, compared to 14.97 percent in 2012.
Boyolali is located near Surakarta, where President Joko "Jokowi" Widodo comes from. The city offers scenic views of Mount Merapi and Mount Merbabu, as well as a thriving coffee industry in Selo subdistrict. Aside from cultural traditions, Boyolali also hosts the annual Volcano Rock Festival. (ahw)
Join the discussions