After 'sontoloyo', here comes 'genderuwo': Jokowi slams fear-mongering politicians
Marguerite Afra Sapiie and Nurul Fitri Ramadhani

The Jakarta Post
Jakarta |

Fri, November 9, 2018

| 08:25 pm President Joko "Jokowi" Widodo straps on his helmet before test riding an electric motorbike called Gesits in the front yard of the Presidential Palace in Jakarta on Wednesday, following a meeting to discuss the mass production of the bike. (Antara/Wahyu Putro A.)
In remarks that have ruffled political feathers, President Joko "Jokowi" Widodo has used an Indonesian folklore reference to describe politicians who spread the propaganda of fear in their political campaigns, referring to them as "genderuwo" politicians.
Speaking at an event held to distribute land certificates in Tegal, Central Java, the President criticized politicians who campaigned with fear-mongering messages that caused people to worry and become anxious.
Jokowi, who is running for reelection, said politicians who attempted to influence public opinion by creating worry and fear did not have good political ethics and manners.
"Such politics is unethical; how can [the politicians] frighten their own people? This is called genderuwo politics, [because it] spreads fear."
Genderuwo is part of Javanese mythology, which according to the official Indonesian dictionary is about a ghost in muscular human form with thick hair all over the body.
In The Religion of Java ( 1976 ) book, American anthropologist Clifford Geertz considers genderuwo a memedi type, which consists of spirits who are rather harmless although still terrifying to humans.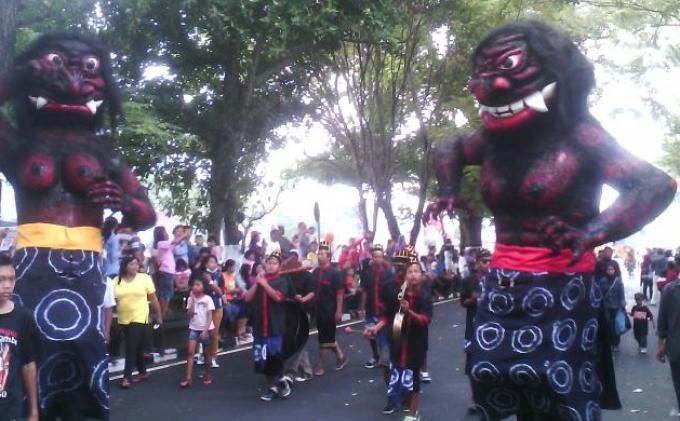 People wear 'genderuwo' ghost costumes during a cultural parade near Mount Merapi in Central Java. (Tribunnews.com/-)
The President later asserted that genderuwo politics "must be stopped", as he said politicians must be able to assist the public in developing their political maturity so that they vote with a clear head.
Jokowi, however, refused to answer when asked about whom he was specifically referring to when he mentioned genderuwo politicians.
The President's usage of the term genderuwo comes following his use of the word "sontoloyo" (foolish) late last month to comment on the backlash against his administration's subdistrict fund program, which the opposition called a political stunt.
At the time, Jokowi warned people of politicians who tried to influence them with their remarks. "Be careful, there are many good politicians but there are also many 'sontoloyo' politicians."
Read also: What is 'sontoloyo', the new buzzword in Indonesian political lingo?
Executives of political parties backing Jokowi's reelection bid have related the incumbent's speech to political campaigns ahead of the 2019 election, where Jokowi and his running mate Ma'ruf Amin will go head- to-head with rival Prabowo Subianto-Sandiaga Uno.
Golkar Party executive Ace Hasan Syadzily said genderuwo politics was a symbolic term for those who spread pessimistic views about the nation in their campaigns.
"They talk as if we are facing an economic crisis by saying that the prices of commodities have surged in the markets, driving people to feel anxious about economic conditions, while in fact conditions have improved," Ace said.
The opposition camp has been using economic issues in its campaign. For instance, vice presidential candidate Sandiaga has been criticizing the prices of staple foods, such as by claiming that tempeh was being sold in portions "as thin as credit cards" because of rising prices.
Read also: Jokowi, Sandiaga slug it out in traditional markets
Abdul Kadir Karding, the National Awakening Party (PKB) secretary-general, took a direct jab at presidential contender Prabowo, saying "If Pak Prabowo conveys pessimism frequently and uses the propaganda of fear, maybe one of [the politicians] referred to [by Jokowi] is Pak Prabowo."
The Prabowo-Sandiaga camp said it was not offended by Jokowi's remarks, with Prosperous Justice Party (PKS) politician Mardani Ali Sera saying that Jokowi appeared as if he wanted to compete with Sandiaga's popularity.
"We are not [offended]," Mardani said, "We should not be sappy in politics."
Another PKS politician, Suhud Aliyudin, said the term genderuwo politicians would be better used to refer to the incumbent's administration because "there were many campaign promises that had not been fulfilled."
Topics :
Join the discussions