Antisexual-assault movement '#kitaAGNI' gains traction
Bambang Muryanto

The Jakarta Post
Yogyakarta |

Fri, November 9, 2018

| 10:44 am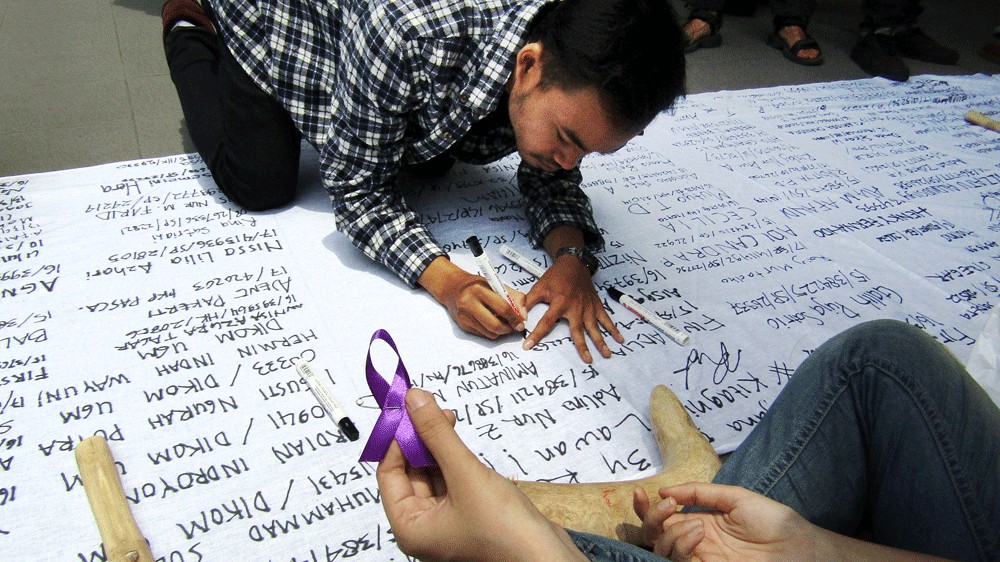 Solidarity: Gadjah Mada University (UGM) students write names on a large piece of fabric to pressure university leaders to take action on sexual violence as part of a movement initiated by a group called #kitaagni (We Are Agni). Agni is the pseudonym of a student who was allegedly assaulted by a fellow student during a community service assignment in Maluku last year. (The Jakarta Post/Bambang Muryanto)
Thursday when hundreds of people, including students and lecturers of Gadjah Mada University (UGM), rallied in a show of support for Agni, the pseudonym of a female student of the Yogyakarta university who was allegedly sexually assaulted by another student over a year ago.
Agni, a Social and Political Sciences Faculty (Fisipol) student, shared her personal account of the alleged assault with UGM student magazine Balairung recently, saying that a male student of the school's engineering faculty sexually assaulted her during a community service project (KKN) at a Maluku village on June 30, 2017. KKNs are compulsory school programs that last several months, during which students live with local families in the target village.
The Balairung report came under the spotlight earlier this week, triggering uproar in the UGM community and beyond, with many saying that campus authorities had yet to take appropriate action. The alleged offender, identified only as HS, has reportedly completed his studies at the university and is set to graduate, while Agni is struggling to advocate for herself.
During the #kitaAGNI rally on Fisipol campus, students, lecturers and activists demanded that the UGM rescind HS' academic credentials, reiterating that any form of sexual abuse was a serious violation.
"We want UGM to handle all sexual violence cases thoroughly and dismiss the perpetrators," rally spokesperson Nadine Kusuma told The Jakarta Post on Thursday, suggesting that the latest case was not the university's first and that the UGM had not been siding with victims. The rally also highlighted that the UGM was facing "a sexual violence emergency".
In mere hours, hundreds of UGM students signed their names and contact details on a white banner in a show of solidarity. They also wore purple ribbons to protest over violence against women and played kentongan (bamboo slit drums), which are traditionally played to warn of incoming danger in villages.
"This will not stop today. We will continue the rally [to involve] other faculties until all sexual violence cases are settled and the UGM is free from sexual violence," Nadine said, adding that the white banner would later be handed over to the UGM rector.
The group also demanded that the UGM issue a warning against staff members who issued statements that blamed victims and provide survivors with relevant information, psychosocial and health services and some form of compensation.
The dean of Fisipol UGM, Erwan A. Purwanto, who participated in the rally and lamented the university's slow progress in handling the case, wrote, "Manage this case thoroughly!" on the banner.
"The university is slow in implementing recommendations that were handed over by the investigation team in July 2018," he said, referring to a team established by the university in response to a sexual abuse report filed by Fisipol UGM. The recommendations included counselling sessions for Agni and HS.
Separately, Suharti, the director of Rifka Annisa Women's Crisis Center, an NGO that has advocated for Agni since September 2017, criticized UGM management for failing to bring her justice.
"Sexual violence in universities is becoming harder to handle because, most of the time, the universities prioritize their reputation over thorough settlement of a case. Also, it is because there is a lack of commitment to protect the victims," Suharti said.
She said Agni had suffered from depression and that Rifka Annisa was currently focusing on trauma counselling.
Yogyakarta Legal Aid Institute director Yogi Zul Fadhli demanded that HS be legally punished.
"The perpetrator has to be reported to the police," Yogi said.
In response to the uproar, UGM spokesperson Iva Ariani said the university had expressed its sympathy to Agni and pledged to bring justice for her.
"The UGM will also take the necessary steps to bring this case to the legal domain," she said.
Meanwhile, social media users have been doxxing HS since the report made headlines across the country. The alleged identity and pictures of HS began to circulate online mere hours after the report was published.
Topics :

Join the discussions