Prabowo touts Indonesia as moderate Muslim country
Nurul Fitri Ramadhani

The Jakarta Post
Jakarta |

Thu, November 29, 2018

| 09:11 am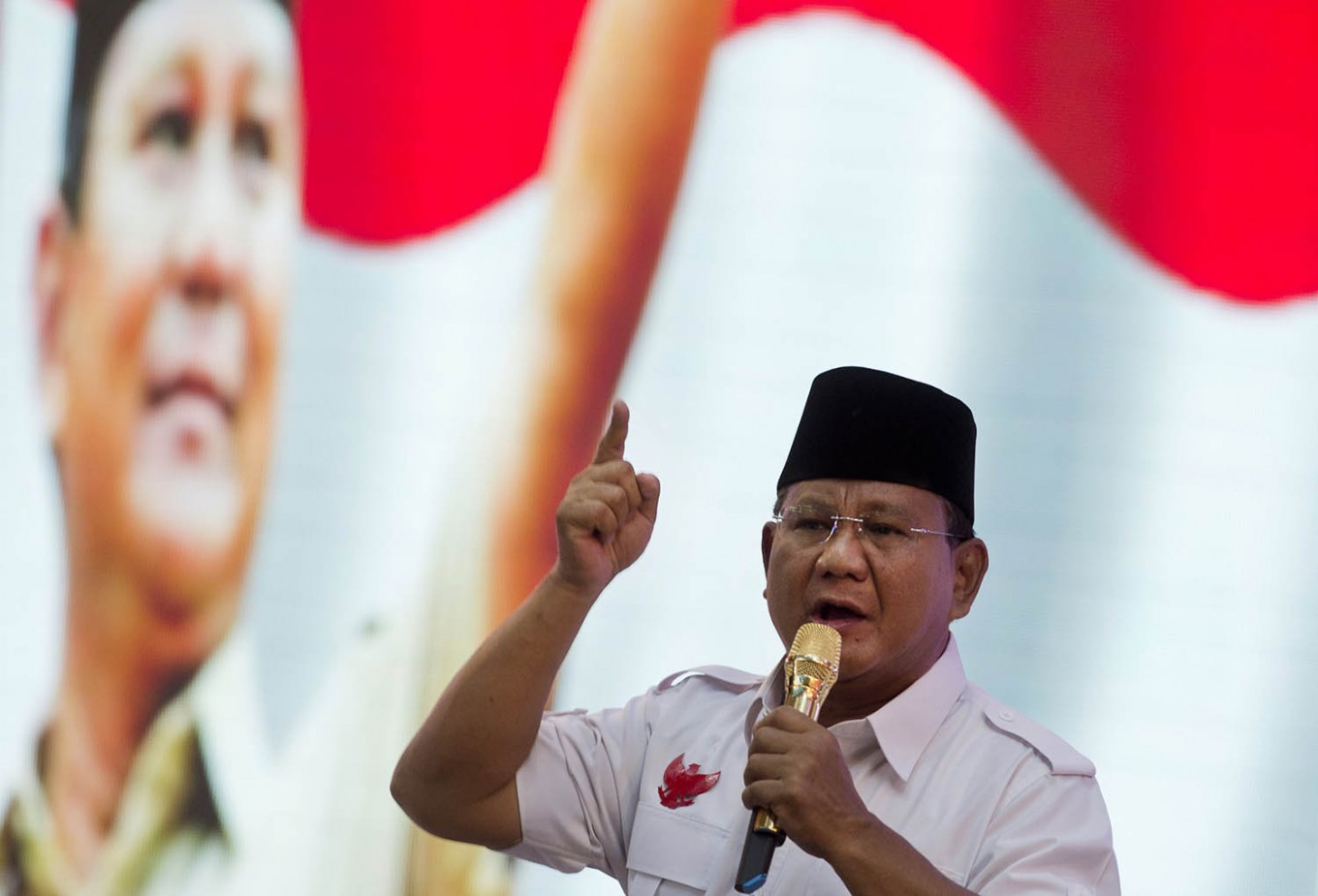 Gerindra Party chairman Prabowo Subianto. (AFP/Romeo Gacad)
Presidential candidate Prabowo Subianto promoted Indonesia as a safe destination to the Singaporean business community on Tuesday, claiming it is a moderate Muslim nation despite recent developments that might suggest otherwise.

"I am sure the majority of Muslims in Indonesia are moderate," Prabowo said in his keynote speech at the World 2019 gala dinner organized by The Economist in Singapore on Tuesday evening.

Prabowo explained that a lot of ulema had been labeled radical even though most of them condemn radicalism and teach peace.

"They are so tired of being accused of [being in a] radical political group, but this should be the responsibility of the country's leader: to educate the people and embrace the ulema so they won't turn radical," said the Gerindra Party chairman.

"But I am optimistic because I saw a lot of religious leaders in Indonesia condemning radicalism and Islamic teaching has emphasized this."

Prabowo suggested that a good leader was one who could eradicate all forms of radicalism. One way to do that, according to the former military general, was by creating jobs for young people.

"If young people lose hope and are frustrated, feeling pessimistic about their future, then religious demagogues can easily influence them," he said.

Prabowo is known for his close ties to conservative Muslims. He has gained support from Islamic parties, namely the Prosperous Justice Party (PKS) and National Mandate Party (PAN), and also from the so-called 212 Alumni, an umbrella group for participants of a series of rallies held to demand the prosecution of then Jakarta governor Basuki "Ahok" Tjahaja Purnama, a Christian of Chinese descent, for blasphemy in 2016. Ahok was eventually sentenced to two years in prison. He is to be released early next year.

The country's struggle to rebuild its moderate image has been marred by other such radical actions, like the bomb attacks against three Surabaya churches in East Java in May, which were planned and carried out by radicalized Muslim families.

Political communications observer Hendri Satrio of Paramadina University in Jakarta said Prabowo aimed to paint himself as a moderate leader while insinuating that the current administration led by his rival President Joko "Jokowi" Widodo had failed to maintain religious harmony.

"He wants to show that he is open to all Muslim groups, that he is different from Jokowi because he will be able to embrace both conservative and moderate Muslims," he said.

Jokowi has been using similar rhetoric, particularly in global forums, he said.

"Jokowi has emphasized moderation and pluralism all the time, probably trying to embrace all Muslim groups. Whether he has succeeded is another question," Hendri said.

Political expert Adi Prayitno of the Islamic State University (UIN) Syarif Hidayatullah Jakarta said through his speech Prabowo wanted to show he is a moderate Muslim and was not related to hard-line groups, as many of his critics suggest. "Prabowo is widely supported by hard-line Muslim groups, so his remarks were a paradox," Adi said.

Recent events also suggest that Prabowo has close ties with Rizieq Shihab, an influential leader of the hard-line Islam Defenders Front (FPI), as well as with ulema and activists grouped under the National Movement to Safeguard Ulama (GNPF-Ulama). The GNPF-Ulama was actively involved in the anti-Ahok rallies. Prabowo once met with Rizieq in Mecca, Saudi Arabia, where he now resides to avoid prosecution in Indonesia after being charged with violating the 2008 Pornography Law in May 2017.

Adi suggested Prabowo might want to start proving his claimed commitment to being a moderate Muslim by actually promoting moderate ideas to his conservative supporters.
This article was originally published in The Jakarta Post's print edition on Nov. 29, 2018, with the title "Prabowo touts Indonesia as moderate Muslim country".

Join the discussions