Wanted: Signature souvenirs for Jakarta
Vela Andapita

The Jakarta Post
Jakarta |

Fri, November 30, 2018

| 07:12 am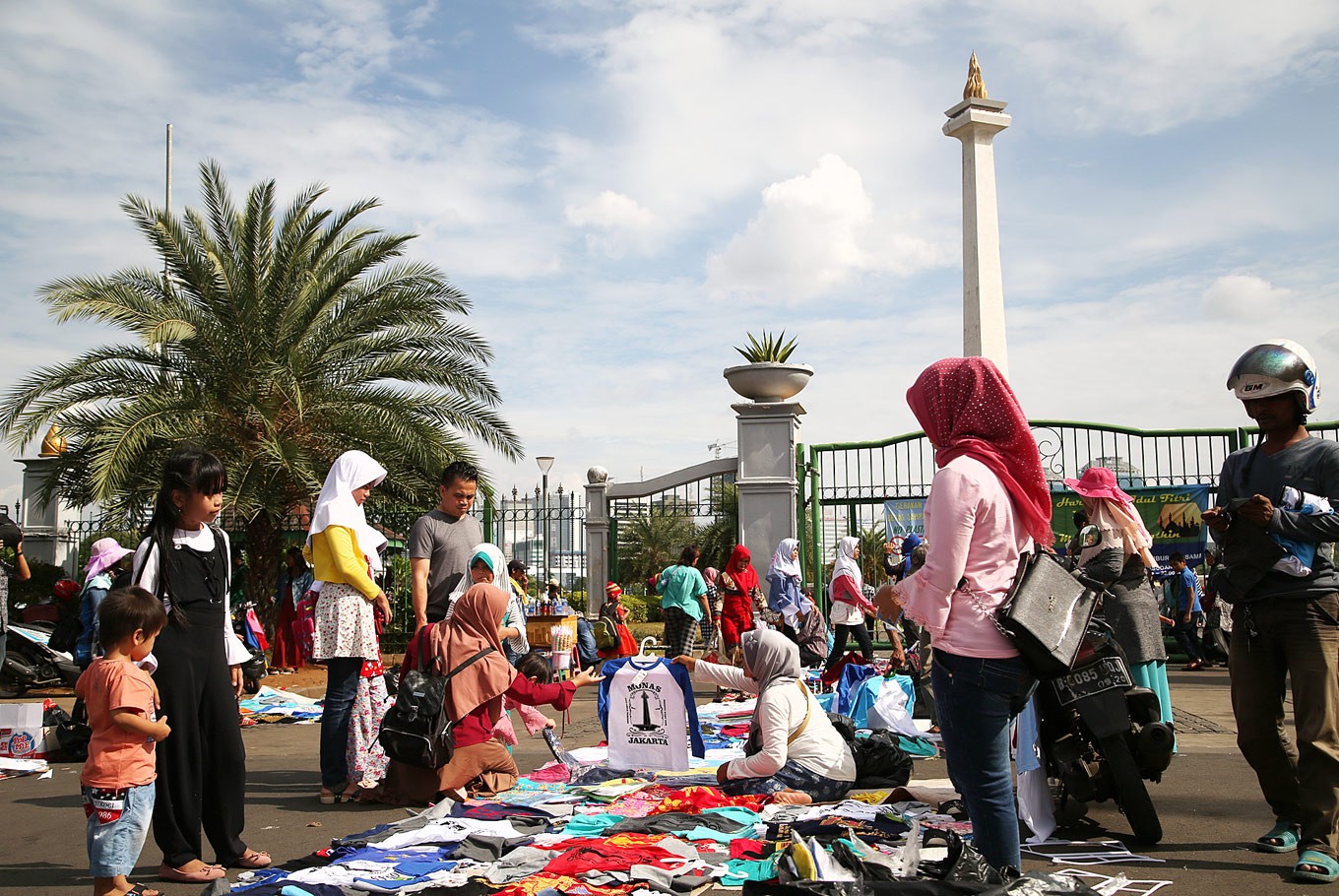 Vendors sell their goods outside the National Monument (Monas) compound in Central Jakarta. (JP/P.J.Leo)
As the capital city and the center of entertainment and business, Jakarta has various tourist attractions for its residents and visitors. But you may be left scratching your head if asked what are some signature Jakarta souvenirs and where to get them.
This is the experience of Yogyakarta native Salfian Ori, who has worked in Jakarta for the past two years. Every time he goes home he wants to bring something special for his family.
But he doesn't know where he can buy gifts, so he ends up buying regular T-shirts at the famous Tanah Abang textile market in Central Jakarta. "I want to buy them something that is 'very Jakarta', But I haven't found it yet," he told The Jakarta Post on Thursday.
He said he once bought some gifts at Lenggang Jakarta food court and souvenir center at the National Monument (Monas) complex, but he was not really impressed with the products. All he could find were simple trinkets bearing pictures of Monas or ondel-ondel (Betawi effigies), and they were not good quality products either.
Another souvenir hunter is Novaeny Wulandari, a South Tangerang resident whose husband, Angga, works in Bengkulu. Every time Angga returns to Jakarta, the couple go to Tanah Abang to hunt for gifts for Angga's office mates.
"We usually buy 'I LOVE JAKARTA' T-shirts. We also buy them ethnic bracelets in Condet [East Jakarta], but they neither scream Jakarta nor are sold in souvenir shops," she said.
The capital city is the second most visited province after Bali, according to data from the Tourism Ministry. It is also seeing growing visitor numbers, as the administration aims to attract 2.8 million foreign and 36 million local tourists this year.
Jakarta Culture and Tourism Agency acting head Asiantoro admitted that besides Lenggang Jakarta at Monas, there was no special place dedicated to selling Jakarta souvenirs. Most are sold at tourist attractions such as the Setu Babakan Betawi Cultural Village, Ancol Dreamworld and Taman Ismail Marzuki cultural center.
"If we visit Bali, for example, there is a famous shop called Krisna that sells handicrafts and Bali souvenirs. We should have that too in Jakarta," he said.
The agency plans to establish a souvenir center as a tourist attraction. Asiantoro said that even though the plan had not been included in the city budget or in the mid-term development plan, the administration had started working to realize it.
In a bid to bolster the variety of Jakarta's signature souvenirs, the Jakarta chapter of the National Handicraft Council (Dekranasda) holds a biennial competition called the Jakarta Souvenir Design Award. This year, the council will name five winners from among 20 finalists whose designs have been carefully selected from 106 submissions.
Jakarta Dekranasda head and wife of Jakarta Governor Anies Baswedan, Fery Farhati said the winners, who will be announced on Dec. 1, will receive money and support from the city administration to expand their business and market their souvenirs.
Alif Quita Nopianti, 24, was among the finalists pinning hope on her designs. For her, Jakarta means so much more than just Monas and ondel-ondel. As an illustrator, Alif created a colorful children's cloth-book featuring two fictional characters named Jaka and Arta who guide the readers to visit the city's landmark statues.
"Adults can learn from the book. Jaka and Arta tell us the original names of some statues that people know by other names," the 24-year-old laughingly said.
"Many of us know the statue at the Senayan traffic circle as the pizza statue, while its original name is Patung Pemuda Membangun. The one near Monas is known as the horse statue, it is actually named Patung Arjuna Wiwaha," she added.
The other finalists came up with various creations, ranging from a monopoly board game featuring Jakarta's tourist sites, trendy bags printed with Jakarta's famous flora and fauna, to neck pillows and hoodies shaped like bird of prey the elang bondol (brahminy kite), representing the city's mascot.
Topics :
Join the discussions