Hundreds of C. Sulawesi quake survivors work for UNDP cash aid
Ruslan Sangadji

The Jakarta Post
Palu |

Sun, December 2, 2018

| 08:40 am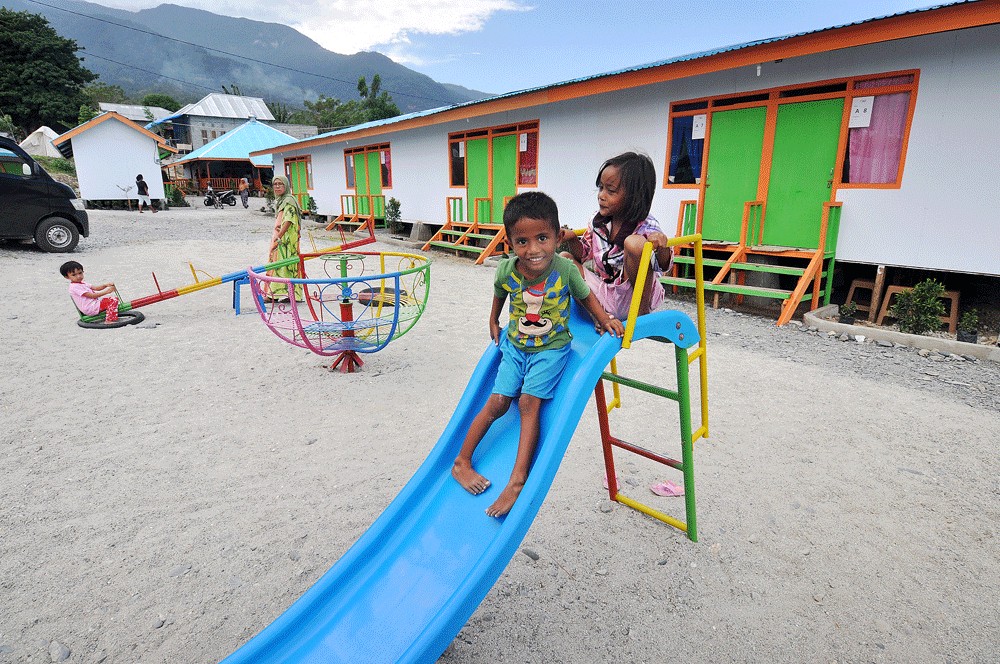 Two children who were relocated from Palu, Central Sulawesi, after it was hit by an earthquake, tsunami and soil liquefaction two months ago play on a slide close to their shelter, which was provided by the charity Aksi Cepat Tanggap. (Antara/Mohamad Hamzah)
At least 300 earthquake and tsunami survivors in Sigi regency are cleaning up debris in disaster-hit areas in Central Sulawesi in a cash-for-work relief program sponsored by the United Nations Development Program (UNDP).
UNDP's Indonesia country director, Christophe Bahuet, said the program aimed to lift the spirits of survivors of the September catastrophes.
Each survivor is paid Rp 80,000 per day for work undertaken from Nov. 10 to the end of January 2019. Each also gets health insurance coverage from the state Health Care and Social Security Agency (BPJS Kesehatan).
"This is the first stage and we have involved 300 people from Lolu, Jono Oge and Mpanau villages in Sigi regency," Bahuet told The Jakarta Post on Friday. They mostly work in their home regency but may also work in other disaster-hit areas.
A 7.4-magnitude earthquake occurred off the western coast of Donggala regency on Sept. 28 and triggered high ocean waves, with Palu, Donggala, Sigi and Parigi Moutong the worst-hit areas. The two disasters were followed by soil liquefaction in several villages in Sigi and Palu.
The catastrophes killed more than 2,000 people and severely injured almost 5,000, with more than 1,000 reportedly missing. More than 270,000 people have been displaced and stay at shelters.
The National Disaster Mitigation Agency (BNPB) estimated that Central Sulawesi suffered Rp 15.29 trillion (US$1 billion) in losses from the calamities.
The cash-for-work program, which aims to employ 3,500 people, is part of the UNDP's $1.4 million early-recovery and relief program to support victims.
In the program, the UNDP is cooperating with the Volunteers of People and Nature (ROA), the Association of Community Innovation (Imunitas) and the Mitra Karya Membangun Foundation (YMKM).
The first stage was to run for 25 days in Sigi. The next stages would take place in other regencies. Bahuet said 40 percent of the program's participants were to be female survivors.
Sul Lamakampali, one the participants, told the Post that the program was very helpful because it encouraged her to work for money, which was better than just waiting for assistance from the government.
"This program is very educative to me and other survivors. This really helps to reduce the burden. We lost jobs after the disasters. Therefore, the money we earn from this program can be used to start our business," she said.
The government said about 14,400 of the displaced households would be provided 1,200 shelters put up by the Public Works and Housing Ministry while waiting for the reconstruction of the region, while the remaining 9,013 families would be provided with shelters developed by, among others, the National Alms Agency and the Indonesian Red Cross. (foy)
Topics :
Join the discussions