Drug lords want Duterte, new police chief dead for $1.1m
Aries Joseph Hegina

Philippine Daily Inquirer/ANN
Manila |

Thu, June 9, 2016

| 02:40 pm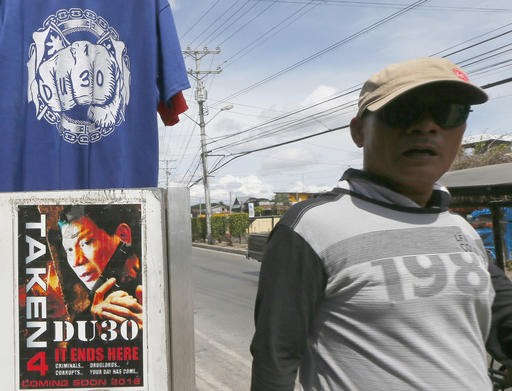 A resident walks past a campaign poster of President-elect Rodrigo Duterte heralding his anti-criminality and anti-drugs platform is displayed along with souvenir T-shirts along a street at his hometown in Davao city, southern Philippines, May 11. (AP/Bullit Marquez)
The incoming chief of the Philippine National Police said that drug lords who want him and President-elect Rodrigo Duterte dead have increased the bounty to their heads.
Incoming Philippine National Police (PNP) director Chief Supt. Ronald "Bato" Dela Rosa remains unfazed by the reported assassination threats against him and President-elect Rodrigo Duterte.
In an interview on ANC's "Headstart" on Thursday, Dela Rosa said that the bounties for him and for Duterte had been raised from 10 million pesos (US$218,000) to 50 million pesos (US$1.09 million) because there were no takers.
"As of yesterday [Wednesday], they increased the bounty to 50 million pesos. Fifty million pesos for Mayor Duterte, 50 million pesos for me. They increased it because they could not find any takers. No takers wanted the 10 million pesos, so they increased it to 50 million pesos," Dela Rosa said.
Dela Rosa earlier claimed that the bounties were offered by drug lords incarcerated at the New Bilibid Prison.
"Bring it on, really. Bring it on. O, it has gotten bigger—50 million. Okay, you come. Bring it on anytime—anytime of the day, any place," he said.
The former Davao police chief has shrugged off the threats against him, even joking that he is "not that handsome" to fear death.
"Am I that handsome that I would be afraid to die? I am not afraid to die," he told reporters on Wednesday.
Dela Rosa vowed that with or without the 5 million-peso bounty offered by Duterte for the death of drug lords, he would stamp out illegal drugs and criminality.
"Whether there is a 5 million-peso reward or not, those drug lords will be killed if they fight," he said in a separate Radyo Inquirer interview.
The President-elect first broached the idea of a 5 million-peso bounty for the killing of a drug lord during his thanksgiving party in Davao City last weekend.
"If you kill a drug lord, you will receive 5 million pesos. If a drug lord is arrested alive, the informant receives just 4,999,000 pesos," Duterte told a crowd of around 500,000 people during his victory party at the Crocodile Park.
He also said that he would offer millions of pesos worth of bounty to anyone who could kill or arrest drug traffickers.
Topics :
You might also like :
Comments