Indonesia's statement on South China Sea dissatisfying: China's experts
Liza Yosephine

The Jakarta Post
Jakarta |

Wed, July 13, 2016

| 07:29 pm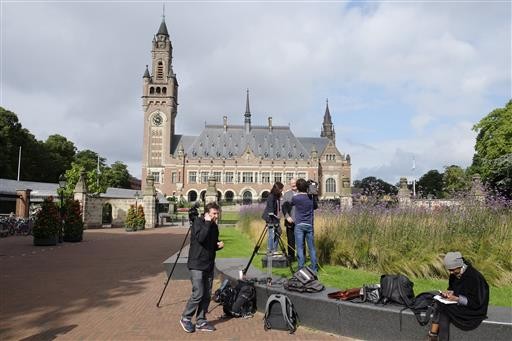 Journalists gather outside the Peace Palace in The Hague, Netherlands, on Tuesday, ahead of a ruling by the Permanent Court of Arbitration (PCA) on the dispute between China and the Philippines over the South China Sea. (AP/Mike Corder)
Chinese experts on the South China Sea dispute have labeled Indonesia's statement on the issue as "surprising", saying the statement on the Foreign Ministry's website was a departure from the impartial stance the country once held.
Chen Shi Qiu, a delegate of experts from China's Public Diplomacy Consulting Committee, had expected Indonesia to take a more "objective, just and fair position" as it had in the past. "I think the more objective and fair view would be in conformity with the factual situation and the behavior of the tribunal and the wrongdoings of the Philippines side on this issue," Chen said in Jakarta on Wednesday in a discussion with the press organized by the Chinese Embassy in Indonesia.
Following the Permanent Court of Arbitration ruling on Tuesday in favor of the Philippines in its case against China's claim to the vast waters, Indonesia called on all parties involved in the territorial dispute to exercise self-restraint and to respect applicable international laws, referring to the UN Convention on the Law of the Sea (UNCLOS) of which China and the Philippines are signatories
Chen, who was Chinese ambassador to Indonesia from 1998 until 2002, said the dispute between the Philippines and China, the arbitration, concerns the two countries exclusively. He insisted that he was not sent by the government and was only briefly in Jakarta to meet with the public and media representatives for general discussions on the South China Sea.
Another expert at the discussion concurred. "Indonesia's statement is dissatisfying," said China Institute of International Studies executive vice president and senior fellow Ruan Zongze.
He said the statement failed to show the country was impartial and objective in its view. When asked which part of the statement pointed toward impartiality, he replied "it's a general feeling".
"If you read the press release, it's a general feeling in the narrative, it sounds very familiar [in that way]," Run Zongze said without elaborating.
You might also like :
Comments