Duterte says he ordered preparations for US drills scrapped
Jim Gomez

Associated Press
Manila |

Thu, October 13, 2016

| 11:30 am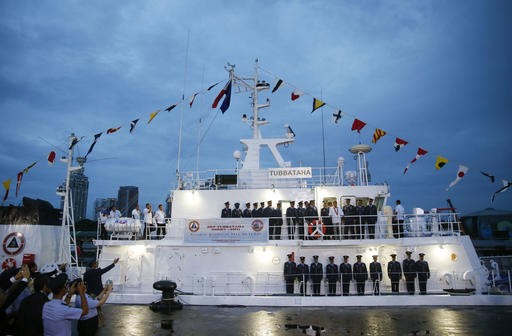 Philippine President Rodrigo Duterte (fourth from right on the upper deck) tours the newly-commissioned vessel BRP Tubbataha during its 115th anniversary celebration, Oct.12, 2016 in Manila, Philippines. (AP/Bullit Marquez)
Philippine President Rodrigo Duterte said Wednesday he has ordered his defense chief not to prepare for joint exercises with the US military next year as he moved to realize his threat to scrap a high-profile symbol of his country's treaty alliance with Washington.
Duterte, however, reiterated he would not abrogate a 1951 Mutual Defense Treaty with the US that provides a security umbrella for the Philippines. He has said, however, that he'll chart a foreign policy not dependent on Washington.
"I insist that we realign, that there will be no more exercises next year, 'Do not prepare,' I told Defense Secretary Lorenzana," he said in a speech at the anniversary of the country's coast guard, referring to his defense chief.
Delfin Lorenzana said in a news conference last week that he has explained to the president the value of the annual military maneuvers with the Americans in responding to natural disasters and in potential security crises. The defense chief said he expected a final decision on the Philippines's participation before the two sides started planning the drills.
Top officials of the US Pacific Command in Hawaii are scheduled to fly to the Philippines later this month to discuss a range of defense issues, including plans for future joint exercises, said a Philippine defense official.
Manila's defense department, however, has asked them to postpone their trip until after the US presidential elections next month and after Duterte has finalized his decision to change the Philippine military's engagements with US forces, said the official, who spoke on condition of anonymity because of the delicate nature of the issue.
An eight-day combat exercise between US and Philippine forces ended a day early Tuesday in an air of uncertainty because Duterte wanted to end such drills, saying the maneuvers only benefit the US military.
Outgoing US Ambassador to Manila Philip Goldberg said Washington wants to continue its robust alliance with the Philippines, saying both countries benefit mutually from the partnership.
"We have the desire to continue our alliance," Goldberg told reporters. "Some of the things are beyond my control, beyond the US control, but what I can tell you is the US has a string of commitment to the Philippines, to the people of the Philippines, to the economic well-being of the Philippines."
Aside from halting at least 28 joint combat exercises with US forces each year, including the Balikatan or shoulder-to-shoulder drills that involve thousands of American and Filipino troops each year, Duterte has opposed joint patrols with the US Navy in the disputed South China Sea. He also wants US counterterrorism troops out of his country's south, saying they inflame restiveness among minority Muslims, who resent atrocities committed by American colonial forces in the early 1900s.
Under Duterte's predecessor, Benigno Aquino III, relations with the US blossomed as the Philippines sought help in confronting Beijing over escalating territorial conflicts in the South China Sea and the US reasserted its influence in Asia as a counterweight to China.
Duterte, who took office in June and labels himself as a left-wing politician, however, has taken steps to scale back his country's military engagements with the US, which has criticized his bloody fight against illegal drugs, earning his ire. Contrastingly, Duterte has reached out to China and Russia.
Last week, the foul-mouthed Duterte told Barack Obama to "go to hell." He issued a new warning to his detractors Wednesday.
"If I don't respect you anymore, be prepared for the worst because I can give you gallons of gallons of epithets, curses," Duterte said.
Topics :
You might also like :
Comments