Thai govt officials pledge allegiance to Chakri dynasty
Wasamon Audjarint

The Nation
|

Tue, November 22, 2016

| 04:11 pm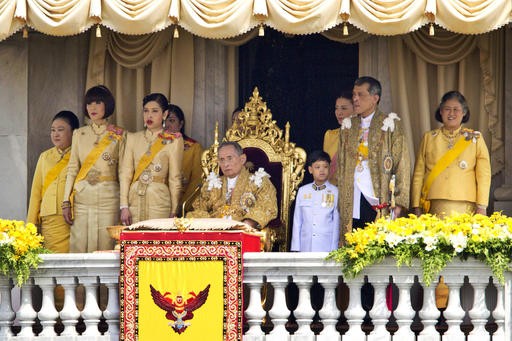 Thailand's King Bhumibol Adulyadej (seated center) and his family members (from left): Princess Somsavali, Princess Ubolratana, Princess Chulabhorn, Princess Siribhachudabhorn, Royal Consort Princess Srirasm, Prince Dipangkorn Rasmijoti, Crown Prince Vajiralongkorn, Princess Sirindhorn; after addressing the crowd from a balcony of the Ananta Samakhom Throne Hall on his 85th birthday in Bangkok, Dec. 5, 2012. (AP/Wason Wanichakorn)
Some 4,000 people pledged allegiance to the Chakri dynasty at an event held at Government House Tuesday.
"I shall be faithfully loyal to all Chakri Kings until my death," pledged Prime Minister Prayut Chan-o-cha, who presided over the event.
"I shall also participate in national reforms and support governments that rule the country lawfully and with good governance under a constitutional monarchy for the benefit of the Thai people," the PM continued.
Taking the oath in front of a portrait of King Bhumibol Adulyadej, the participants also promised to follow the law and manage national resources wisely for sustainable development in line with Bhumibol's Sufficiency Economy Philosophy.
The event, called "United Power of Reverence", was held simultaneously at government offices across the nation as well as at Thai missions overseas.
Prayut along with other members of the Cabinet, high-ranking officials as well as bureaucrats under the PM's Office attended the Government House event.
The occasion was held to demonstrate reverence toward the dynasty that has been ruling the country for over 230 years as well as in remembrance of the late monarch.
Topics :
You might also like :
Comments