Myanmar's move will cause further labor shortage: Malaysia federation
Razak Ahmad and Rahimy Rahim

The Star
Petaling Jaya, Malaysia |

Fri, December 9, 2016

| 07:03 pm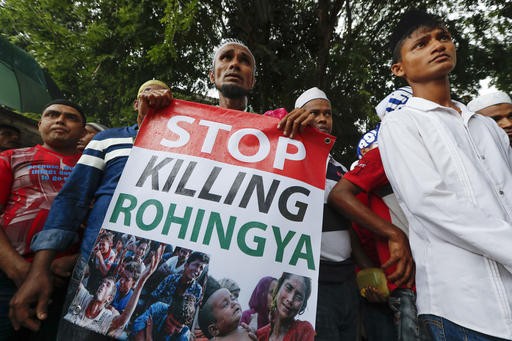 An ethnic Rohingya holds a banner during protest after Friday prayers outside the Myanmar Embassy in Kuala Lumpur, Malaysia, Friday, Nov. 25, 2016. (AP/Vincent Thian)
Malaysia's manufacturing sector will suffer if Myanmar presses ahead with stopping its nationals from coming here to work, said the Federation of Malaysian Manufacturers (FMM).
So far, local employment agencies said they have yet to receive any black-and-white directive on the freeze from Myanmar.
But the FMM pointed out that the move, if implemented, would hit the country's manufacturing sector hard.
"This move coupled with the ongoing freeze on recruitment and foreign worker approvals will cause a further shortage of workers," it said.
On Tuesday, Myanmar newspapers reported that the Ministry of Labor, Immigration and Population had issued a statement, saying the government would stop sending Myanmar workers here due to Malaysia's strong position against the persecution of the Rohingya community.
The FMM pointed out that Malaysia's manufacturing sector, which employed 100,349 Myanmar workers as June, was already facing a shortage of labor.
As such, it urged the Home Ministry, especially the Immigration Department, to quickly approve applications for replacement workers if the moratorium was implemented.
The FMM said the ban would disrupt current recruitment efforts of the industry as some employers might have already incurred recruitment costs, including travel expenses and levy payments, to bring in new workers to meet the shortage.
In addition, any possible move by Myanmar to recall its workers who are already here would amount to a breaking of the employment contract.
"Employers have already incurred costs such as medical, insurance and levy payments which they would not be able to recover."
FMM also voiced its concern that some Myanmar workers might resort to running away, which would result in employers being penalised by the authorities.
Several recruitment agencies contacted by The Star said they were hopeful that they could still bring in Myanmar workers.
An agency manager in Kuala Lumpur said he had yet to get any concrete details from his Myanmar counterpart.
"We are also unclear about the situation there. We hope that we can still bring them in as the demand is still high," he said.
An owner of an employment agency in Shah Alam said employers who want to hire Myanmar workers would still be able to submit their applications.
"We contacted our agents in Myanmar but there is no official confirmation.
"Our company is expecting a new batch of workers from Myanmar next week," he said, urging the relevant authorities to clarify the situation.
A recruitment officer in Subang Jaya said the company could still process applications for Myanmar workers.
Topics :
This article appeared on The Star newspaper website, which is a member of Asia News Network and a media partner of The Jakarta Post
You might also like :
Comments