Recent developments surrounding the South China Sea
Hrvoje Hranjski

Associated Press
Bangkok |

Mon, January 9, 2017

| 10:54 am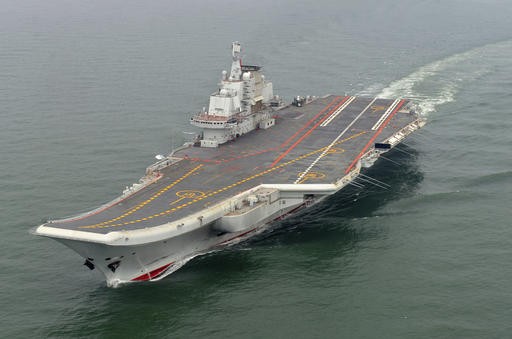 Chinese aircraft carrier Liaoning cruises for a test in the sea, May 2012. (AP/Xinhua/Li Tang, File)
A look at recent developments in the South China Sea, where China is pitted against smaller neighbors in multiple disputes over islands, coral reefs and lagoons in waters crucial for global commerce and rich in fish and potential oil and gas reserves:
CHINA MAKES WAVES WITH AIRCRAFT CARRIER
China says it was routine combat drills, yet the deployment of the aircraft carrier Liaoning's battle group in the Western Pacific and into the South China Sea has made neighbors jittery about Beijing flexing its muscles.
The Defense Ministry says J-15 fighter jets and sea-borne helicopters practiced takeoffs and landings on the carrier's deck in "complex hydrological and meteorological conditions in the South China Sea." It says a cold front posed some challenges but the drills provided important experience in the building of combat capability of the country's largest warship.
China's first and only carrier, which was commissioned in 2012 and declared combat ready in November, for the first time sailed into the Western Pacific through the Miyako Strait south of Okinawa, then passed through the Bashi Channel separating Taiwan from the Philippines as it entered the South China Sea. Japanese and Taiwanese surveillance aircraft and ships closely monitored its progress.
"These latest drills provide our first insights into how China will likely be using their aircraft carrier in the near future. Rather than extended power projection in far-off waters, the Chinese appear more likely to use the carrier, at least initially, as a demonstration of regional muscle - sending a message that they are willing to back up talk, policy, or rhetoric with a show of strength," Eric Wertheim, author of Combat Fleets of the World, told the US Naval Institute News.
Chinese Foreign Ministry spokeswoman Hua Chunying says the Liaoning should enjoy rights in accordance with freedom of navigation as set by international law.
However, Japanese officials accompanying Prime Minister Shinzo Abe on his trip to Hawaii for talks with President Barack Obama said the two leaders affirmed that movements by the Chinese carrier "warrant close attention from mid-term and long-term perspectives."
Fox News reported this was the first time since World War II that no US aircraft carrier was at sea anywhere in the world. The USS Carl Vinson battle group began deploying in the Western Pacific last week and will relieve the USS Ronald Reagan as the only carrier in the Asia-Pacific region based at Yokosuka Naval Base in Japan.
"We have a presence in the South China Sea and the Asia-Pacific, significant presence at all times," said Defense Department spokesman Peter Cook. "And it would not be unusual for us to have an aircraft carrier or any other kind of ship in that part of the world."
DUTERTE DANGLES ARBITRATION RULING BEFORE CHINA
Philippine President Rodrigo Duterte, who has warmed up to Beijing away from the country's traditional reliance on the US, says he will bring up an international arbitration ruling that invalidated most of China's claims in the South China Sea if Beijing starts extracting oil or gas from the disputed waters.
At the same time, the Philippines is studying the possibility of joint exploration of resources with China, according to the Philippine ambassador to Beijing, Jose Santiago "Chito" Santa Romana.
Asked under what circumstances he would insist on the July tribunal ruling that China refuses to recognize, Duterte replied: "When the minerals are already being siphoned out."
If that happens, he said, he will tell China: "I thought we're friends? We share economic bounties ... so how about us? I have this title, so what do you think? Don't you think we should talk now?"
Duterte has previously said he would set aside the arbitration ruling as he seeks to mend ties with China.
He also criticized Washington, telling CNN Philippines that if China's construction of islands in the disputed waters was a serious concern, then the United States should have led the way and stopped it "right at the beginning, when the first spade of soil was tossed out to the area that was being reclaimed."
"Why raise an issue putting the countries into distress or under stress when you are not going to do anything, when it is you who have the arms?" he said.
GUNBOAT DIPLOMACY IN FULL SWING
A flurry of goodwill visits by ships and submarines has marked the new year in the South China Sea.
In the Philippines, two Russian warships docked in Manila for a five-day visit in a showcase by Moscow to demonstrate what it can offer to a traditional US ally.
Rear Adm. Eduard Mikhailov, deputy commander of Russia's Pacific Fleet, said anyone can choose how to cooperate with the US or Russia. "But from our side, we can help you in every way that you need."
"We are sure that in the future we'll have exercises with you. Maybe, just maneuvering or maybe use of combat systems and so on," he told reporters.
Meanwhile, three Japanese warships led by the destroyer JS Inazuma visited Subic Bay, a former US naval base near Manila.
Also, Malaysia hosted two submarines from China in Sabah state facing the South China Sea. The Royal Malaysian Navy said the visits by the CNS Chang Xing Dao and the CNS Chang Cheng are part of regular navy-to-navy interactions.
The Diplomat reported that last year Malaysia and China began annual military exercises and China secured access to the port of Kota Kinabalu following a visit by Chinese navy commander Adm. Wu Shengli.
You might also like :
Comments