Philippines to intensify drive offering free contraceptives
Manila |

Wed, January 11, 2017

| 03:38 pm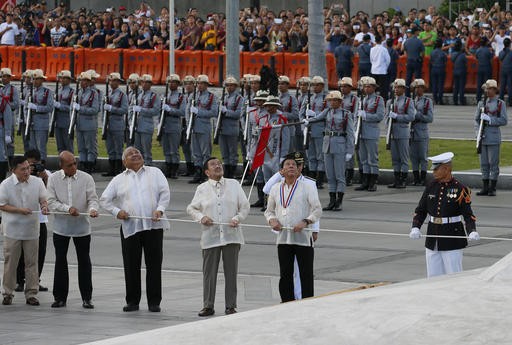 Philippine President Rodrigo Duterte, fifth from left, looks up as he leads the flag-raising ceremony to commemorate the 120th death anniversary of the country's National Hero Dr. Jose P. Rizal Friday, Dec. 30, 2016 in Manila, Philippines. (AP/Bullit Marquez)
Philippine President Rodrigo Duterte has directed government agencies to ensure free access to contraceptives for 6 million poor women — a move expected to be opposed by the dominant Roman Catholic church and pro-life groups.
Economic Planning Secretary Ernesto Pernia said Wednesday the intensified drive to make contraceptives available and ensure "zero unmet need for family planning," is important to reduce poverty. The government's target is to cut the poverty rate from 21.6 percent in 2015 to 14 or 13 percent by the end of Duterte's term in 2022.
The executive order Duterte signed Monday says 2 million women from poor households with unmet needs for modern contraception should have access to them by 2018, and the rest thereafter.
Topics :
You might also like :
Comments