Indonesia seeks stronger Indian Ocean ties
Liza Yosephine

The Jakarta Post
Jakarta |

Mon, March 6, 2017

| 06:33 am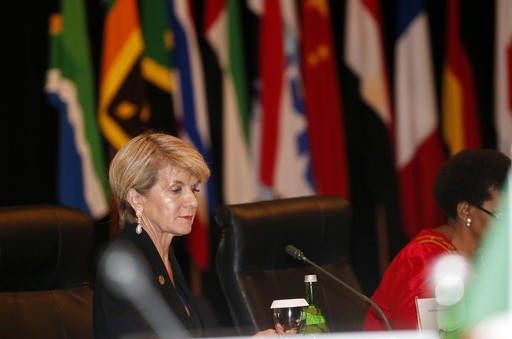 Australian Foreign Minister Julie Bishop attends the 16th Indian Ocean Rim Association's (IORA) of the Council of Ministers Meeting in Bali, Indonesia, Thursday, Oct. 27, 2016. (AP/Firdia Lisnawati)
With eyes set on boosting trade and stepping up efforts in fighting terrorism, members of the Indian Ocean Rim Association (IORA) kicked off a senior-level meeting over the weekend to set the wheels in motion ahead of its inaugural summit on Tuesday.
Senior officials from IORA's 21 member countries gathered on Sunday at the Jakarta Convention Center in Central Jakarta to discuss details for three outcome documents under the theme of "strengthening maritime cooperation for a peaceful, stable and prosperous Indian Ocean."
Since its establishment in 1997, IORA has not had a high-level summit and in the Jakarta meeting member countries are expected to sign the final IORA Concord, which the committee of senior officials has agreed to name the Jakarta Concord.
The Indonesian Foreign Ministry's director general for AsiaPacific and African affairs, Desra Percaya, said the meeting had shown a "high-spirited atmosphere of cooperation."
He said member countries had given various "explanations and proposals" that culminated in an agreement, some of which would be finalized in a ministerial-level meeting Monday.
"The IORA Concord, an initiative of Indonesia and a reflection of Indonesia's leadership, has been approved and received support from all IORA member countries," Desra told a press briefing following the meeting.
Desra declined to give further details from the meeting, saying that countries needed to negotiate sensitive issues at the ministerial level, such as maritime piracy.
The meeting has also finalized negotiations on the ministerial action plan for the next four years, which also includes talks on a free trade agreement for the coastal countries and island states located around the Indian Ocean.
As the third-largest oceanic division with around 2.7 billion people living around it, the Indian Ocean region is a key economic seaway with approximately one-third of the world's cargo and 70 percent of oil and energy shipping passing through it each year.
For the first time since its inception in 1997, IORA will also expand its cooperation to include politics with member countries expecting to agree on a declaration to prevent and counter terrorism as well as violent extremism.
In its capacity as chair, Indonesia initiated the organization's first summit to strengthen cooperation and the commitment of IORA member countries amid growing global challenges, including terrorism.
(Read also: Jokowi set to open IORA biz summit)
IORA secretary-general KV Bhagirath commended Indonesia's initiative in convening the organization's member states, as well as its seven dialogue partners for the landmark event, calling it a "game changer."
"Indonesia has played the role of chair in an exceedingly pioneering manner by taking steps forward to strengthen regional cooperation in the Indian Ocean," Bhagirath said in the press briefing.
IORA's secretariat, he said, would oversee the implementation of projects and proposals in the anticipated action plan, one of the three outcome documents.
Bhagirath, who was also present at the establishment of IORA in Mauritius, expressed optimism at the organization's future.
The Jakarta summit is expected to draw strong attendance with 16 leaders, including cochairs Australian Prime Minister Malcolm Turnbull and South African President Jacob Zuma, having confirmed their attendance.
Earlier, Indonesian Foreign Minister Retno LP Marsudi said IORA's priority areas were in line with President Joko "Jokowi" Widodo's vision of the global maritime fulcrum, giving it a platform to realize the country's ambitious maritime concept.
Indonesia is also seeking to explore untapped African markets via the regional organization. Earlier this year, Retno embarked on a trip to some African countries to seek trade ties.
Trade between Indonesia and IORA members was worth US$89.8 billion in 2016, with realized investment from the region amounting to 40 percent of total foreign investment in the country, or approximately $11.67 billion, according to government data.
Topics :
You might also like :
Comments