Pakistani army says 3 convicted Islamic militants executed
News Desk

Associated Press
Islamabad |

Wed, March 15, 2017

| 04:02 pm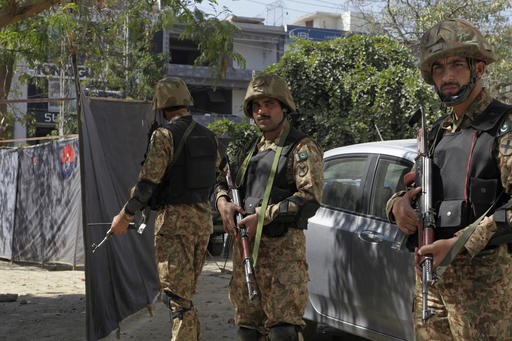 Pakistani soldiers stand alert at the site of an explosion, in Lahore, Pakistan, Thursday, Feb. 23, 2017. A Pakistani provincial minister says an explosion has killed at least eight people in the eastern city of Lahore. The violence is the latest in a string of brazen suicide bombings and other attacks over the past two weeks that have killed over 125 people. The attacks have been claimed by an array of militant groups, including the Islamic State group and a splinter Taliban faction, and have prompted a countrywide crackdown on militants. (AP/K.M. Chaudary)
Three Islamic militants convicted by military courts were executed in a prison in central Pakistan on Wednesday, the Pakistani army announced.
The militants were associated with the Pakistani Taliban and a second extremist group named Harkat-ul-Jihad e-Islami, the army said in a statement. They were convicted of involvement in the killing of soldiers and police officers, it said.
The Pakistani government began trying alleged Islamic militants in military courts and lifted a moratorium on executions following a December 2014 Taliban attack on a school that killed more than 150 people, most of them schoolchildren. Human rights groups have criticized the fairness of the military courts, but the army says all defendants have a right to appeal.
The two-year mandate for the military courts to try alleged Islamic militants recently expired, and parliament has been debating whether to continue the practice.
Pakistan has been at war with Islamic militants for over a decade.
Elsewhere on Wednesday, gunmen intercepted the car of a bureaucrat, Abdullah Jan, in the southwestern city of Quetta, and abducted him, according to police officer Abdur Razzaq Cheema.
No ransom or any other demand has been made yet and no one has claimed responsibility. Quetta, the capital of Baluchistan province, is a hotspot for both Islamic militant groups and separatist insurgents who demand greater autonomy and a larger share of regional resources.
Topics :
You might also like :
Comments