Japan on high alert after North Korea missile launch
News Desk

The Japan News/ANN
Tokyo |

Thu, April 6, 2017

| 07:23 am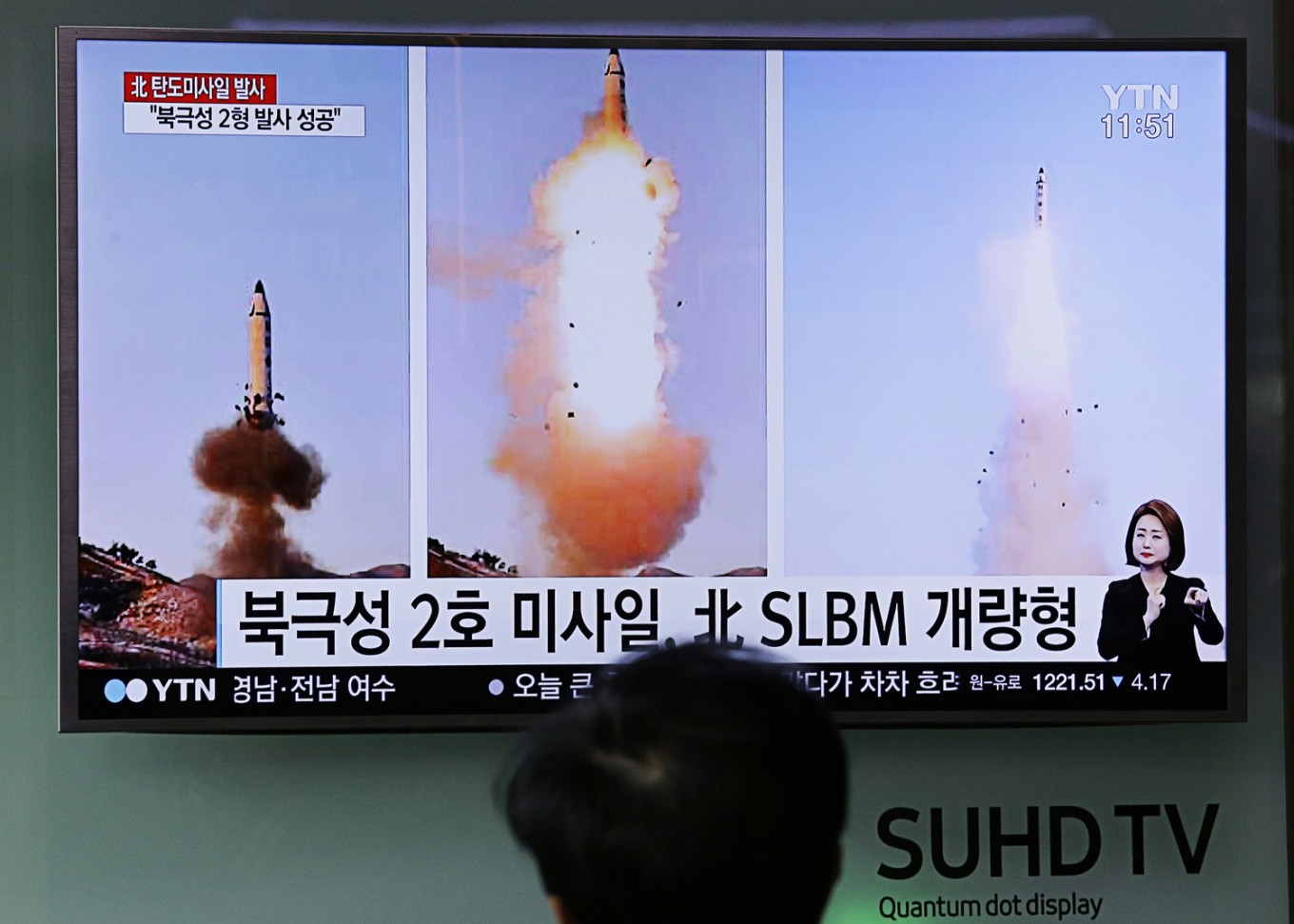 In this Feb. 13 file photo, a man watches a TV news program showing photos published in North Korea's Rodong Sinmun newspaper of North Korea's "Pukguksong-2" missile launch at Seoul Railway station in Seoul, South Korea. Years of failed efforts to stem North Korea's nuclear and missile programs have followed a usual pattern. The United States seeks tougher action from China, the North's traditional ally. Beijing urges US diplomatic engagement. (AP/Ahn Young-joon, File)
North Korea on Wednesday morning again fired a ballistic missile into the Sea of Japan, one month after it had launched ballistic missiles that landed in Japan's exclusive economic zone.
Japan's defence ministry and other government ministries are heightening the alert regarding North Korea, which is proceeding with missile development, ignoring restraints from the international community.
The missile seems to have flown about 60 kilometers and landed outside Japan's EEZ. It is considered to be a new type of medium-range ballistic missile.
Senior officials arrived at the ministry in the Ichigaya area of Shinjuku Ward, Tokyo, early in the morning on Wednesday. At an emergency meeting, defence minister Tomomi Inada instructed the officials to conduct full-scale surveillance, monitoring and information-gathering.
Regarding the short range of about 60 kilometers, a senior official said, "This is the first case I've ever known of such a short range."
The official added: "What's the intention? Bearing in mind the possibility that the launch was a failure, we should analyse the case as soon as possible."
North Korea has repeatedly fired missiles since February and just failed with a launch on March 22. Japan, the United States and South Korea are strengthening cooperation through drills on missile information sharing using an Aegis-equipped destroyer in the Sea of Japan.
The Japan Coast Guard, meanwhile, issued a warning to vessels navigating around the area at approximately 8:30 a.m., about two hours after the missile launch, not to approach pieces of the missile. The JCG has not received any information on damage to ships. The Land, Infrastructure, Transport and Tourism Ministry's Civil Aviation
Bureau also has not received any information from airline companies on damage to planes.
You might also like :
Comments