ASEAN labor officials prepare action on Vientiane declaration
News Desk

Vientiane Times/ANN
Vientiane |

Fri, April 21, 2017

| 04:02 pm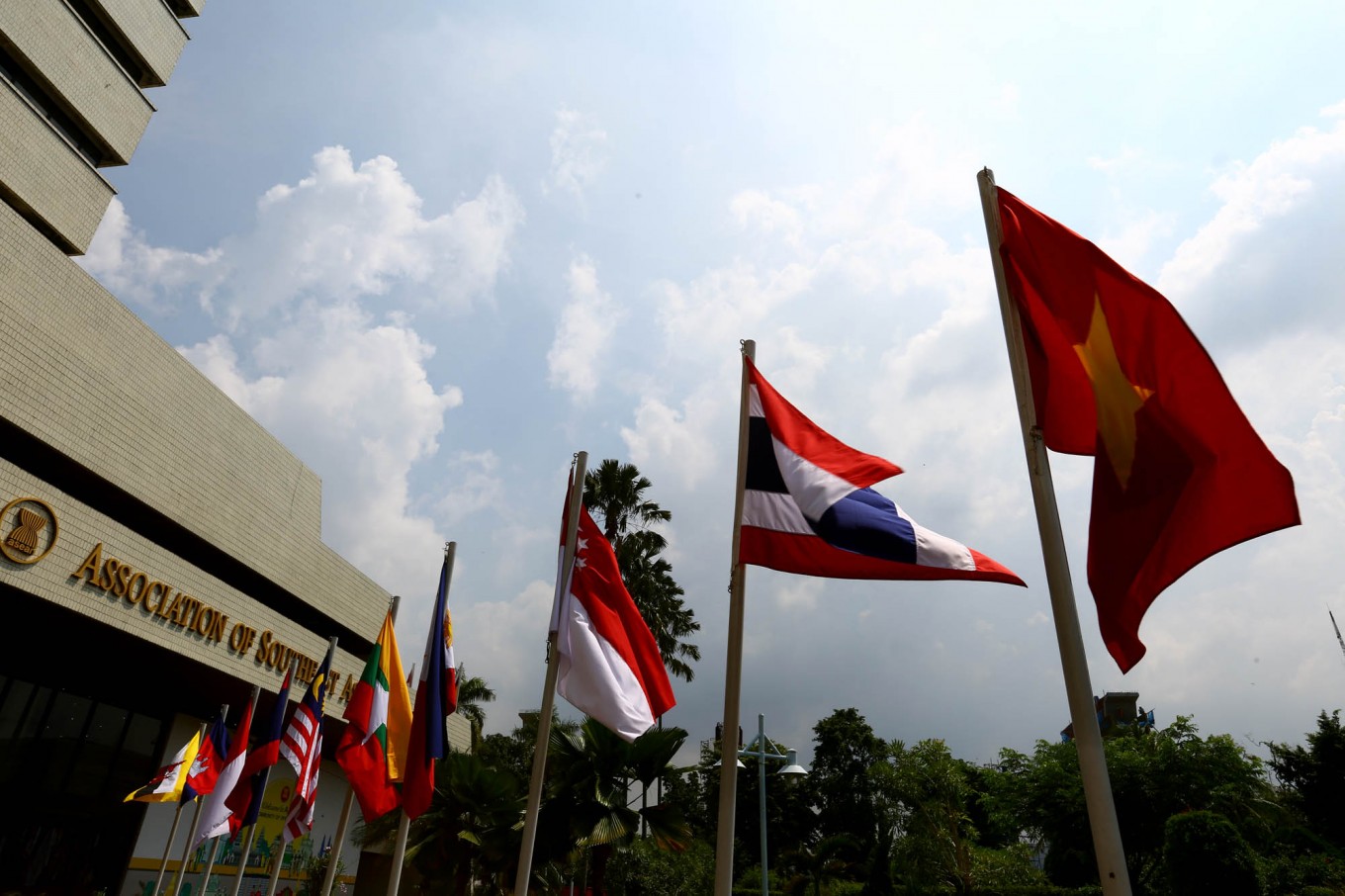 The office of ASEAN Secretary General in Jakarta, in this file photo dated on Jan. 8, 2016. (the jakarta post/Wienda Parwitasari)
Concrete measures to assist more people to access decent employment opportunities were on the agenda for discussion as senior labor officials from the governments of ten ASEAN member states met on Thursday in the Laos capital.
They met to develop a regional action plan on the Vientiane Declaration on Transition from Informal Employment to Formal Employment towards Decent Work Promotion in ASEAN adopted during the 28th and 29th ASEAN Summits in September 2016 in Vientiane.
The meeting was attended by Laos Ministry of Labor and Social Welfare's deputy director of planning and international cooperation Chomyaeng Phengthongsawat and officials, along with counterparts from across South-East Asia.
The Vientiane Declaration is considered a significant vehicle to facilitate contributions and coordinating support towards realization of the ASEAN Vision 2016-2025 and the Sustainable Development Goals 2030 of United Nations.
In support of the Declaration, the regional action plan is set to outline various steps required to promote sustainable economic growth, employment, labor productivity and decent work with the aim to strengthen lifelong learning, skills development plus public-private partnerships for training and re-training of workers.
Collaboration is sought with the private sector to foment innovation, diversification of business, labor skills and new knowledge for the labor force and registered business sectors.
This is sought in order to create favorable conditions for income generation contributing to poverty elimination in ASEAN region.
Creating opportunities for more employment in formal sectors as well as addressing the imbalance in development between urban and rural areas are considered key focus areas.
"Transition from Informal Employment to Formal Employment towards Decent Work Promotion in ASEAN will promote effective and sound policy and mechanism to support production activities, facilitating employment, promoting micro, small and medium-sized enterprises development including accessibility to financial service," Chomyaeng told the audience.
"Besides, the main objective is to protect benefits of workers in informal sectors with regard to security, working environment for workers including migrant workers, especially women and those working in risky and hazardous environments to be able to access necessary treatment and secure a basic income, ensure well-being of workers, take into consideration benefits of workers as first priority" he said.
According to the Vientiane Declaration, state signatories are committed to strive towards elimination of forced labor, child labor, violence at the workplace and all forms of discrimination including gender inequality.
They also agreed promote joint work and sharing of best practices and methodologies among ASEAN Member States and possibly with Dialogue Partners in assessing the factors, characteristics and circumstances of informality in employment in respective national contexts.
Together they vowed to collaborate on inputs to the design and implementation of laws, policies and other measures aiming to facilitate the transition from informal employment to formal employment in all economic sectors, particularly in rural and remote areas.
According to the International Labor Organization (ILO), informal economy comprises half to three-quarters of all non-agricultural employment in developing countries, with women, migrants and other marginalized groups more likely to rely on such employment.
"Characteristic features of informal employment are lack of protection in the event of non-payment of wages, compulsory overtime or extra shifts, lay-offs without notice or compensation, unsafe working conditions and the absence of social benefits such as pensions, sick pay and health insurance".
This article appeared on Vientiane Times newspaper website, which is a member of Asia News Network and a media partner of The Jakarta Post
Join the discussions