Late King lives in Thai hearts
Bangkok |

Sat, October 14, 2017

| 10:15 am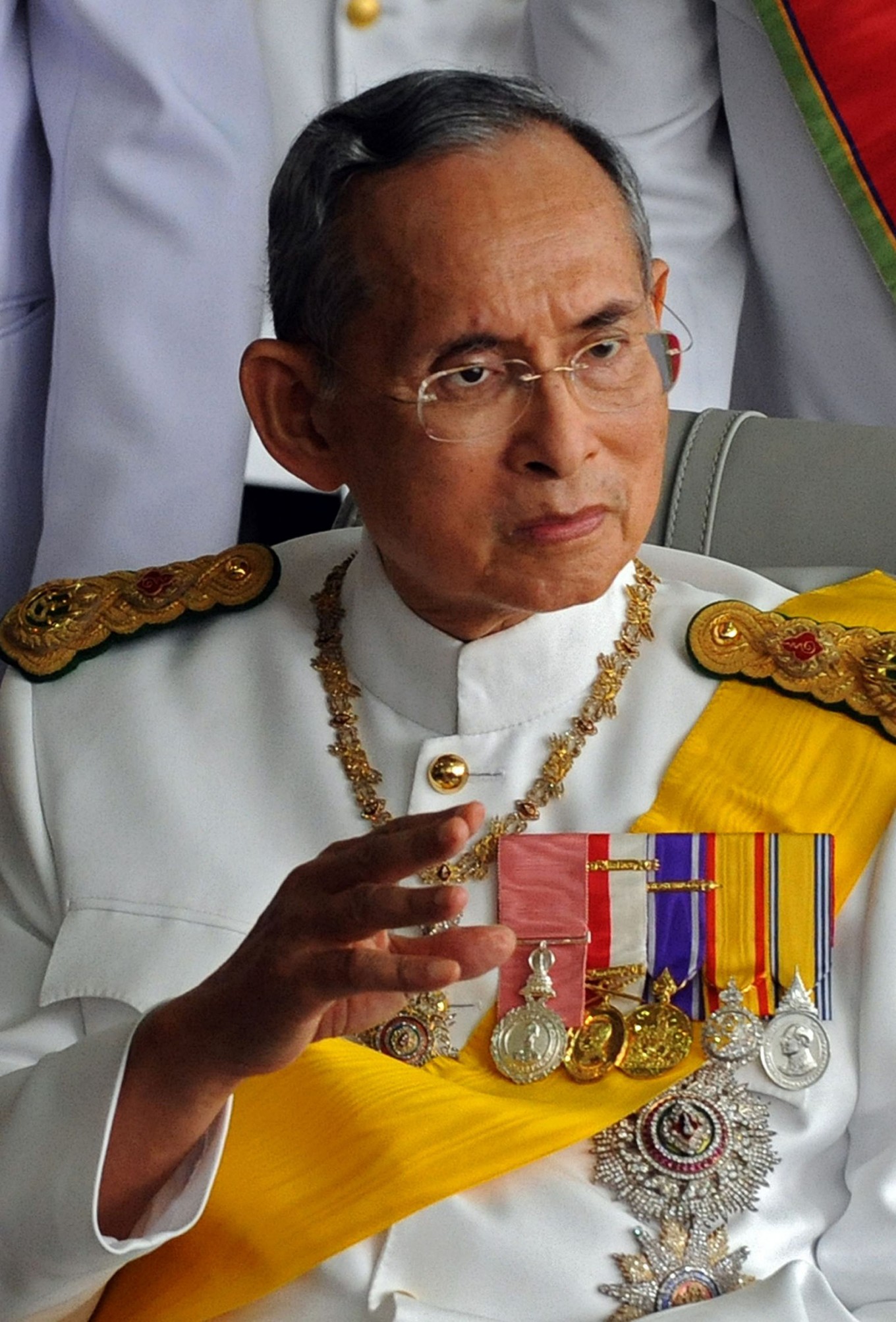 The Thai monarchy is unlikely ever again to enjoy the centrality and prestige that King Bhumibol restored to it for a time. (AFP/File)
The country stood still and silent yesterday at 3:52 p.m., as loyal subjects nationwide mourned the passing of His Majesty the late King Bhumibol Adulyadej a year ago. People from all corners of the country made merit, did good deeds, volunteered to engage in public work, or gave away free food as their way of honouring the memory of beloved King Rama IX.
Commemoration ceremonies were held across the nation, including major events at Siriraj Hospital and the Temple of the Emerald Buddha. The Royal Family, including His Majesty King Maha Vajiralongkorn Bodindradebayavarangkun, attended the religious ceremony at the Temple of Emerald Buddha yesterday evening to make merit for the late King.
At the commemoration ceremony at Siriraj Hospital, it seemed as if the hearts of all Thais were united. At 3:52 p.m. Friday at Siriraj Hospital, the Kingdom marked the first anniversary of the passing of King Rama IX. For nine minutes, the usually busy hospital was tranquil, as thousands of mourners united in their final farewell to the monarch. Heavy rains in the morning soaked the hospital grounds, making it impossible for most people to sit outside. Some came well prepared with mats.
However, the ground floor of the hospital building were fully occupied, running from Prince Mahidol's monument through to the corridors of the Chalermprakiet building where His Majesty had been hospitalised on the 16th floor.
The scene was overwhelming for some, who openly cried. Prasit Wattanapa, dean of Siriraj's medical faculty, said the day's activities were an opportuntiy for all Thai people to pay their respects and show their gratitude to His Majesty the late King, to make merit, and to pray for the late monarch to rest in peace. An 89-year-old grandmother in a wheelchair, Teo Li Eng, said she came with her daughter Jureewan Limawararut, 54. They said they were proud to be there from 7am to offer food to monks and they planned to spend as long as they could at the hospital.
Jureewan said: "Due to my mother's age, I would like to make all her wishes come true and for her not to be afraid of challenges. I felt a miracle, having the King as inspiration. I feel anything can be done smoothly. My mother and I already went to pay respects at Dusit Mahaprasart Throne Hall six times."
Teo says she teaches her children to be good people and to be careful in life.
Jureewan Jearanaisilavong, 65, is a retired assistant professor at the Department of Microbiology, Faculty of Medicine at Siriraj Hospital. She was at the hospital from 5am to offer food, books, and stationery to the monks, who will then pass on the offerings as donations to the southernmost area of Thailand.
"The late King was very generous to all of us," said Jureewan. "I offered stationery this morning because educational development was a matter of concern to His Majesty. I was at Siriraj Hospital last year; it was a very sad day. I prayed with all the people. His Majesty is in our hearts and hence I would like to carry on this virtue."
Official agencies, as well as the public- and private-sector organisations around the country held their own Buddhist religious ceremonies to make merit for the late King Bhumibol yesterday. The common practice for religious ceremonies marking the anniversary of the King's passing was to invite 89 monks to perform the ceremony and to mourn silently for 89 seconds, as King Bhumibol was 89 years old when he passed away.
At Government House, Prime Minister General Prayut Chan-o-cha led Cabinet members and their spouses in giving alms to 89 Buddhist monks yesterday morning.The Royal Thai Army, Navy, and Air Force also held merit-making events in tribute to the late monarch and there were religious ceremonies for the late King at all military bases nationwide.
All provinces in the country also participated in commemorating King Rama IX to give the local people a chance to pray and make merit. The Bangkok Metropolitan Administration held an alms-giving ceremony at Lan Khon Meaung Plaza in front of the city hall.
Commemoration ceremonies were held at major local landmarks throughout the rest of the country. Nakhon Pathom provinces, for example, held the event at Phra Pathom Chedi Pagoda, while Nan's was at Wat Phra That Chae Haeng Temple, and Nakhon Si Thammarat's at Wat Phra Mahathat Woramahawihan Temple.
In addition to making merit in a religious ceremony, loyal citizens also participated in various activities to honour the late King. In Sakhon Nakhon province, 109 men were ordained as monks at the Wat Ratniyom Temple, and thousands of people donated blood to the Red Cross in Nakhon Ratchasima province.
Pattaya's local taxi cooperative, Loma Pattaya Taxi, arranged for 60 taxis to provide free rides in remembrance of the late King at seven spots – from 8am to 8pm yesterday.In the northeastern province of Buri Ram, an optical clinic joined hands with Buriram Hospital to provide free medical check-ups and prescriptions in honour of the late King. More than 500 people received the services at Mor Witoon Clinic in Muang district. Clinic owner Dr Witoon Ruangsuksriwong said that this was the second time he had provided the free service and he would continue doing so every October 13.
It was also reported that many restaurants across the country provided free meals yesterday, including Chen Lhong Noodle Place in Songkhla province's Hat Yai district, which served free noodles to people for the entire day.Owner Niwat Niewsakun saw it as his way to do a good deed for the late King on this special anniversary of his passing. Niwat said his gesture was a tiny good deed compared to the hard work of HM King Bhumibol for every Thai. The King will always be in every person's heart, said Niwat.
This article appeared on The Nation newspaper website, which is a member of Asia News Network and a media partner of The Jakarta Post
Join the discussions