Malaysia and Indonesia will counter discriminative policy by EU on palm oil
Kuching |

Thu, November 23, 2017

| 10:24 am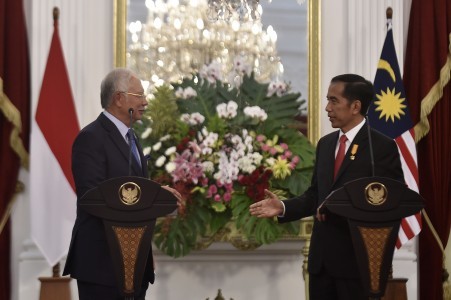 President Joko "Jokowi Widodo and Malaysian Prime Minister Najib Razak make a joint press conference after their meeting at the State Palace in Jakarta on Monday. (Antara/Puspa Perwitasari)
Malaysian Prime Minister Najib Razak points out that both Malaysia and Indonesia agree that the import limit imposed by European Union (EU) on palm oil is unfair and would join hand to counter this discriminative policy affecting 18 million farmers in both countries.
Malaysia will work hand in hand to counter discriminative policy launched by European Union against palm oil. Malaysian Prime Minister Najib Tun Razak and Indonesian President Joko Widodo, in a joint press conference, said the discriminative policy is unfair to 600,000 small estate holders in Malaysia and 17.5 million farmers in Indonesia. Both agree to seek for a solution.
Attending the 12th Malaysia –Indonesia annual consultative meeting on Wednesday, Najib and Indonesian President Joko Widodo, in a joint press conference, said both countries concur that the policy by EU is unfair to farmers in Malaysia and Indonesia and should not be continued.
Najib said the discriminative policy cast negative impact on oil palm industry and affect the income and livelihood of 600,000 small estate holders in Malaysia and 17.5 million in Indonesia.
He said leaders of both countries would seek for a solution and EU council chairman Donald Tusk was concerned with further action taken by the latter. He said Malaysia minister had met up with EU representatives. Indonesia would also be meeting with EU representative in Jakarta soon. Malaysia would send delegation to Indonesia.
Najib said on this issue, judging from the angle of ASEAN as a community, human rights should be defended.Entikong and Tebedu in Sarawak would re-open once agreement with Indonesia is signed
Once border crossing agreement and border trade agreement are signed, Entikong and Tebedu in Sarawak would open again.
Najib said during his discussion with Indonesian president Joko, both agreed to re-open Entikong and Tebedu to benefit people of two countries living at the border.
He said Sabah state government also requested to set up border posts at Serudong and Simanggaris. Discussion would be held in next border trade agreement.He said on principle, Malaysia agreed with a request made by Indonesia to increase the number of community learning centers in Sabah and Sarawak. Currently, Sabah has 68 and Sarawak 10. A proposal would be submitted after Sarawak and Sabah discussed with Indonesia.
Both countries also agreed to set up border post to prevent militant groups such Khalifa and Daesh. The defence ministry of both countries would discuss the number of border posts.
He said Malaysia and Indonesia also agreed to explore on the potential in the border area to find a suitable way for common development to benefit both countries. This involves high-value agricultural sector, free trade zone, small and medium industries and others.
Najib said both countries agree to resolve long-standing disputes on Sulawesi sea and other areas. Both Malaysia and Indonesia have positive response to Myanmar and Bangladesh achieving settlement on Rohingya issue
As Myanmar government reaches consensus with Bangladeshi government on Rohingya Muslim issue, both Malaysia and Indonesia reacted in a positive manner.
Najib said the issue of Rohingya refugee was brought up during Malaysia-Indonesia meeting and hoped that the issue is solved amicably when the agreement is signed. "This issue does not only affect Malaysians and Indonesians but the global attention."
Join the discussions