More than 30 bodies found in burnt Philippine mall
Davao, Philippines |

Mon, December 25, 2017

| 06:25 pm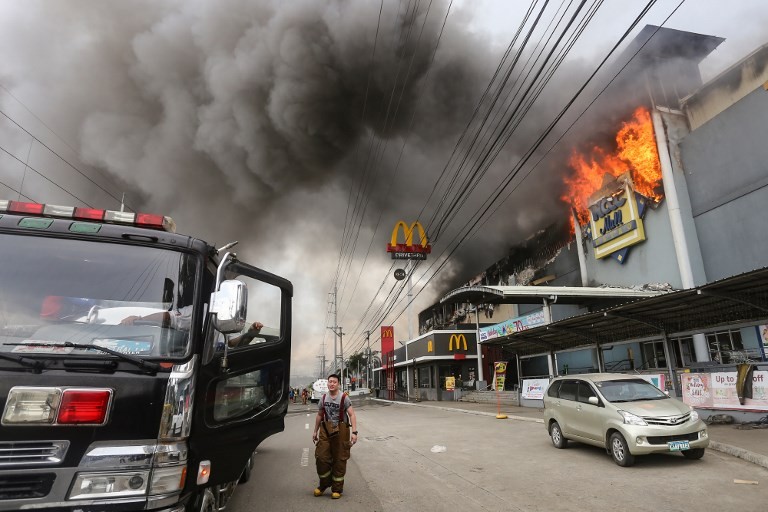 This photo taken on December 23, 2017 shows a firefighter standing in front of a burning shopping mall in Davao City on the southern Philippine island of Mindanao. Thirty-seven people were believed killed in a fire that engulfed a shopping mall in the southern Philippine city of Davao, local authorities said on Dec. 24. (Agence France-Presse/Manman Dejeto)
Firemen have found the bodies of "around" 36 people after a deadly blaze at a shopping mall in the southern Philippines, a fire official said Monday.
The regional chief of the Bureau of Fire Protection, Wilberto Rico Neil Kwan Tiu, told weeping relatives of the missing that he personally counted "around 36" bodies in an office lobby at the burned down NCCC shopping mall in Davao.
Mayor Sara Duterte said earlier that 38 people were missing and believed to have died in the fire, with one other unidentified body recovered on Sunday.
The fire compounded the Christmas misery in the south of the mainly Catholic nation where tens of thousands were also displaced by floods and landslides from a storm that also killed more than 200 others on Friday.
Duterte, a daughter of Philippine President Rodrigo Duterte, raised the toll from the tragedy on Monday, saying 38 other people apart from the recovered body found were missing -- two more than previously listed.
Read also: 20 dead in Philippines bus crash on way to Christmas mass
The city's fire marshal had described the shopping mall as "an enclosed space with no ventilation", though the authorities said they had yet to determine the cause of the blaze.
The building's administrators on Sunday denied allegations from survivors that there were inadequate emergency fire exits and that some of them were locked.
"There is no truth to that allegation. In fact as per accounts of those who got out, they were able get out thru the fire exit," Thea Padua, the mall's public relations officer, told AFP by text message.
Topics :
Join the discussions