Najib election battle seen as key for Malaysia as economy booms
Chong Pooi Koon

Bloomberg
Kuala Lumpur |

Thu, January 4, 2018

| 07:20 am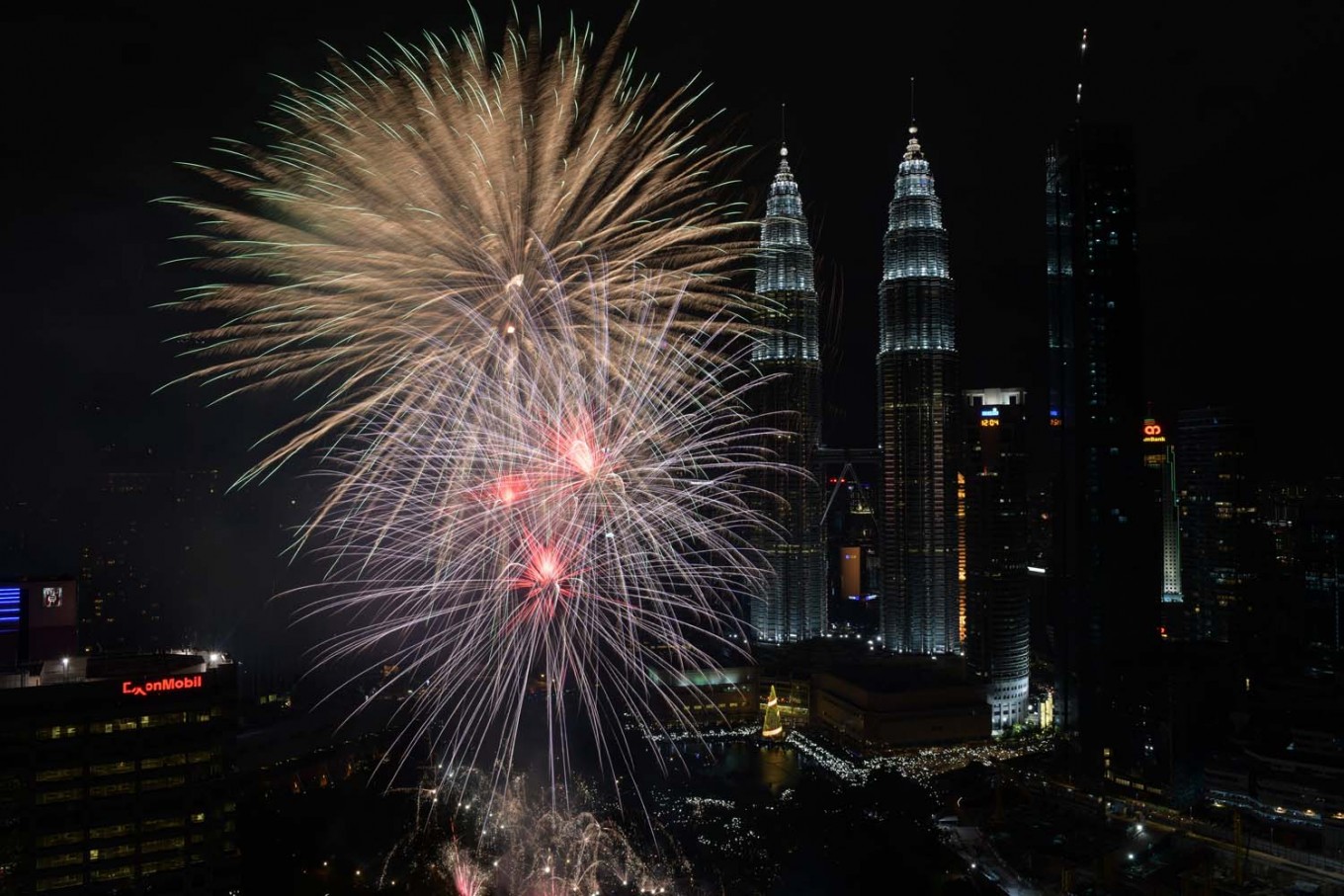 Fireworks illuminate the sky near Malaysia's Petronas Twin Towers during New Year celebrations in Kuala Lumpur on January 1, 2018. (AFP/Mohd Rasfan)
Malaysia faces higher interest rates, currency risks and a contentious election battle in 2018 that will test Prime Minister Najib Razak's grip on power.
Malaysia has benefited from a global trade recovery and a pickup in domestic spending, with economic growth probably reaching 5.8 percent last year, according to the median estimate in a Bloomberg survey of economists. Growth is seen moderating to 5.3 percent in 2018.
A booming economy and higher oil prices have boosted government coffers, allowing Najib to funnel funds to voters burdened by rising living costs. He's managed this without compromising on his fiscal targets, pledging to narrow the budget deficit to 2.8 percent of GDP this year, from an estimated 3 percent in 2017.
The election, which must be held by August, is among the key issues investors are watching for this year, along with the following:
Interest Rates
Malaysia's central bank may be the first in Southeast Asia to raise borrowing costs this year, with some economists seeing a move as early as in three weeks. Bank Negara Malaysia signaled in November it may be preparing to adjust policy given the strength of the economy, with Governor Muhammad Ibrahim clarifying later to say any adjustment would be a "normalization," rather than a tightening.
Inflation eased to 3.4 percent in November after reaching a five-month high in September, but that hasn't changed economists' expectations of rate hikes.
"Our base case assumes Bank Negara Malaysia will raise the overnight policy rate in the first quarter of 2018, followed by an extended pause before hiking it again in 2019," analysts at CIMB Group Holdings Bhd wrote in a note. The central bank may consider another hike in the second half of the year if inflation risks intensify, they said.
CIMB is projecting an inflation rate of 2.9 percent this year, while the government is forecasting 2.5 percent to 3.5 percent.
General Election
The timing of the general election may affect the outlook for interest rates, with some economists predicting the central bank will hold off until after the vote.
Najib -- who is yet to disclose the date for the vote -- is in a strong position, having weathered the financial scandal around 1Malaysia Development Bhd., and benefiting from a rebounding economy and a political opposition in disarray.
"Investors are likely to be a little bit cautious around the election," said Rahul Bajoria, a senior economist at Barclays Plc in Singapore. "Once we are through the election then we'll have a bit more clarity as to what kind of economic reforms, particularly on the fiscal side, can be undertaken in the course of the next two to three years."
Currency Strength
The ringgit ended 2017 as Asia's second-best performer with a 10.9 percent appreciation against the U.S. dollar, its first gain in five years. The Malaysian currency is projected to climb to 3.96 per dollar by the fourth quarter, according to the median estimate in a Bloomberg survey of economists. It traded as high as 4.0160 against the dollar on Wednesday in Kuala Lumpur.
With the currency still cheap and the central bank likely to raise interest rates, the ringgit may strengthen past 4 per dollar this year, said Sook Mei Leong, Southeast Asian head of global markets research at Bank of Tokyo-Mitsubishi UFJ.
Investors previously underweight in the ringgit are rebuilding positions in the new year, with sentiment underpinned by Malaysia's improving economic growth, prospects for a smaller fiscal deficit, as well as an improved current-account surplus and foreign reserves, according to Ray Choy, head treasury strategist at CIMB Bank in Kuala Lumpur.
Topics :
Join the discussions