ASEAN faces tighter global conditions, trade tensions
Vincent Lingga

The Jakarta Post
Manila |

Fri, May 4, 2018

| 10:14 am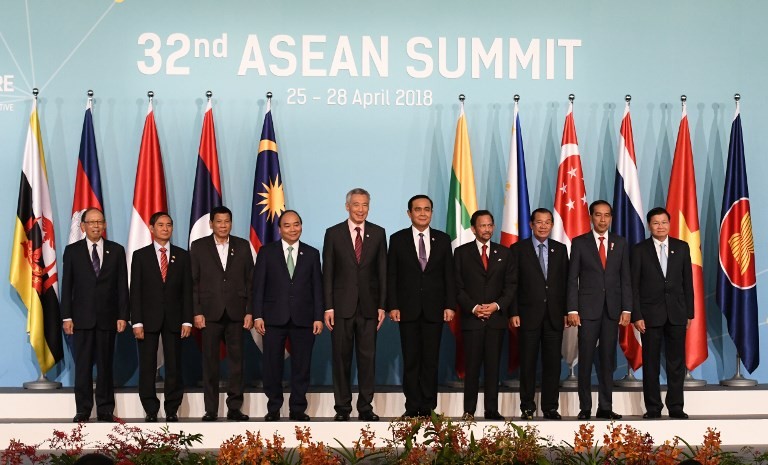 Leaders and representatives from 10 ASEAN countries from left to right: Malaysia's former deputy prime minister Musa Hitam, Myanmar's President Win Myint, Philippine President Rodrigo Duterte, Vietnam's Prime Minister Nguyen Xuan Phuc, Singapore's Prime Minister Lee Hsien Loong, Thailand's Prime Minister Prayuth Chan-o-cha, Brunei's Sultan Hassanal Bolkiah, Cambodia's Prime Minister Hun Sen, Indonesia's President Joko Widodo, and Laos Prime Minister Thongloun Sisoulith pose for a group photograph during the opening of the 32nd ASEAN (Association of Southeast Asian Nations) Summit in Singapore on April 28, 2018. (AFP/Roslan Rahman)
The ASEAN countries are facing two near-term risks, namely faster-than-expected tightening in global financial conditions led by the United States Federal Reserve's interest rate hikes and an escalation in global trade tensions, a regional macroeconomic research agency has warned.
"If these risks materialize, there will be spillovers to the region through capital outflows, higher borrowing costs and lower trade and investment flows," noted the ASEAN+3 Macroeconomic Research Office (AMRO) chief economist Hoe Ee Khor at a seminar held on the sidelines of the Asian Development Bank annual meeting on Thursday.
Hence, Khor added, it would be prudent for policymakers to prioritize financial stability over economic-growth objectives and fiscal policy may have to play a greater role in supporting growth while macroprudential policy can help safeguard financial stability.
AMRO was set up by the 10 ASEAN countries and China, South Korea and Japan (ASEAN+3) with the task of monitoring and assessing the macroeconomic status and financial soundness of the region, detecting early risks and ensuring swift remedial action within the regional financial safety net of the Chiang Mai Initiative Multilateralization (CMIM) scheme.
The US$250 billion CMIM itself is a network of bilateral swap arrangements (BSAs) among the ASEAN+3 countries that was established in May 2000, or three years after the Asian financial crisis, to serve as a regional safety net (liquidity support) mechanism to complement the International Monetary Fund.
Bank Indonesia, which spent about $5 billion of its reserves in the first quarter of this year in coping with the downward pressure on the rupiah, underlined in its April policy statement the potential risks to its outlook for inflation and the current account, indicating a high probability of monetary tightening.
The rise in the Fed fund rate and the steady oil price rise do pose a double whammy for Indonesia in terms of current account deterioration and inflationary pressures because the country is a net oil importer. In the first quarter alone, its oil import bills were estimated to have increased by more than $1 billion.
"But I think the oil price is still behaving rather well, hovering at $70 per barrel. If the price rises more steeply, the United States will supply more oil to the market, thereby pressing prices down again," Khor said.
According to Khor, Indonesia's strong fiscal position for this year, with relatively low inflation (below 4 percent) will enable the country to weather both the global monetary tightening and the oil-price rise, and financial stability risks are fairly limited at present.
But, he cautioned that since the ASEAN region had received large portfolio capital inflows over the last five years, the risk and impact of outflows that may be triggered by the tightening global financial conditions should be closely monitored.
Khor underlined Indonesia's strengthening economic fundamentals, which have diminished the risk of acute capital outflows, commending its current monetary policy stance as in line with maintaining external stability and enhancing growth momentum.
Topics :

Join the discussions