We must comply fully with 1962 water agreement provisions, Singapore tells Malaysia
Royston Sim

The Straits Times/Asia News Network
Singapore |

Tue, June 26, 2018

| 08:56 am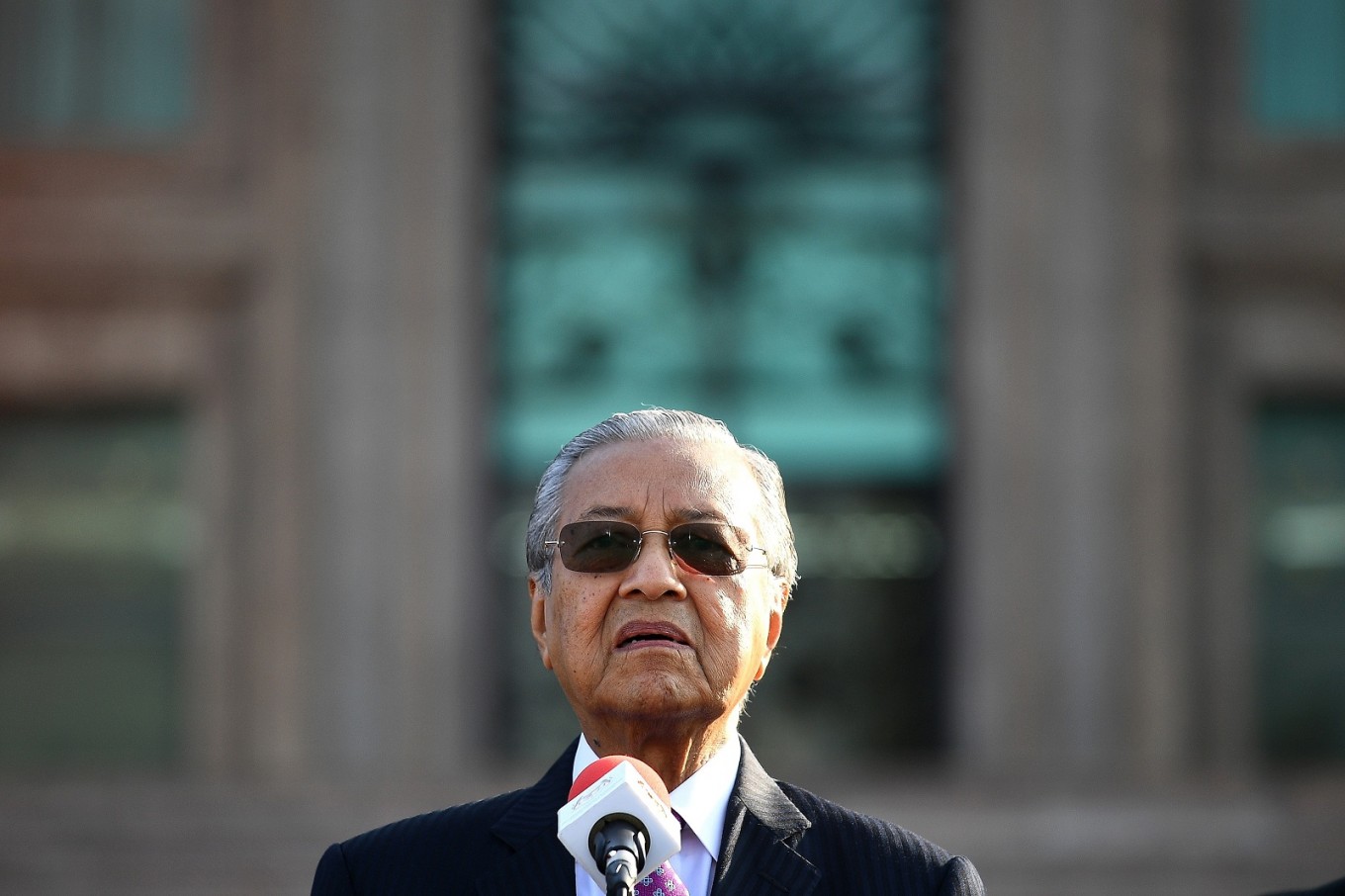 In a separate interview with Bloomberg Television on Sunday, Dr Mahathir criticised the 1962 water supply deal with Singapore as "too costly", and said it is among the issues with Singapore "that we need to settle". (AFP/Manan Vatsyayana)
Both Malaysia and Singapore must comply fully with all the provisions in the 1962 water agreement, said the Ministry of Foreign Affairs.
In a statement on Monday (June 25), a ministry spokesman said: "The 1962 Water Agreement is a fundamental agreement that was guaranteed by both governments in the 1965 Separation Agreement which was registered with the United Nations.
"Both sides must comply fully with all the provisions of these agreements."
The agreement, which expires in 2061, entitles Singapore to draw up to 250 million gallons a day (mgd) of raw water from the Johor River per day. In return, Johor is entitled to a daily supply of treated water of up to 2 per cent or 5 mgd of the raw water supplied to Singapore.
MFA was responding to comments that Malaysian Prime Minister Mahathir Mohamad madeon the price of raw water sold to Singapore in separate interviews with ChannelNewsAsia (CNA) and Bloomberg Television.
He told CNA on Monday the price - 3 sen per thousand gallons - is "ridiculous", and that Malaysia will approach Singapore on renegotiating the terms of the water supply deal.
Asked if he will talk to Singapore about going back to the drawing board on the issue, Dr Mahathir said: "We are studying the case properly and we'll make a presentation."
In a separate interview with Bloomberg Television on Sunday, Dr Mahathir criticised the 1962 water supply deal with Singapore as "too costly", and said it is among the issues with Singapore "that we need to settle".
Dr Mahathir also addressed the water issue at a news conference on Monday after a Parti Pribumi Bersatu Malaysia supreme council meeting.
When asked when he will meet with Singapore over the water issue, he said: "It's not urgent. We have a lot of other problems we'll focus on first."
As to whether the matter was discussed in Cabinet before he spoke to CNA and Bloomberg, he replied: "We didn't discuss the water issue. But I was asked by the press."
The legally-binding 1962 water agreement is valid for 99 years till 2061. It contains provisions that make clear Malaysia cannot unilaterally raise the water price anytime it wants.
The MFA has noted that the 1961 and 1962 water agreements provided for a price review after 25 years - in 1986 and 1987 respectively.
Malaysia chose not to review the price of water then, and therefore lost its right to review the price of water, said MFA in a background article on its website explaining the issue.
Singapore pays 3 sen per thousand gallons of raw water, and sells treated water back to Johor at 50 sen per thousand gallons.
50 sen is only a fraction of the true cost to Singapore of treating the water, which includes building and maintaining the entire infrastructure of water purification plants, said MFA.
In a booklet "Water Talks" issued in 2003, the Government noted that it costs Singapore RM2.40 to treat every thousand gallons of water. By selling at 50 sen, Singapore is absorbing a subsidy of RM1.90 per thousand gallons of water.
All in, Singapore has paid more than $1 billion on various water treatment projects, including building a dam to create the Linggiu Reservoir, which increases the yield of the Johor River to meet Singapore's water needs.
Foreign Minister Vivian Balakrishnan posted a video on Singapore's water supply on Facebook on Monday, with the message: "Why water has always been sacrosanct in Singapore."
In a separate post, veteran diplomat Bilahari Kausikan said: "The good doctor knows full well that the price of water was set by an international agreement under the terms of which Malaysia also buys treated water from Singapore at a low price, and buys considerably more than it is entitled to buy under the terms of the agreement. Why should it do that unless it is getting a good deal?"
In a written Parliamentary reply to MP Seah Kian Peng in 2017, Dr Balakrishnan said Singapore has been regularly supplying Johor with 16 mgd of treated water - in excess of its entitlement.
Mr Kausikan reckons Dr Mahathir is raising water "only as a diversionary tactic" in preparation to ask for a waiver or reduction of the compensation Malaysia has to pay Singapore if it formally cancels the high-speed rail line between Kuala Lumpur and Jurong East.
"His intention is to make the Singapore government look unreasonable hoping, first, that Singaporeans will pressure our government on his behalf, and, second, to set up an alibi with his own people," he added.
"All this is out of Dr M's standard play-book. Singaporeans should not be deceived. Good neighbourliness ought to be a two-way street."
This article appeared on The Straits Times newspaper website, which is a member of Asia News Network and a media partner of The Jakarta Post
Join the discussions