Guide to visiting North Korea for Indonesians
Masajeng Rahmiasri

The Jakarta Post
Jakarta |

Thu, July 28, 2016

| 05:53 pm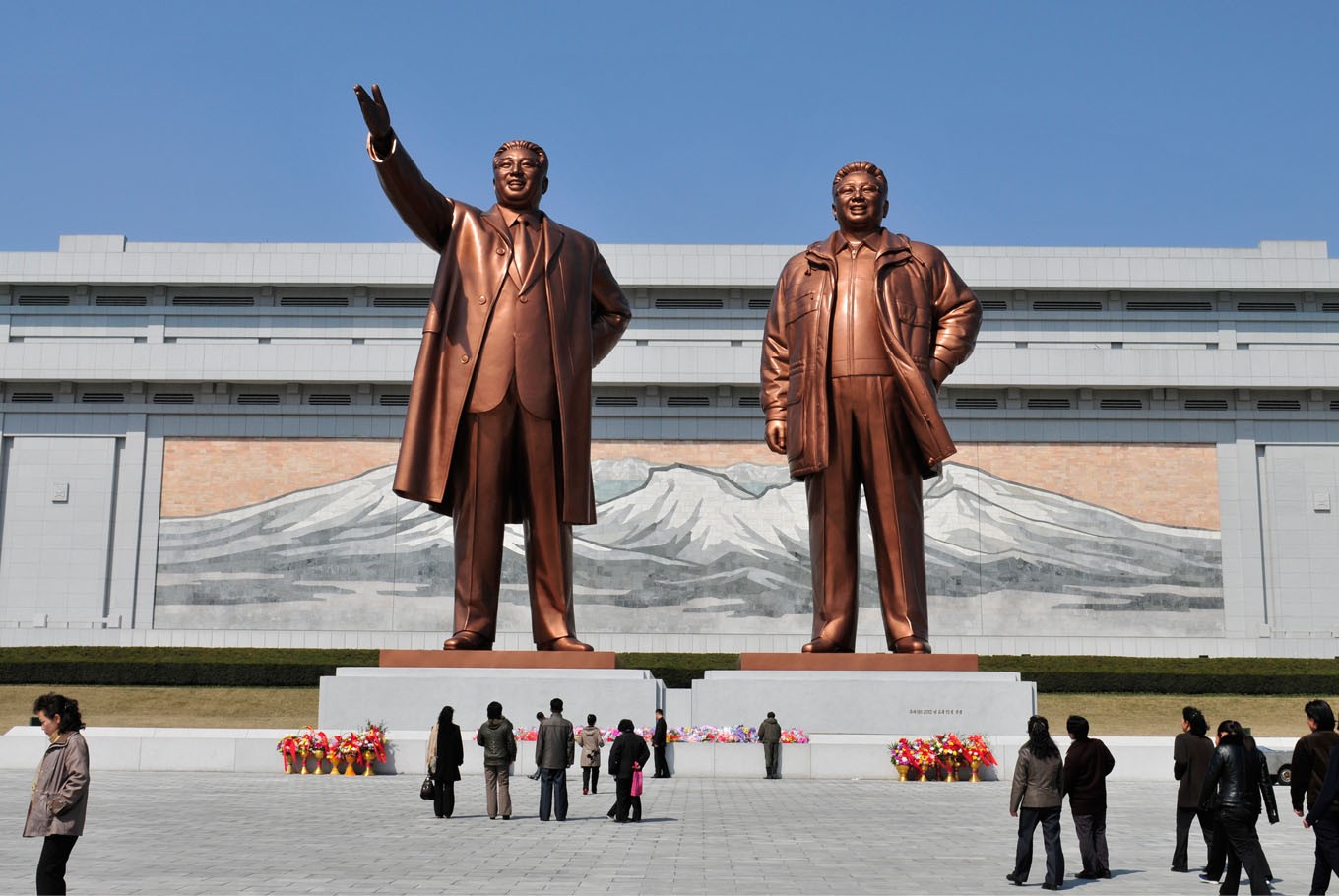 The Mansudae Grand Monument, the bronze monument of Kim Il Sung and Kim Jong Il in North Korea. (Uri Tours/-)
Just like any other country in the world, North Korea, formally known as the Democratic People's Republic of Korea (DPRK), welcomes people from all over the world — excluding South Korean citizens and journalists — to visit and see the daily lives of it people up close, including Americans and, of course, Indonesians.
For Indonesians who want to visit the country, here are some points to consider.
Authorized DPRK tour operators
The only way to get clearance to visit North Korea is through authorized DPRK tour operators, which include Koryo Tours and Uri Tours. These agencies help visitors obtain visas, book flights and arrange private or group tours led by an appointed guide. This policy also applies to Indonesian visitors. In terms of visa, visitors need to fill in an application form, provide a photo and a copy of a passport. A North Korean visa is a separate paper document that is not stamped in the passport, Uri Tours said.
Arrange your tour
Although not all areas are open to tourists and one must be accompanied by a tour guide at all times, there are more destinations and activities accessible to foreign visitors nowadays. Some of the highlights in Pyongyang are Kaeseong city, Kumsusan Memorial Place (the mausoleum of leaders), Panmunjom/DMZ — the border with South Korea — the captured spy ship USS Pueblo and a ride on the Pyongyang metro.
Aside from this, the most popular tourist attraction in Pyongyang according to Koryo Tours is the Pyongyang Marathon. Although it was initially open only to DPRK nationals, now the 10-kilometer and 21-kilometer long marathon is open to international participants. At the recent event, four or five Indonesian runners participated. Next year, the competition will be held on April 9.
(Read also: By letting camera roll, film gives rare view of North Korea)
Transportation
This is arranged in detail with the tour operators, but since there are no direct flights from Indonesia to DPRK, visitors need to travel to one of the transit points, which include Beijing, Shanghai and Vladivostok (Russia), before flying to Pyongyang using Air Koryo or Air China. Visitors can also hop on a train from Beijing to reach Pyongyang. However, Koryo Tours stated that US nationals are prohibited from leaving DPRK by train.
Price of tour
The price of a tour depends on the destinations, number of people and length of stay. As a reference, a standard five-day tour with Uri Tours costs US$1,900. Koryo Tours currently offers a nine-night tour dubbed Cycling Tour 2016 that costs 2,590 euro ($2,822). The price is usually inclusive of visa and round-trip flights or train rides. (kes)
Topics :
You might also like :
Comments