Ten must-visit places in Banyuwangi
News Desk

The Jakarta Post
Jakarta |

Fri, June 23, 2017

| 12:29 pm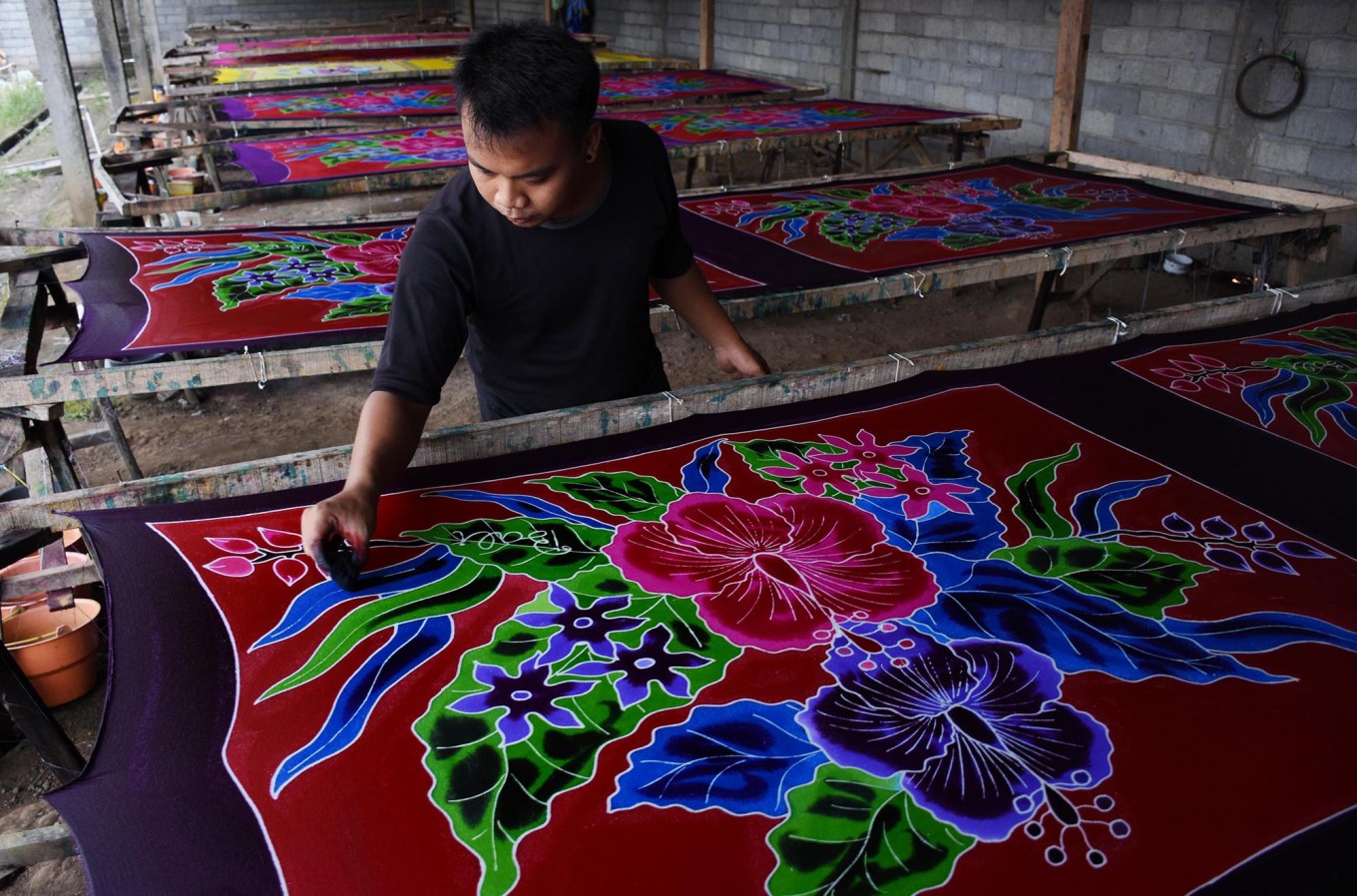 A small batik workshop in Banyuwangi. (JP/Aman Rochman)
Banyuwangi regency is on the easternmost end of Java Island and serves as a port connecting Java and Bali. The name Banyuwangi itself is Javanese for "fragrant water," a reference to the Javanese folktales of Sri Tanjung.
Every year the regency attracts 1.5 million local tourists and 30,000 overseas tourists to explore the area. Banyuwangi, after all, has a lot of things to offer, from camping to surfing.
The following is a list of the top 10 must-visit places in Banyuwangi
Ijen Crater
Ijen Crater sits at an altitude of 2,368 meters above sea level. The 2- kilometer-wide crater is surrounded by a caldera wall 300 to 500 meters high. What the place is most famous for is a natural phenomenon called "blue fire" that streams down the mountain at night. The blue glow comes from the combustion of sulfuric gases.
Read also: Banyuwangi to boast Indonesia's first green airport
G-Land Beach
Also known as Plengkung Beach, G-Land is very popular among local and overseas surfers. The place has been dubbed "The Seven Giant Waves Wonder" by surfers for its legendary seven rolls of waves that can reach up to 6 meters high. The waves here are also said to be the second best after Hawaii. The best time to surf at Plengkung Beach is between July and September.
Lider Waterfall
Located in Sragi hamlet, Sumber Arum, Songgon, Lider Waterfall is almost 60 meters high at an altitude of 1,300 meters above sea level. Apart from the main waterfall, there are four more small waterfalls. Lider Waterfall is said to be the best and highest waterfall in Banyuwangi regency

Red Island Beach
The name Red Island Beach actually comes from a hill not far from the shore that is covered with red soil. You can walk up to the hill during low tide. It is covered with trees, but shows its red hue at dusk. Another tourist attraction near this place is the Tawang Alun Temple. Hindu people who live around Red Island Beach use this temple for ritual processions. Some activities that you can do here are photography and surfing.
Osing Tourist Village
Osing Tourist Village, aka Kemiren village, is the home of the Osing tribe. As a cultural heritage conservation site, the villagers still use the Osing dialect to communicate with each other. When visiting this place, you will also find traditional houses that have been there for hundreds of years. One is usually used as a place for performances such as the Gandrung dance, Angklung Paglak, Barong Kemiren and Othek.
Read also: Ziarah: A metaphor for Indonesia's ahistorical society
Sritanjung Park
Sritanjung Park is located at the center of Banyuwangi city. The name Sritanjung comes from the folktale that tells how Banyuwangi was formed. The park is situated on the eastern sides of both Baiturrahman Banyuwangi Grand Mosque and Sabha Swagata Blambangan. The park is commonly used as a recreational facility for the citizens of Banyuwangi. People from all ages come to relax and enjoy the view, although some might be busy with social media since the place provides free Wi-Fi.
Green Bay
With a three- to four-hour drive from Banyuwangi, Green Bay is a lesser known tourist attraction that offers a picturesque view of the sea and fresh air coming from Meru Betiri National Park.

Kaliklatak Plantation
Kaliklatak Plantation used to be owned by the Dutch under Mij Moorman & Co. until it was handed over to an Indonesian named R. Soehoed Prawiroatmodjo. The plantation is located at an altitude of 450 meters above sea level and produces coffee, rubber, chocolate, rubber, fruits and spices. On April 17 every year, the workers of Kaliklatak Plantation hold a ritual of giving thanks to God for the gifts of the Earth.

Rajegwesi Beach
Rajegwesi Beach in Sarongan Village, Pesanggaran district, is known for its unique chocolate-colored sand created by muddy sediment brought by river floods. A bunker from the time of the Japanese wartime occupation can also be found here.
Watu Dodol Beach
The location of this beach is marked by a huge chunk of rock that sits between the street and the Gandrung Statue. The beach is only 2 kilometers from Ketapang Harbor, allowing you to see ferries traveling between Ketapang and Banyuwangi. You can also opt to go sightseeing from a hill located close to the beach. (asw)

Join the discussions