The rainwater drinkers of Bunder village
Ganug Nugroho Adi

The Jakarta Post
Klaten |

Tue, July 18, 2017

| 09:07 am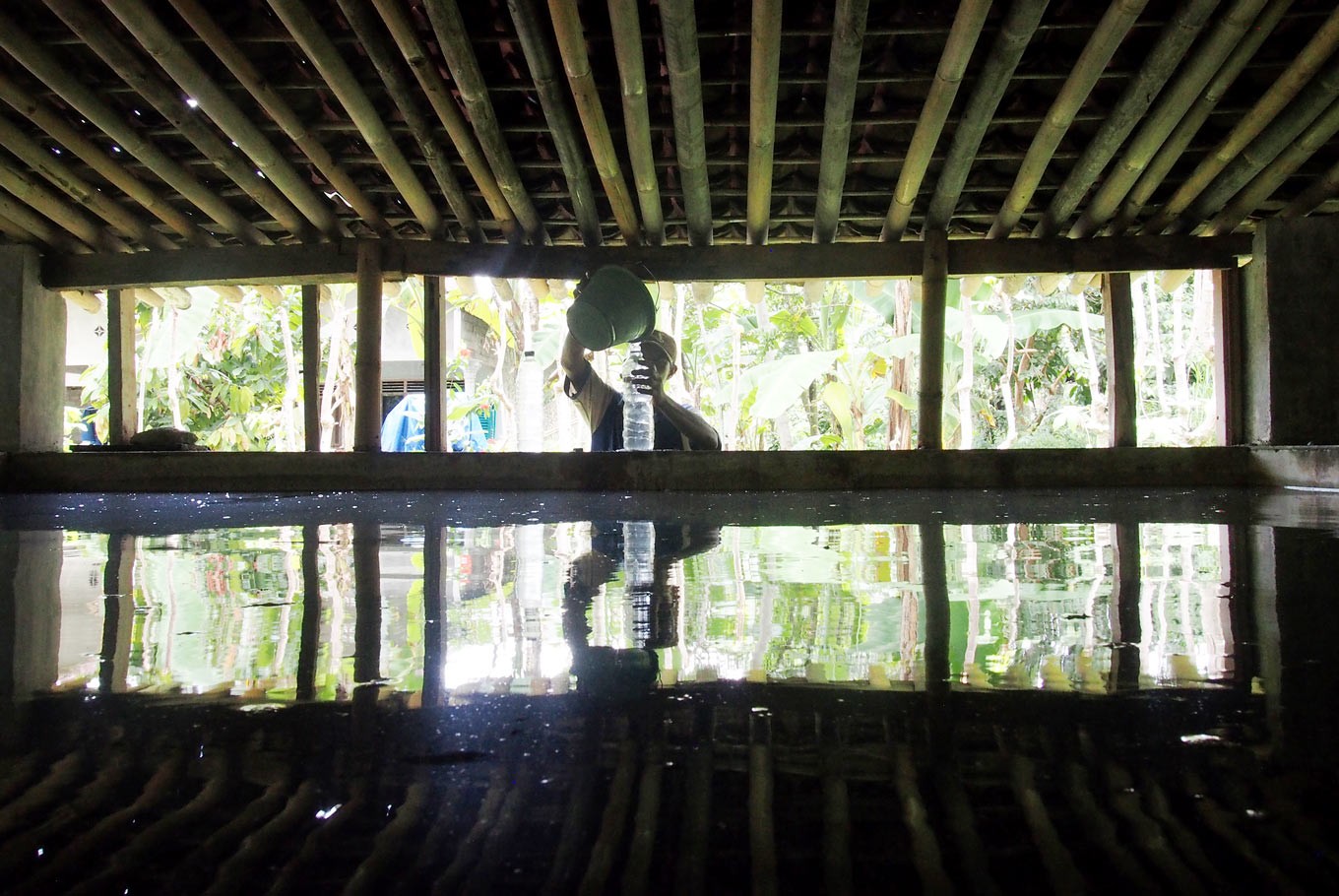 Today's drink: A resident collects rainwater with a bottle from a community rainwater reservoir. (JP/Ganug Nugroho Adi)
They used to rely on water straight from a local manmade pond called the Kedung Bunder, but now they purify rainwater from their own reserves.
The locals still use the pond, which has a capacity of around 320 cubic meters, for baths, washing their clothes and bathing their cows.
"During the dry season, the pond can last for four months before drying up," said Karjo, 71, one of the elders in the village.
A long time ago, the villagers built the pond because they faced difficulties in sourcing water near the village, which is located on the eastern slope of Mount Merapi.
The land surrounding the village provided no water even after villagers drilled 80 meters into the earth. The nearest water sources were rivers located around 5 kilometers away in a neighboring village and the access was very difficult.
Once the pond was built, it became the main source of water for the villagers for around 61 years.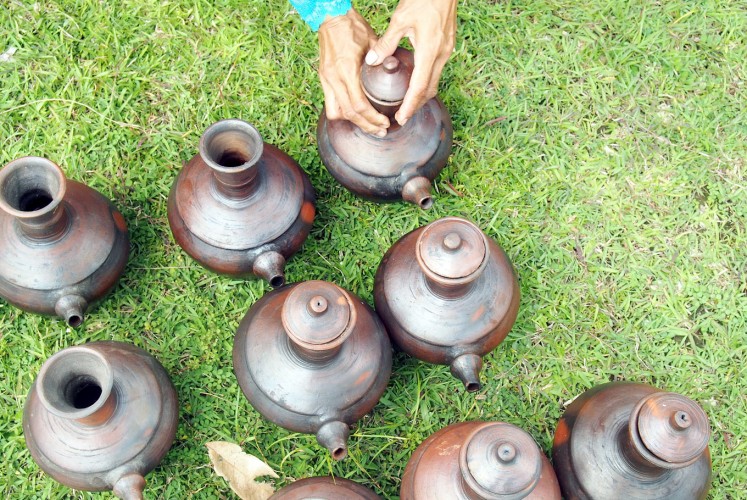 Storage: Jugs containing rainwater are prepared for a parade. (JP/Ganug Nugroho Adi)
"Villagers have taken care of the pond through self-help to maintain its depth since 1956," Karjo said.
Read also: Bali's water question
During a long drought, villagfind ers have no choice but to buy between four and five tankers of water.
Each tanker contains 5,000 liters of water costing Rp 100,000 (US$7.50) and only last for two weeks. Due to this, water can get very expensive for the villagers and they value rainwater very highly indeed.
During the rainy season, the villagers traditionally hold a thanksgiving ritual called Merti
Desa as an expression of gratitude to Almighty God for the rainwater abundantly bestowed on them.
"We consume it as plain water or coffee. We used to leave it to settle for the night and drink it in the morning," Karjo said.
The villagers used to be reluctant to tell outsiders about their rainwater drinking habits. Prior to 2013, they hid this practice from outsiders because they considered it embarrassing.
They would tell their guests that they used commercially supplied water instead of rainwater.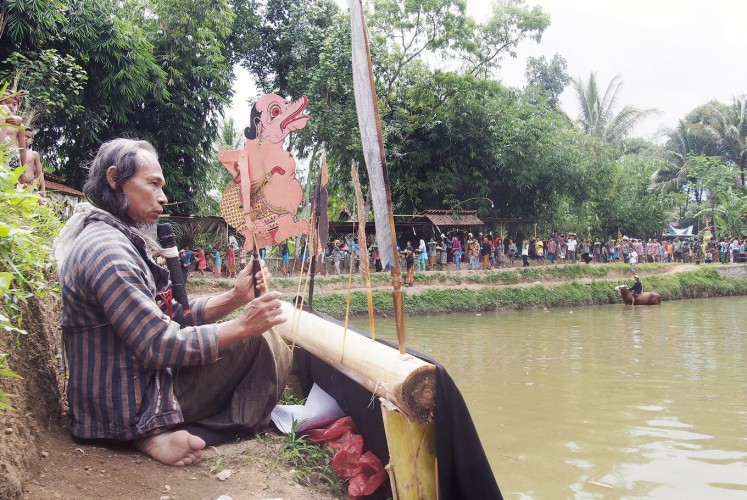 Storyteller: Artist Agus Bimo Prayitno, 58, performs Jantur, a narration using shadow puppets, on the bank of Kedung Bunder. (JP/Ganug Nugroho Adi)
"We did not want our guests to out that the tea or coffee we served was made from rainwater. We were quite aware that people out there were not accustomed to drinking rainwater," Wono, a local environmental activist, said.
The utilization of rainwater in Bunder entered a new stage with the arrival of artist Agus Bimo Prayitno and Romo V. Kirdjito Pr, who introduced the electrolysis method in 2013.
This method applies directcurrent electricity to water molecules to produce negative and positive ions. With an acidity (pH) rate of above 8, being alkaline, the water is officially safe to drink.
Read also: Govt to build botanical gardens in eastern regions
"In the past, we consumed rainwater in its natural state. After allowing it to settle for one or two days, it was boiled and drunk," Sunarno, a Bunder resident, said.
"Ionized rainwater is turned into alkaline and contains more oxygen, which makes rainwater healthier than other kinds of water," he added.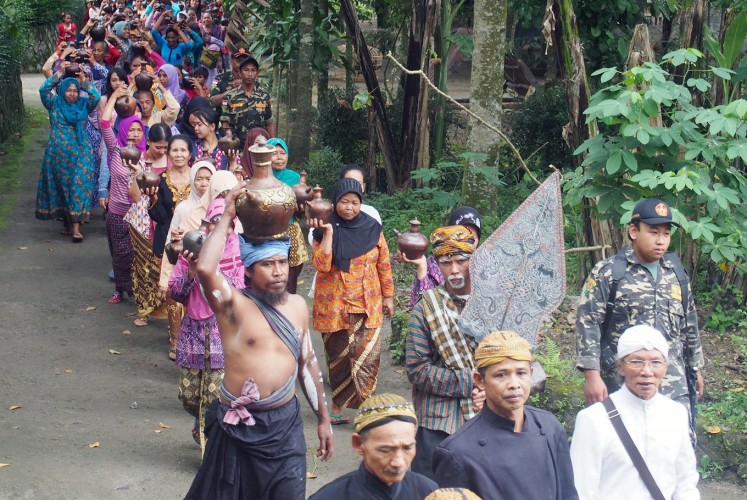 Giving thanks: Bunder residents parade jugs containing rainwater, a tradition handed down through generations as a way of appreciating the abundant rainwater bestowed on them. (JP/Ganug Nugroho Adi)
According to Sunarno, a number of residents have recovered from illnesses after continuous ionized-rainwater consumption. By simple logic, he said, when harmful substances in the body are dissolved into ionized water, various diseases they caused would also be removed.
Sunarno and his friend, Gunawan and Wono, were active campaigners for the electrolysis method. Now, some 80 percent of 200 families in Bunder use the method to process rainwater.
Facilitated by Kirdjito, villagers set up the Kampus Kandang Udan (rainwater campus) in a resident's home to provide mentoring in water management and health promotion.
The villagers also built an additional 45-cubic-meter rainwater reservoir to supply their drinking and cooking needs.
For bathing, washing and sanitation, most residents have also built their own rainwater reservoirs at home.
"When the water reserves in the tub is reduced to only half, people will stop using it because it's meant for emergency use until the next rainy season arrives," Sunarno said.
Topics :
Join the discussions