Nasi goreng, sate: Best-sellers at Indonesia Festival in Russia
Jakarta |

Tue, August 8, 2017

| 04:17 pm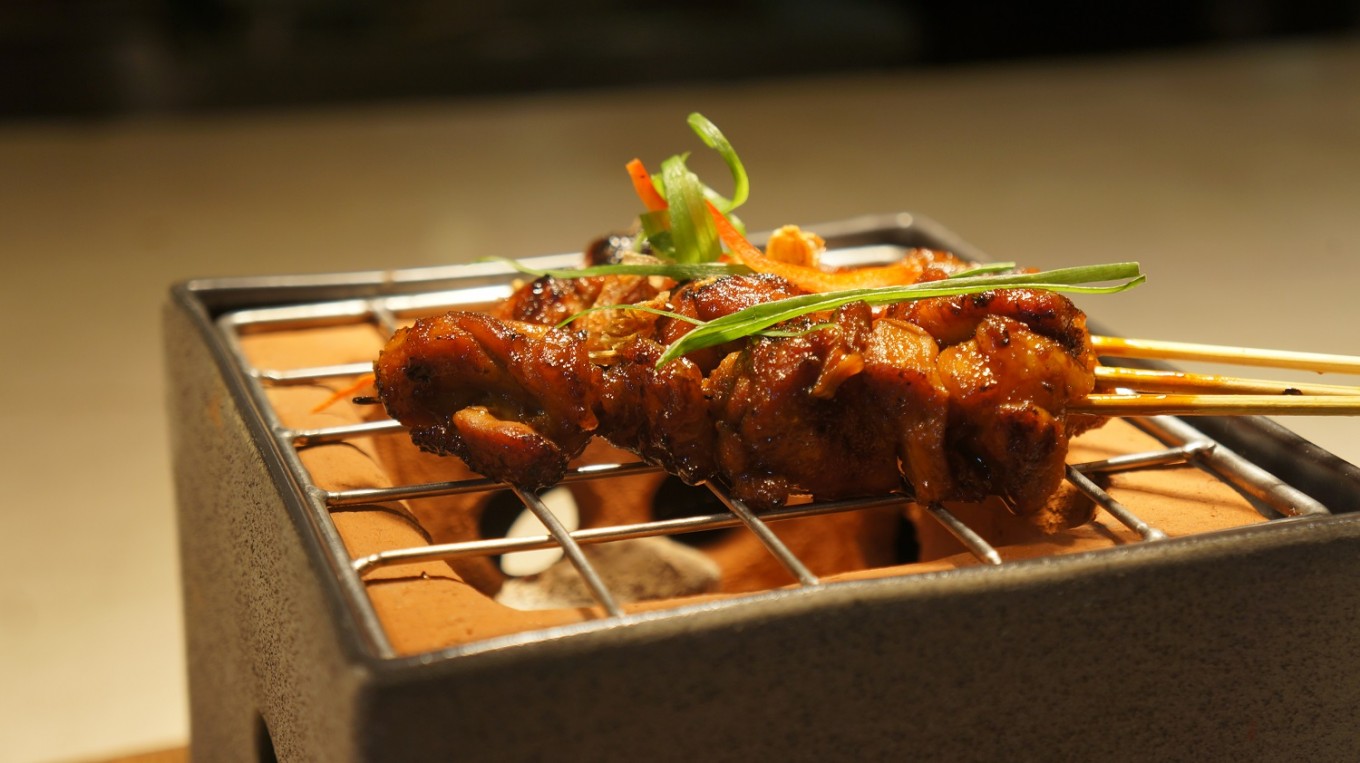 Chicken satay by Ciptoroso, chef de cuisine at Cinnamon restaurant, Mandarin Oriental hotel in Central Jakarta. (JP/Jessicha Valentina)
Nasi goreng (fried rice) and sate (satay) dominated sales at Indonesia Festival 2017 that was held at the Hermitage Garden, Moscow, Russia from August 4 to 6.
"The Ladies' Club booth was one of the most popular booths at the 2nd Indonesia Festival. Ever since day one, the iconic Indonesian cuisines had been favorites among Russians," explained tourism ministry's deputy minister for overseas promotion, I Gde Pitana.
Around 40 small and medium enterprises (UKM) and restaurant chains from Indonesia took part in the festival which highlighted the theme "Visit Wonderful Indonesia: Enjoy its Diversity."
Read also: Most delicious 'nasi goreng gila' in Jakarta
The event was initiated by the tourism ministry in partnership with the Indonesian Embassy in Russia. An array of Indonesian cuisines such as nasi goreng, sate ayam (chicken satay), sate kambing (mutton satay), mie goreng (fried noodle) and tahu isi (stuffed tofu) was offered to visitors.
"The food was out of stock even before the evening, some Russians were seen asking for nasi goreng," Pitana added.
Apart from main courses, some of the booths also offered tropical fruits that are rarely found in Russia such as mango, papaya and jackfruit.
The festival aimed to improve the brand awareness of Wonderful Indonesia in Russia.
"Russia is one our target markets, the number of tourists from this country has been increasing significantly. Our target for this year is 108,000 people," Pitana said.
Throughout the months of January until May this year, 52.189 Russian tourists were recorded to have visited Indonesia. It's an increase of 62.14 percent from the same period last year that had 32,187 people.
The income per capita in Russia reaches $47,000, the country also has the policy of six-week annual leave for employees.
Read also: Five interesting facts about 'tumpeng'
At the festival, the ministry also promoted Indonesian destinations to visitors.
"Indonesia Pavilion also showcased a carnival and art show from Malang Flower Carnival. The choosing of theme, attractions and shows were part of tourism ministry's efforts to encourage tourists to learn about Indonesia and increase the interest of Russian people to travel to Indonesia," said the ministry's deputy assistant for Europe, the United States, Middle East and Africa tourism promotion, Nia Niscaya.
"Russia has a very long winter period, hence its people are looking to travel to beach destinations and Indonesia is the home for these destinations. Let's use the event to attract Russians to come to Indonesia, let them fall for Indonesian food first and then they'll go to tourist destinations in Indonesia," said tourism minister Arief Yahya. (asw)
Topics :

Join the discussions