Tourism Minister highlights diversity, tourism development in Independence Day speech
Jakarta |

Fri, August 18, 2017

| 02:06 pm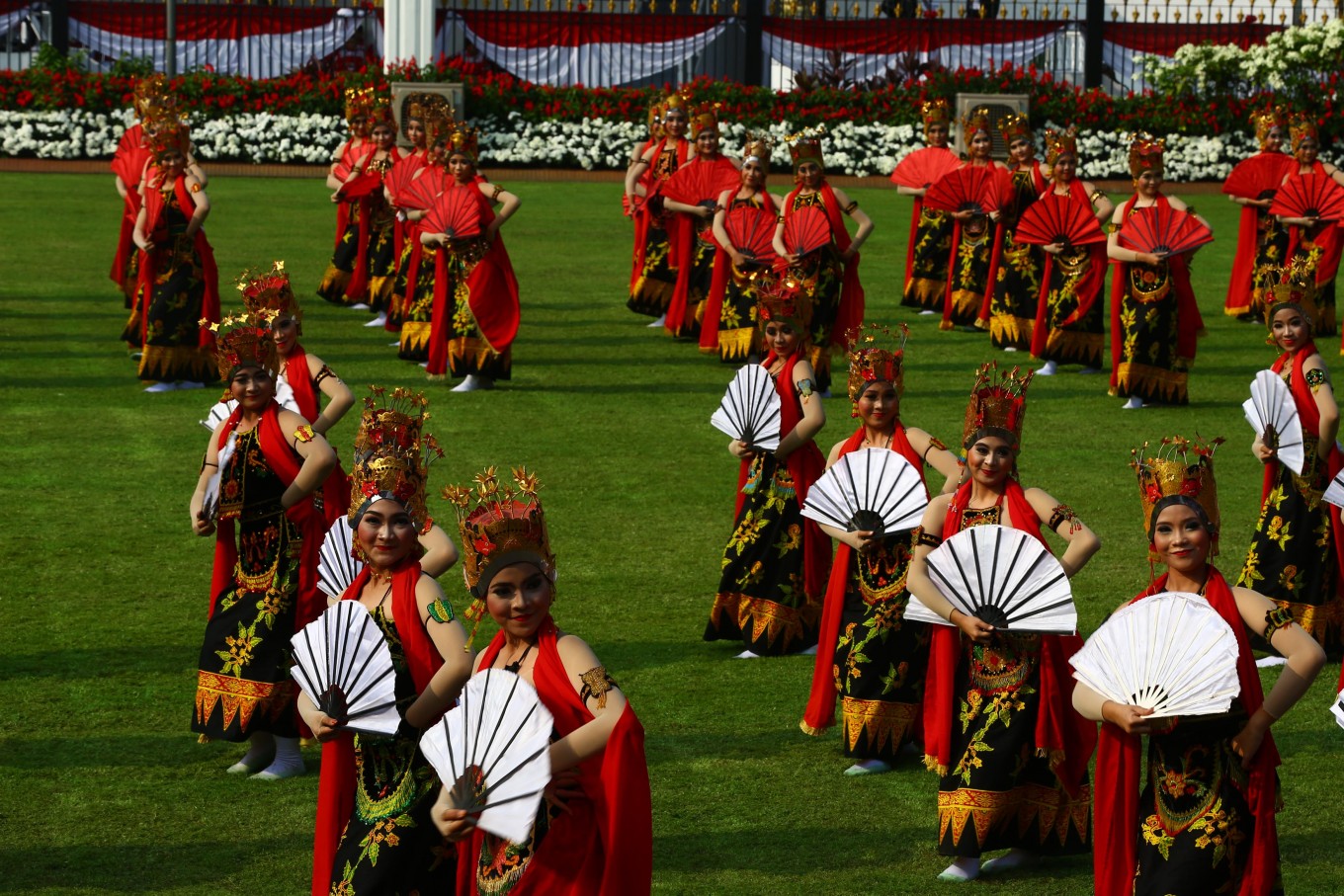 Some dancers perform Gandrung dance from Banyuwangi during the Indonesia 72nd Independence day celebration at State Palace in Jakarta, on Thursday, August 17. 2017. (JP/Wienda Parwitasari)
During the Independence Day celebration at the Sapta Pesona building in Jakarta, Tourism Minister Arief Yahya delivered a speech that talked about diversity and tourism development.
"We are not the same, we're diverse yet united," said Arief.
"Today I'm wearing a traditional outfit from Palembang and I feel very Indonesian. […] I feel proud seeing all of you in traditional outfits, sporting many different colors. This is what our country is: a diverse-yet-united nation," he added.
At the 72nd anniversary of Indonesia's Independence Day, Arief encouraged everyone to work together in building the country.
Read also: Spotify releases Independence Day playlist
"In the past, national heroes fought for the country's freedom and now we're fighting to be the first in the competition. […] We are a nation of fighters," Arief said.
When it comes to the tourism industry, Arief said President Joko "Jokowi" Widodo has made tourism as one of the nation's leading sectors.
"It happened at the end of 2014 and again in 2015, 2016 and 2017. For 2018, there are three industries that are already listed in the government work plan [RKP], namely agriculture, tourism and fisheries."
The President has set a target to welcome 20 million foreign and 270 million domestic tourists by 2019.
Up until June the growth of foreign tourists has reached 22.4 percent. If the number is compared to the national economic growth that is at 5.01 percent, it can be concluded that the growth of foreign tourists is identical to the growth of foreign exchange that is four times faster than the economic growth.
Read also: Five must-visit places in Vietnam
"We are growing by 22 percent while [tourism in] ASEAN is growing by six percent and the world's growth is at five percent. We are faster than the regional and global scales," said the minister.
Arief however warned everyone of Vietnam, which growth percentage is at 24 percent. One of the key factors of Vietnam's rapid growth lies in its deregulation policy.
As for the Wonderful Indonesia tourism brand, for this year the brand takes the 47th spot, way above Amazing Thailand that takes the 68th spot and Malaysia Truly Asia at the 85th spot.
Nearing the end of his speech, Arief said deregulation is needed in order to work faster and to stop creating any new bureaucracies that in the end will only slow down the competition.
"It is very simple; make people come to Indonesia in the easiest way possible, make them invest in the easiest way possible," said Arief. (kes)
Topics :

Join the discussions