Tourism and transportation ministers attend Lake Toba Charm Carnival 2017
Jakarta |

Mon, September 11, 2017

| 04:01 pm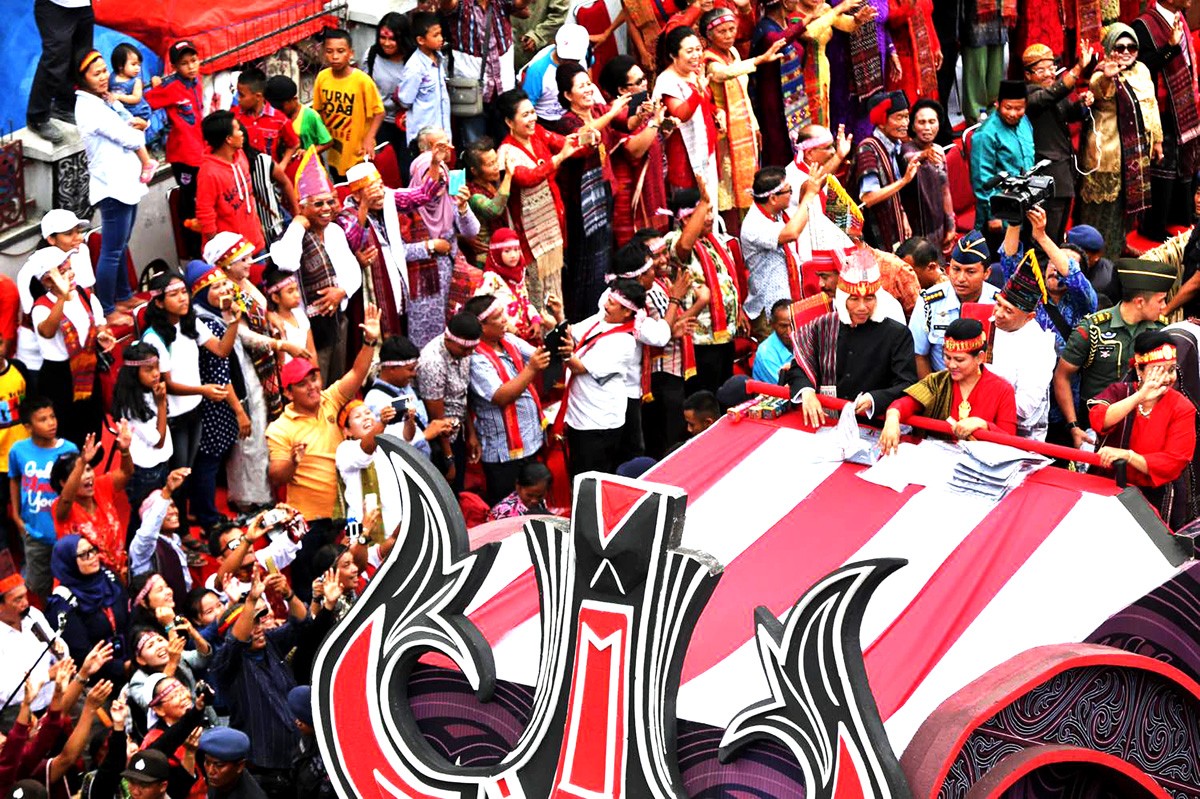 Travel in style: President Joko "Jokowi" Widodo (left, in float) and First Lady Iriana wave to spectators as they travel on a float during the Wonderful Lake Toba Independence Carnival parade in Balige, Toba Samosir, North Sumatra. (JP/Wendra Ajistyatama)
Lake Toba Charm Carnival 2017 that was held on September 10, in Balige, Toba Samosir regency was attended by high-ranking government officials such as coordinating minister for maritime affairs Luhut Binsar Pandjaitan, tourism minister Arief Yahya and North Sumatra governor Erry Nuradi.
The festival was a continuation from the previous Parahyangan Charm Carnival that was held in Bandung on August 26 and attended by President Joko Widodo.
"When I went for a visit to Singapore yesterday, the President was asking me about the preparation for Lake Toba Charm Carnival. He is very concerned with this kind of cultural carnival and he hopes that it will continue to other parts of Indonesia," said Luhut in his opening speech.
"This event will be conducted in several different places and will feature plenty of activities but there's only one goal which is preserving culture, don't let our culture disappears because of modernization," added Luhut.
Read also: Lake Toba Charm Carnival 2017 features 2,227 performers
Luhut who is of Batak ethnicity delivered some of his speech in Batak traditional language. He explained that the event was held on Sunday after church time because by then everyone could come and enjoyed the festivity together.
Arief Yahya, in his speech following Luhut's, explained that if Lake Toba wants to become a world-class tourist destination, it needs to pay attention to the tourism's 3As: Attraction, Access and Accommodation.
He encouraged Lake Toba as a Geopark to earn recognition from the UNESCO.
"First point is the attraction. Lake Toba as a geopark needs to be acknowledged by the UNESCO. The second point is accessibility, the transportation minister has mentioned before that the President will officiate Silangit Airport as an international airport," told Arief.
When it comes to accommodation, a 602-hectare land located in Sibisa, Toba Samosir has been set to become an integrated resort just like in Nusa Dua, Bali. (asw)
Topics :

Join the discussions