What to discover in West Java cultural village Ciptagelar
Ni Nyoman Wira

The Jakarta Post
Jakarta |

Wed, October 4, 2017

| 12:02 pm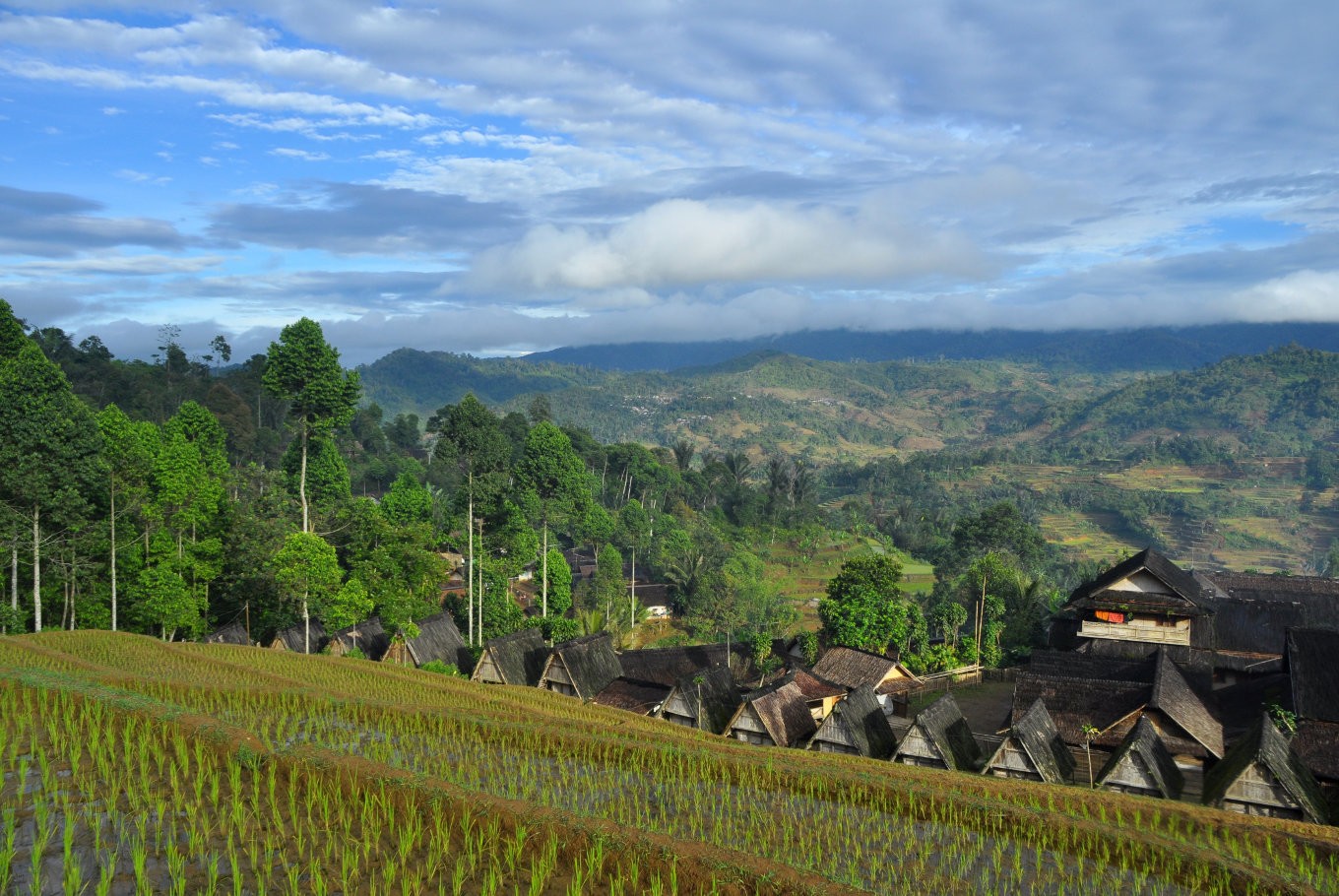 The view from a paddy field in Ciptagelar cultural village in West Java. (Shutterstock/File)
Situated in Cisolok district, Sukabumi regency, West Java, Ciptagelar boasts an attractive cultural village for those seeking a well-preserved natural destination.
Compared to the more famous, self-isolated Baduy Dalam tribe in the regency of Banten, the locals of Ciptagelar are more open to technology and modernization, but at the same time still keep a strong hold on their inherited traditions.
Below are some of the highlights of this unique village as shared by Sobat Budaya, a community of cultural enthusiasts who had the opportunity to explore the village.
Read also: Street in Yogya's Cyber Village carries Mark Zuckerberg's name
Annual rice harvest ceremony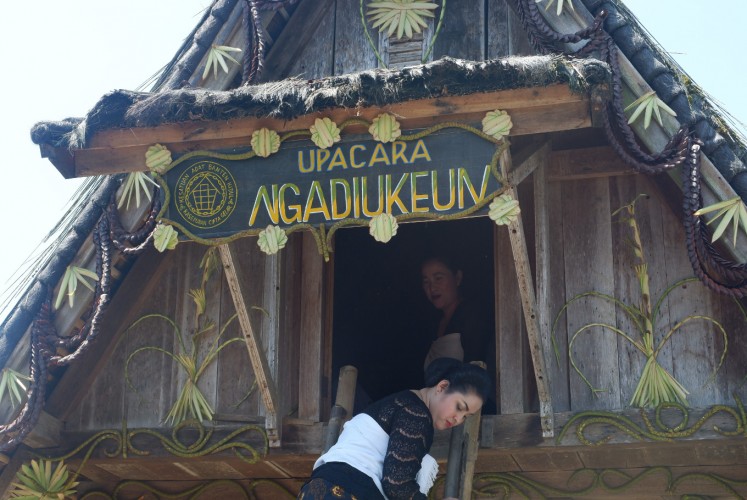 The highlight of Seren Taun is the Ngadiukeun ceremony, which involves storing rice hulls in the village's rice barn.  (Sobat Budaya/File)
Ciptagelar is among West Java's cultural villages that celebrates Seren Taun annually, also known as the rice harvest ceremony. Recently held on Sept. 15-17, this year's Seren Taun marked its 649th anniversary, conducted since the era of the Padjajaran kingdom.
Until now, Seren Taun is still considered an important ceremony in the region, especially due to its regular guests that include monarchs or representatives from kingdoms across the archipelago.
The ceremony itself usually features several events. Several days prior to the highlight of the ceremony, the locals and visitors will be entertained by cultural performances that are held simultaneously in several locations across the village, such as traditional dances, wayang golek (wooden puppet theater) -- also known as the oldest wooden puppet in West Java -- a parade, debus (Banten traditional martial art) and angklung buhun (musical instrument made from bamboo).
The peak of Seren Taun is the Ngadiukeun ceremony, which involves storing rice hulls into the village's rice barn.
Read also: Sipping the 'wild coffee' of Lencoh village in Boyolali
Own TV channel, radio station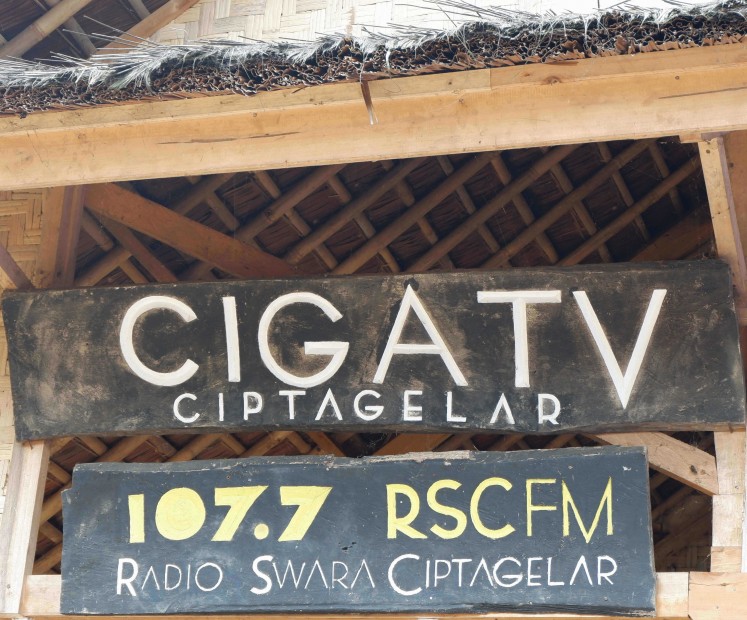 Ciptagelar has its own TV channel named CIGA TV and a radio station. (Sobat Budaya/File)
Ciptagelar has its own TV channel named CIGA TV. Fronted by Yoyo Yogasmana, the spokesperson of the village, the channel mostly broadcasts the locals' daily life such as the preparation and ceremony of Seren Taun. Additionally, the village also has its own radio station named Radio Swara Ciptagelar (RSC FM), which broadcasts Sundanese songs.
Read also: Cultural legacy of Oey Soe Tjoen batik
Important commodity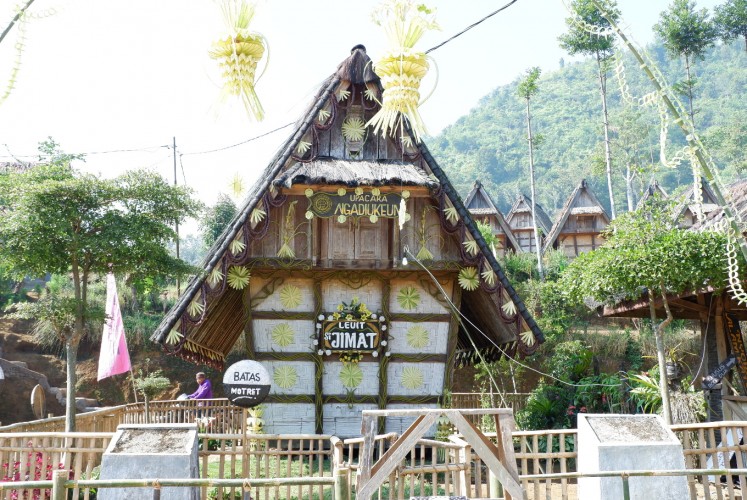 'Leuit Si Jimat', the main rice barn of the cultural village Ciptagelar. (Sobat Budaya/File)
Rice hulls are an important commodity in the village since most of the locals work as farmers. The rice is only harvested once a year and the farmers usually plant around 160 rice hull varieties. "So there are different varieties in one area of the paddy field, resulting in white, red or even black rice," said Abah Dadan, one of the farmers.
However, residents of Ciptagelar are strictly prohibited from selling their rice or any foods made from the harvested ingredients, such as wajik (sweet and sticky rice) or uli. "But they get a huge crop from the rice harvest," Abah Dadan added. "So we never know if we eat rice that was harvested five or ten years ago."
Read also: Ponggok, example of independent village financially
Traditional delicacies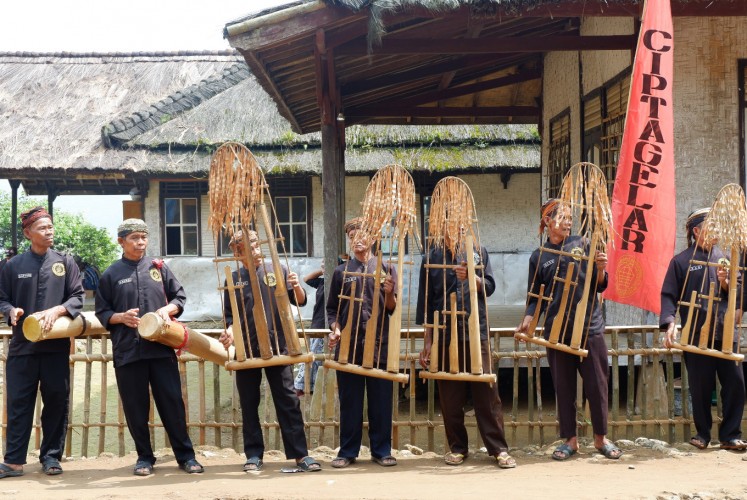 'Angklung buhun', a musical instrument made from bamboo. (Sobat Budaya/File)
Ciptagelar has many interesting traditional foods, such as tape ketan that is made from glutinous rice with a combined sweet and sour taste, the sweet and sticky wajik, ampyang and flour-based kue ali that is shaped like a doughnut. The village also produces coffee that is often sold to visitors in a single package that includes brown sugar.
Tips:
Ciptagelar can be reached using land transportation, around 10 hours from Jakarta. Do note that it may not be a smooth journey as the road leading to the village is rocky and steep.
Tourists can opt to stay at a locals' house as the village does not yet have a hotel. Make sure to visit the main house of the village, also known as Imah Gede, to ask for permission from the village's head.
When visiting the Imah Gede, women must wear a sarong to cover their legs, while men must wear a head scarf.
The houses in Ciptagelar use dried leaves instead of clay on their roofs because the locals believe that clay or other soil-based materials should only be used for the dead.
The latest information about Ciptagelar can be found on the Instagram account of Yoyo Yogasmana. This village can also be viewed on Google street view. (kes)
Join the discussions