The beauty of Taiwan ecotourism
Primastuti Handayani

The Jakarta Post
Taipei |

Fri, October 6, 2017

| 09:47 am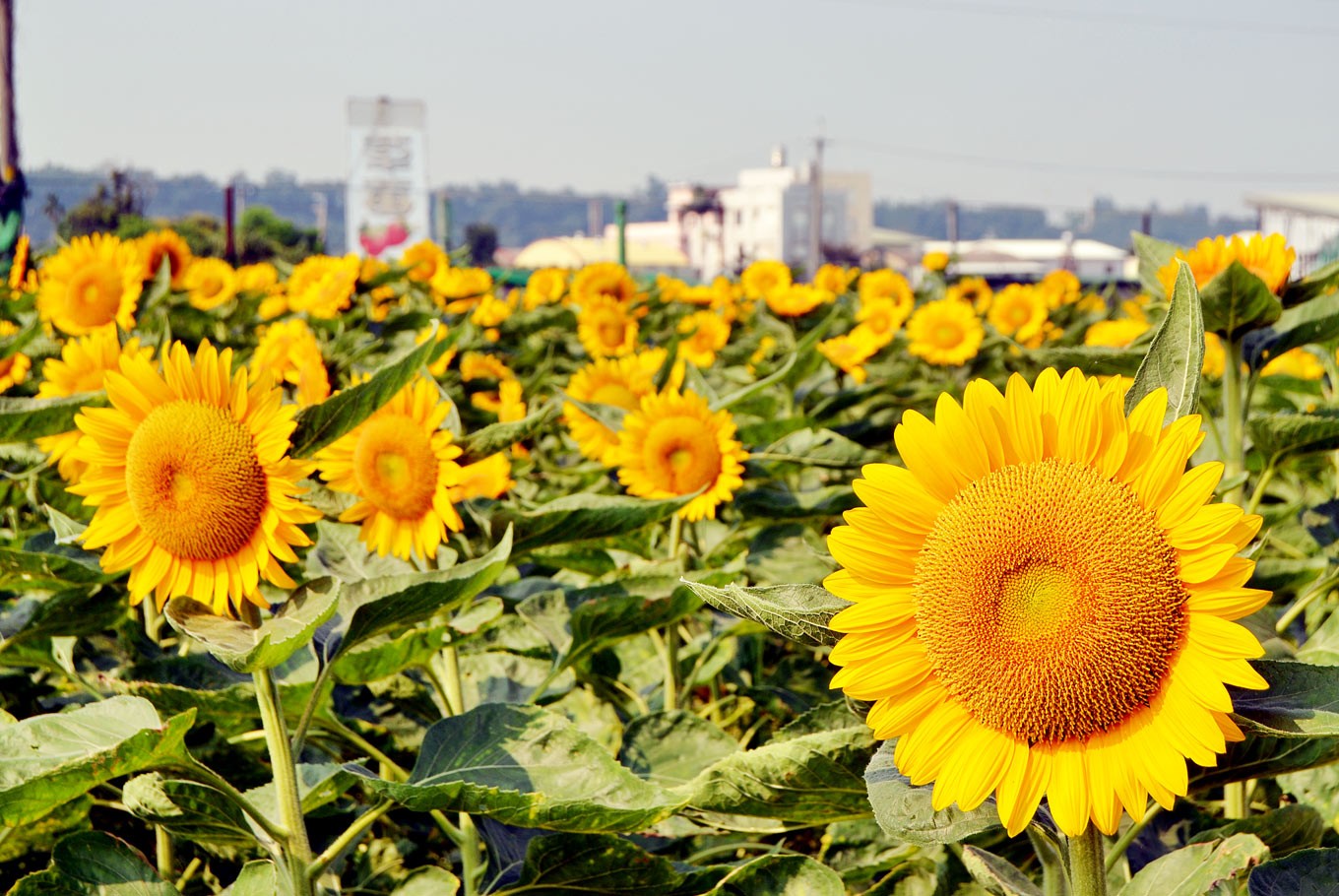 Under the sun: Blooming sunflowers fill the vast fields of Zhong She Guanguang Flower Market in Taichung, Taiwan. (JP/Primastuti Handayani)
As the number of travelers is increasing each year, countries are racing to entice them to visit — including Taiwan. As the country is less popular than other East Asian nations, Taiwan is trying hard to lure travelers, including those from Indonesia. Taipei-based airlines EVA Air — a sister company of famous shipping line Evergreen Marine Corporation — works together with the Taiwan Tourism Board to promote the country's newest tourist destinations. They invited Indonesian travel agents and journalists, including The Jakarta Post's Primastuti Handayani, for a week-long trip across the country. This is her report.
From the outside, the old sugar mill seemed abandoned. Parked cars and buses were the only signs that there was activity in the area. Passing through the small garden with a pond, there was a sign that read "chimney slide." We heard screams — an amalgam of excitement and fear.
Curious of what was happening we stepped inside and saw two pipes running from the roof of the five-story building. A person could slide from the top and reach the ground floor, which was covered with mattresses, in six seconds.
Not bad for a free ride.
The chimney slide is only one of a few attractions at the Ten Drum Cultural Village in Tainan that is only about an hour's drive from Kaohsiung.
Tainan is located in the southwestern part of Taiwan. It used to be the country's capital during the Qing dynasty from 1683 to 1887. Dutch colonialists established a trading station in the city and called it Fort Zeelandia. Our tour guide, Indonesian-born Jeffrey Chen who has lived in Taipei for 35 years, explained that because Tainan produced sugar, the area has become famous for its sweets.
As the former capital, Tainan is proud of its music and culture. One of the newest performers was the Ten Drum Art Percussion Group. Established in 2000, the group highlights the history, the culture and image of Taiwan.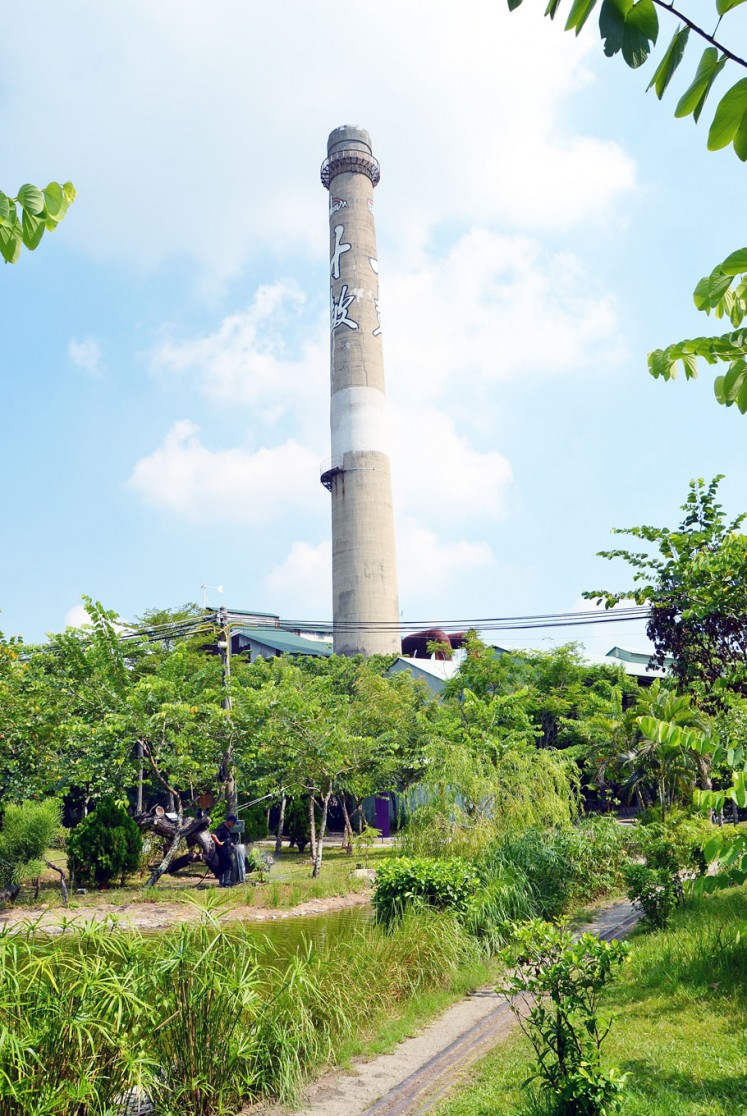 Old and new: Ten Drum Cultural Village in Tainan, Taiwan, is a former sugar mill that has been converted into a tourist attraction. (JP/Primastuti Handayani)
The group performs twice daily at the cultural village with extra shows on weekends to entertain guests. The drummers are not all professionals they also include school children who have started learning how to play 20 to 30 kinds of drums since they were six or seven years old.
During the performance, one or two drummers asked the audience to clap hands and we gladly complied, showing our appreciation for the excellent performance.
"It's one of the ways to make use of abandoned properties here," said Chou "Abe" Shih Pi, an associate engineer of international affairs division of the Taiwan Tourism Bureau, who accompanied us on the trip.
Taiwan used to have 45 sugar mill factories during the Japanese occupation, but now only two are still operating. The Ten Drum cultural village — which covers an area of 7.5 hectares with 22 old-fashioned warehouses built during Japanese rule — is one of which has been converted into a tourism hub.
"We will soon be making use of other abandoned sugar mill factories too," Chou said, adding that the management of the cultural village pays an annual rental fee of NT$5 million (US$164,530).
Indonesia shares similarities with Taiwan in that it also has sugar mill factories. There used to be 129 sugar mill factories during the Dutch colonial era, but only 50 have survived today.
The Ten Drum cultural village is one of the new destinations being promoted by the tourism board. Taiwan is competing with other Asian countries to attract more tourists, especially the younger generation.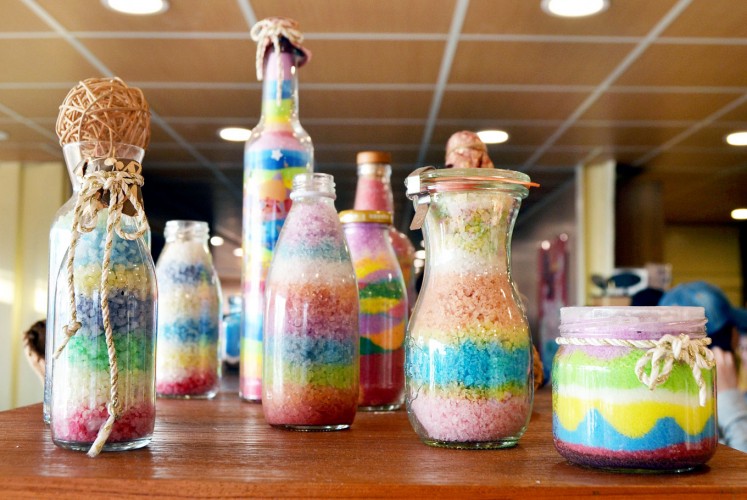 Bottled rainbow: Colorful salt products from Jingzaijiao Tile-paved Salt Fields. (JP/Primastuti Handayani)
Chou added that Indonesia ranked fourth in the list of visitors from Southeast Asia after Malaysia, Singapore and Thailand. According to Taiwan Taoyuan International Airport statistics, the number of Indonesian passengers arriving at the airport has increased from 169,136 in 2012 to 192,053 last year.
Travel agencies from Indonesia, however, find it hard to sell Taiwan to their customers.
"Most of our clients, who want to go to Taiwan, are senior citizens. The younger generation is not interested in visiting the country. They prefer to visit places that are hip. Taiwan is more famous for its relaxed, laid back atmosphere," said Naya, a manager at Indah Tour & Travel, adding that her agency only sends about 200 customers to the island nation a year.
David Kurniawan, a sales manager for Wita Tour, said that besides the metropolitan vibe in Taiwan's biggest cities of Taipei, Kaohsiung and Tainan, the country is still lacking in certain areas.
"Indonesians want to visit places that are Instagrammable that they can show to their friends," he said. "Among Asian countries, Taiwan is placed fifth in terms of favorite destinations for our clients, after Japan, South Korea, China and Hong Kong."
EVA Air, founded in March 1989, is hoping that the number of tourists coming to Taiwan increased, which can translate into a rise in passenger numbers from Jakarta or Denpasar to Taipei and vice versa.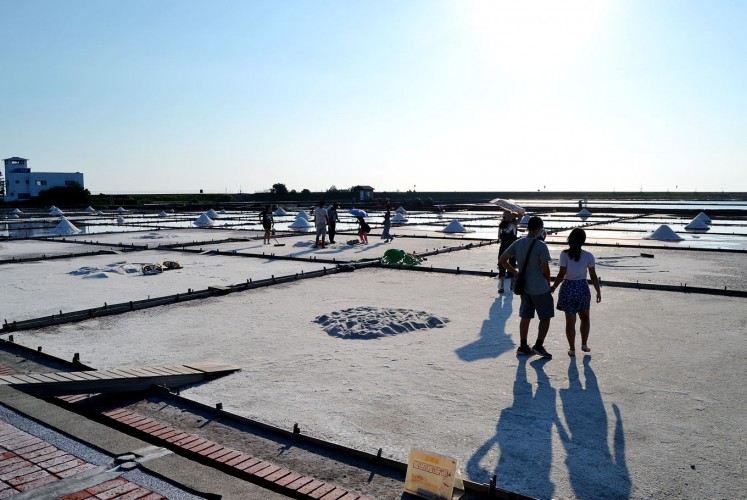 Traditional method: Jingzaijiao Tile-paved Salt Fields in Beimen, Taiwan, has been accredited as an environmental education facility that attracts tourists. However, most visitors are locals for the time being. Taiwan is trying hard to promote lesser known tourist destinations aside from Taipei, Kaohsiung and Tainan. (JP/Primastuti Handayani)
"Through this trip, we encouraged travel agents to market Taiwan to their clients. Therefore, we and the tourism board promoted new destinations. We asked for input from them to find out what destination is more suitable for the Indonesian market," said Wie Wie, EVA Air Indonesia's sales manager.
Chou said the tourism board has started to promote the theme for next year's tourism program that will include visits to 10 islands around Taiwan, including Kinmen, Guishan and Matsu.
"Our focus this year is on ecotourism," he added.
Taiwan has indeed tried to incorporate nature and tourism. The Jingzaijiao salt fields at Beimen, a district near Tainan, serves as a unique destination to learn about the oldest, traditional way of producing salt. The salt field was named by the Taiwan Environmental Protection Administration as an environmental education facility site on March 16, 2015.
"This is the only existing salt field in Taiwan right now," said Peter Chen, one of the last salt farmers. "The tradition [of making salt from sea water] has been around for 200 years. However, kids today have no idea how to produce it."
Harvesting salt in Taiwan is similar to those used in Indonesia. They use high tide to pump seawater into several evaporation ponds and after about two weeks the seawater crystallizes.
The Beimen people hold two large festivals — Southern Taiwan salt festival and the last sunset at Jingzaijiao — to attract visitors.
The salt fields have successfully been transformed into a cultural and creative industry by inviting visitors to have a hands-on experience in the salt fields as well as selling souvenirs made from salt, including pendants based on one's zodiac sign because Taiwanese believe that salt can take away bad luck.
Other places to visit in Taiwan:
Zhong She Guanguang Flower Market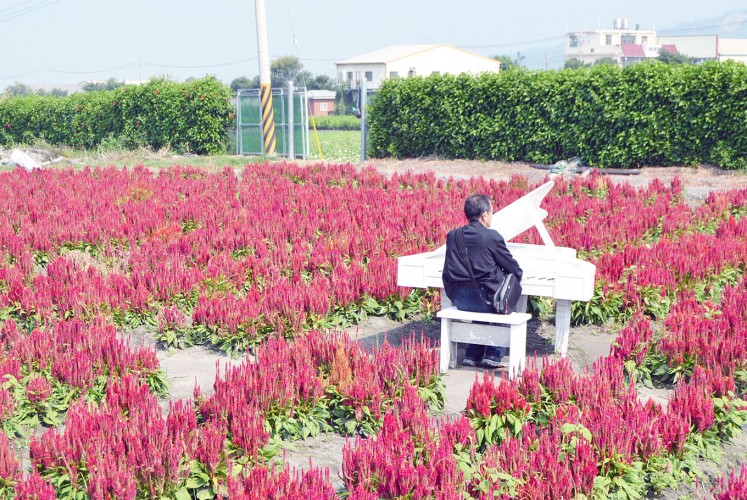 Zhong She Guanguang Flower Market (JP/Primastuti Handayani)
Located in Taichung city, the flower garden is a favorite for Instagram addicts. Lavender and sunflower fields are the two favorite sites to take selfies or photos. Covering an area of 6 hectares, the management of this flower market absolutely knows how to please visitors by putting up props for pictures, including a white piano in the middle of red lavender fields.
The Persimmon Brother Farm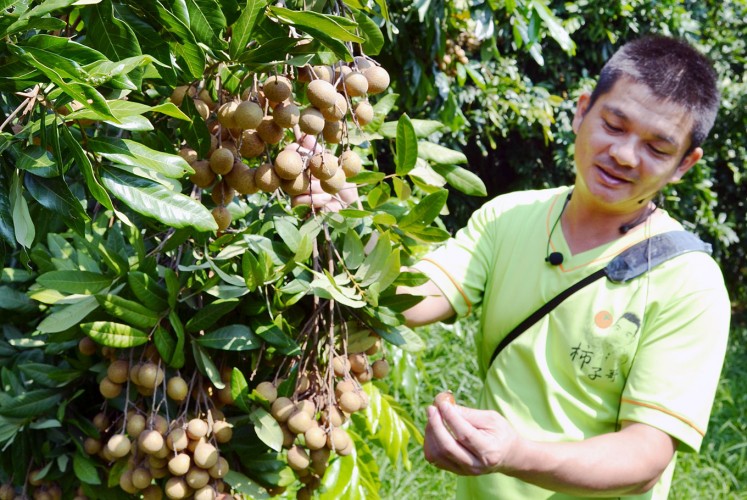 The Persimmon Brother Farm (JP/Primastuti Handayani)
Pick your own persimmons or longan at the 2.7-hectare farm in the Chiayi district. The farm is run by the Taiwan Leisure Farm Development Association (TLFDA) as one of the tourist destinations to support their ecotourism. The farm was just recently opened to the public. John Liauw, who manages the farm, said that about 150 people visited his farm every month.
Leofoo Village Theme Park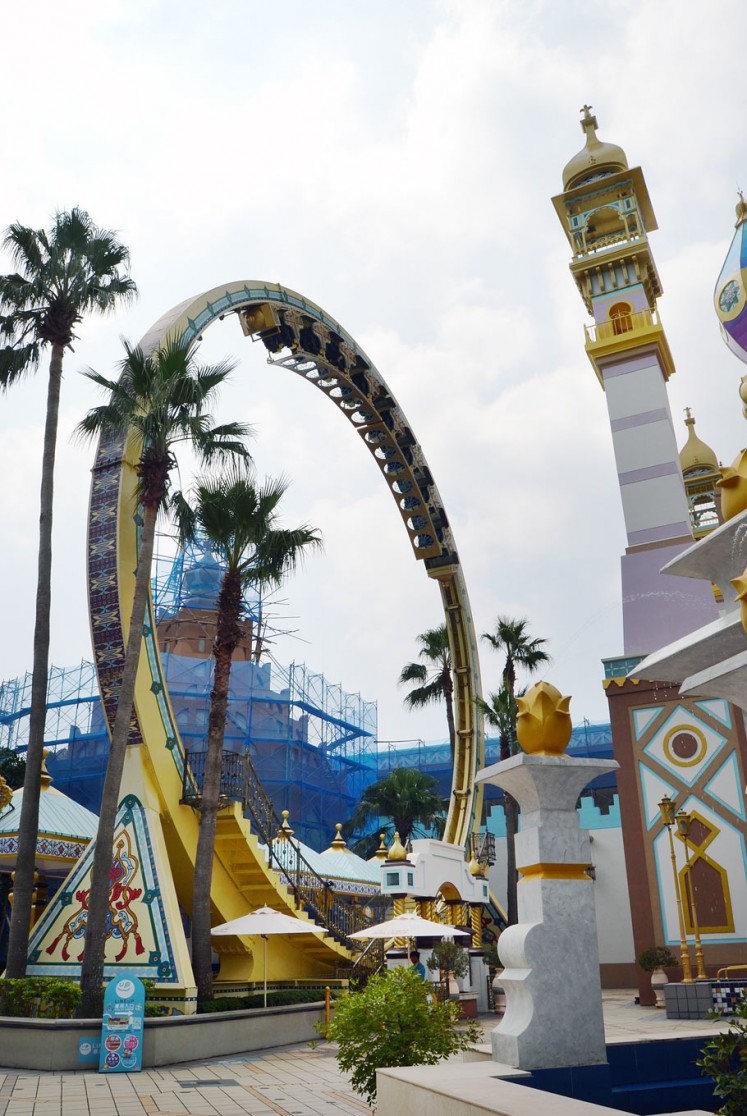 Leofoo Village Theme Park (JP/Primastuti Handayani)
The park was originally established in 1979 as Leofoo Wildlife, but 10 years later it was rebranded as Leofoo Village Theme Park. It is divided into four zones. The African Safari is basically a zoo where visitors can ride a train to explore the collection of animals, except when entering the tiger and lion cage. The Arabian Kingdom features Ring of Fire as one of the attractions as its continuous loop will take visitors spinning. The South Pacific and the Wild West comprise of thrill rides including roller coasters.
Topics :
Join the discussions