Association set to promote tourism in East Java
Jakarta |

Wed, November 8, 2017

| 03:01 pm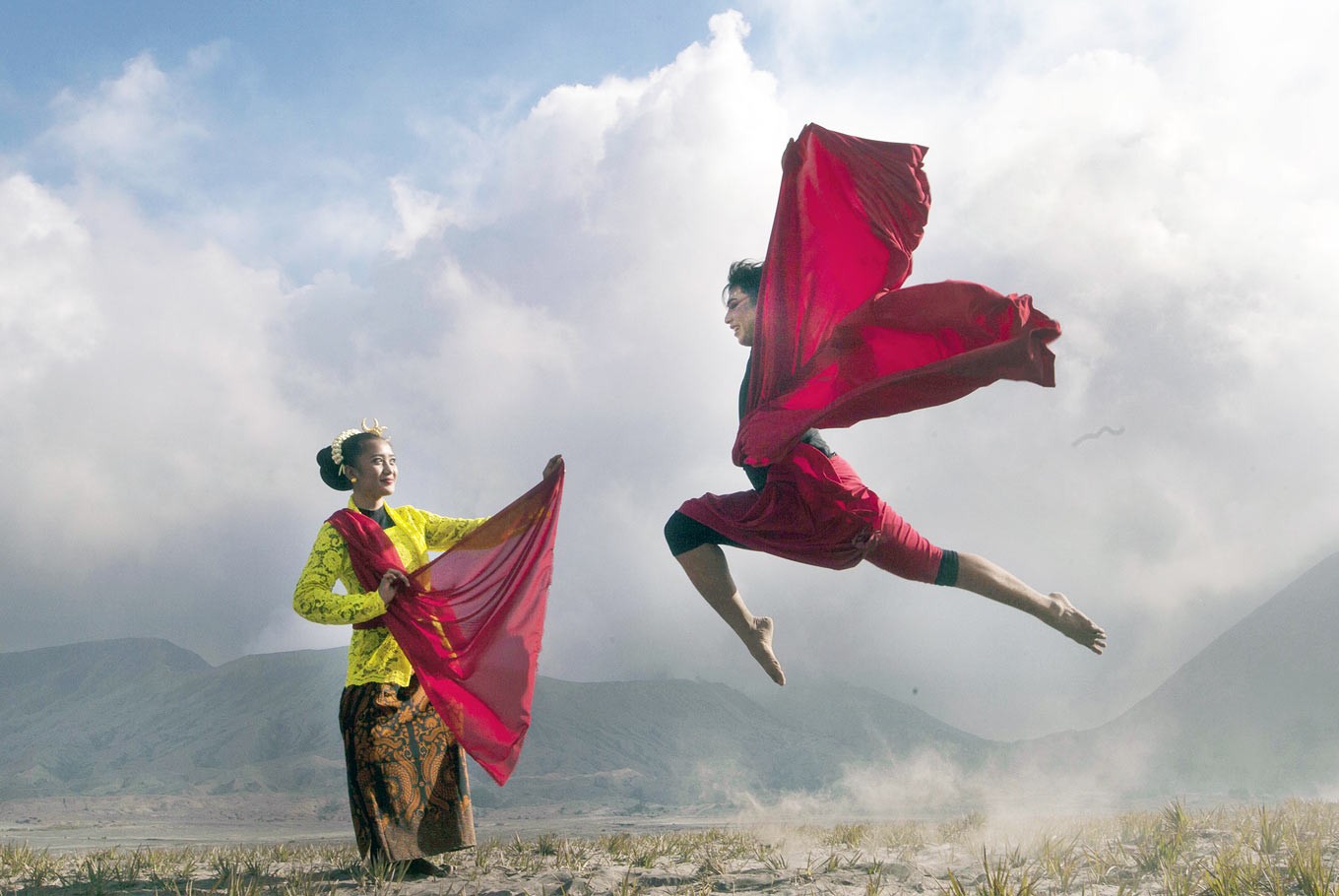 Fly to you: Two dancers perform the Kidung Tengger dance at Mount Bromo, East Java. (JP/Sigit Pamungkas)
The Association of Indonesian Tour & Travel Agencies (ASITA) is set to hold the 2nd National Working Meeting (Rakernas II) on Nov. 10-13 at Ciputra Hotel, Surabaya in East Java.
The meeting is held in Surabaya as part of an effort to promote tourist destinations in East Java.
ASITA Indonesia DPP head Asnawi Bahar said the meeting would discuss three topics: Fun Business, Explore the Beauty of Mount Bromo and Effective and Efficient B2B Forum. The meeting said to gather 150 participants.
"Rakernas II will be attended by all DPD ASITA representatives in Indonesia; there are currently 33 DPD branches in this country. These delegates will have to show up in their traditional outfits. Additionally, Surabaya will host Bromo Tengger Semeru Travel Mart, which will bring together buyers and sellers in B2B and B2C forums," said Asnawi.
The sellers reportedly would consist of tour agents, hotels, MICE organizers and tourist attractions from 30 cities and regencies in East Java.
"Meanwhile the buyers are travel agents from Indonesia and overseas who sell tour packages to East Java. Additionally, during the table top event between tourism and industry sectors, the latter will consist of importers of Indonesian products," he added.
Read also: Way Kambas Festival to raise awareness on Sumatran elephants conservation
After the meeting, participants will join a post-tour trip to Mount Bromo and other places such as Madura and Kota Batu.
"The post-tour is specifically designed for buyers to directly see tourist destinations in East Java. The tour will be held for two days with destinations include Mount Bromo, Batu, Malang, Prigen and Surabaya City Tour. Another option is Madura," Asnawi explained.
During the Surabaya City Tour, participants will be entertained with theatrical performances to commemorate the Heroes' Day that falls on Nov. 10. They will also attend a workshop hosted by the Tourism Ministry and Bromo Tengger Semeru (BTS) Gathering.
The ministry's incentive trip promotional head Hendri Karnoza said the event would feature tourism ambassador Fitri Carlina, a national celebrity from Banyuwangi, East Java. As an ambassador, Fitri's job is to promote tourism in East Java, especially Bromo Tengger Semeru.
"Public figure endorsers are capable of attracting tourists, especially if the endorser understands well about the destination," Hendri said. (kes)

Join the discussions