Places to visit in Surakarta after attending First Daughter's wedding
News Desk

The Jakarta Post
Jakarta |

Thu, November 9, 2017

| 10:31 am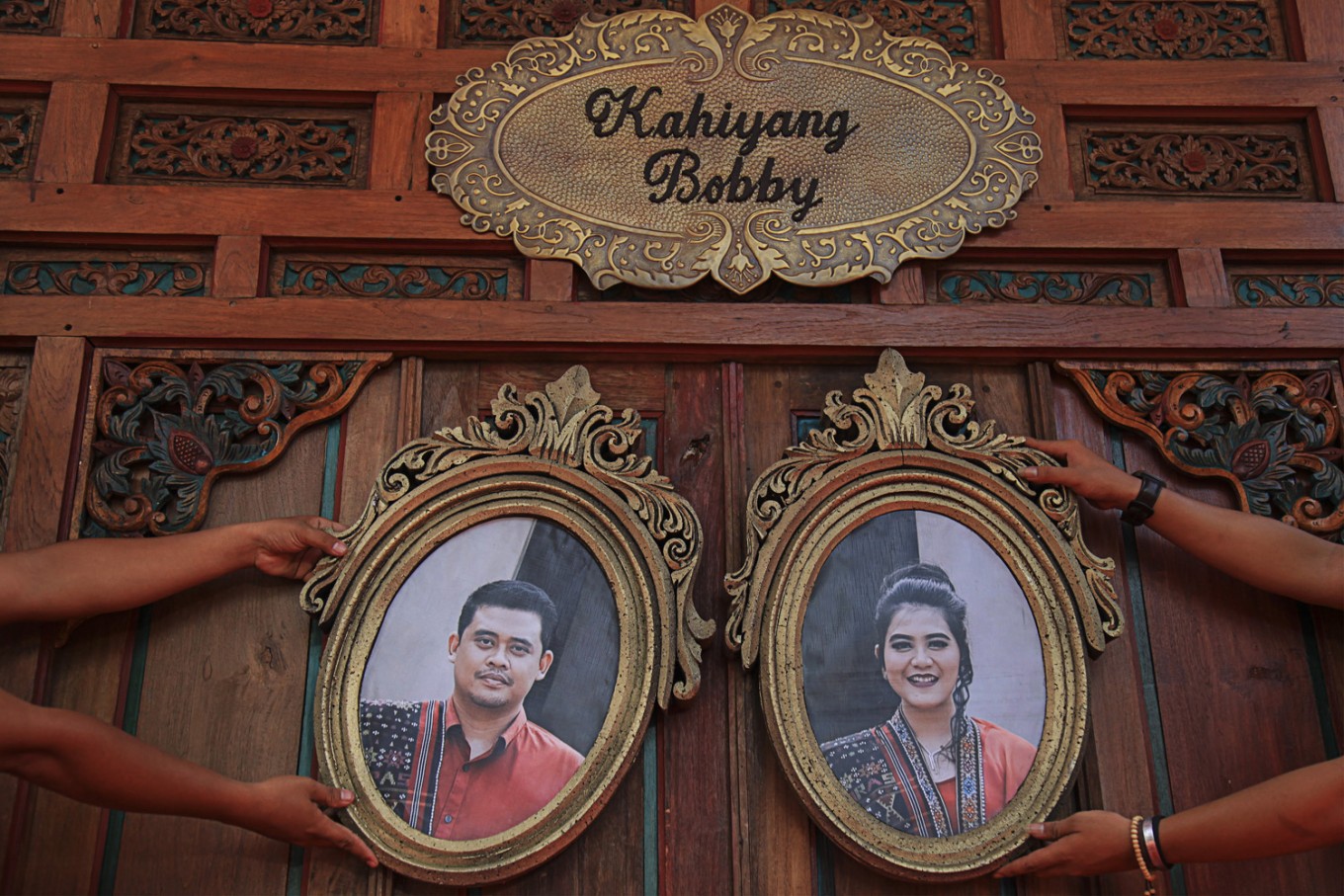 Pictures of President Joko 'Jokowi' Widodo's daughter Kahiyang Ayu and Muhammad Bobby Afif Nasution are placed in front of Graha Saba Buana in Surakarta, Central Java, where the wedding ceremony took place on Wednesday. (Antara/Maulana Surya)
Surakarta was thrust into the spotlight with a sudden rise of visitors flocking to the Central Java city as people sought to get a glimpse of the wedding of President Joko "Jokowi" Widodo's daughter Kahiyang Ayu to Bobby Afif Nasution.
If you couldn't make it to the wedding on Wednesday, there are plenty of areas in Surakarta worth visiting to enjoy the historical city. These places also happen to be close to the Graha Saba Buana building, where the First Daughter's wedding took place.
Read also: Getting to know traditional Javanese rituals in First Daughter's wedding
Kompas.com compiled a list of places to visit in Surakarta's city center:
Balekembang Park
Balekembang Park is one of the city's historical parks, built during the Mangkunegara VII era and was dedicated to the ruler's daughters, Partini and Partinah. Located on Jl. Ahmad Yani, the park also hosts statues of the two women.
In addition to boasting plenty of greenery, the park is also home to deer, which are left to roam freely around the area.
There are also many activities that can be done at the park, including fishing in the pond and riding duck boats, as well as visiting art galleries, art docks, reptile parks, green houses, water parks and a variety of art events.
Sriwedari Park
Sriwedari Park was created in the era of Pakubuwono X and has since become a venue for traditional entertainment, including Selikuran Night, public theater, and ketoprak and wayang performances. The park is located on Jl. Brigjen Slamet Riyadi.
The Sriwedari People's Amusement Park (THR) is slated to close in December, in accordance with its contract with the Surakarta administration. However, there are still other historical spots around the park area to enjoy, such as the Radya Pustaka Museum, which contains various traces of Surakarta's history and culture, as well as the Wayang Orang Arts Building.
Upside Down House
In addition to historical spots, Surakarta is home to modern tourist attractions, including Rumah Terbalik Indonesia (Upside Down House). Visitors can take interesting photos inside, where everything is upside down, as well as enjoy other sections, such as the mirror illusion and magic waterfall.
The Upside Down House is located on Jl. Adi Sucipto.
Read also: Papringan Market trades amid bamboo trees
Ngarsopuro Night Market
Open only on weekends, the Ngarsopuro Night Market presents a lively atmosphere featuring local cuisine, crafts and live music on Jl. Diponegoro.
National Press Monument
Located on Jl. Gajah Mada, the National Press Monument is a museum set in a historical building. It stores more than 1 million newspapers and magazines from before and after Indonesia's independence in 1945. The archives come from various regions across the archipelago. (liz/kes)
Topics :
Join the discussions